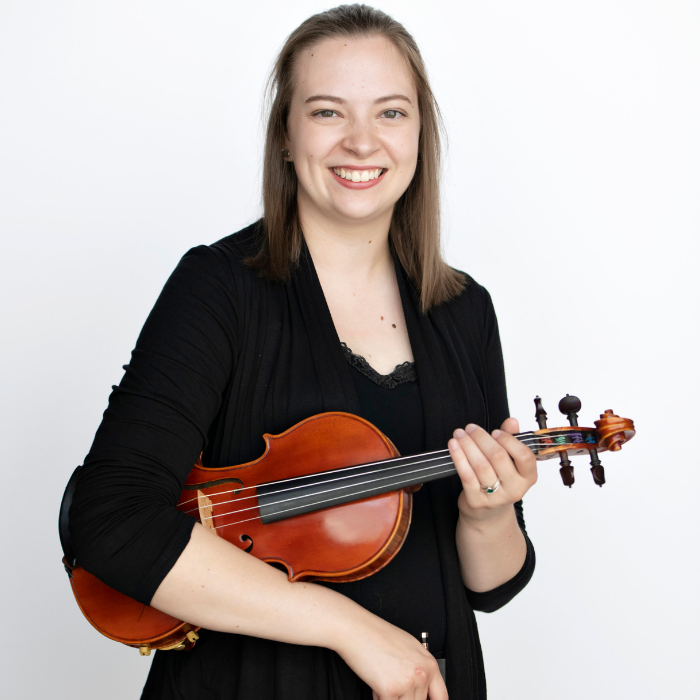 Instrument Second Violins
Bethany Washington performs as a member of the Des Moines Symphony Orchestra and Waterloo-Cedar Falls Symphony. Formerly, Bethany was a member of the Macon Symphony Orchestra in Georgia. As a soloist, she has performed with the Milwaukee Symphony Orchestra Stars of Tomorrow, Madison Symphony Orchestra Final Forte, Fox Valley Symphony Youth Soloist, and Greater Grand Forks Symphony Orchestra Young Artist Competition Soloist.

Bethany earned a Master of Music in violin performance from University of Northern Iowa, where she held a graduate assistantship, and a Bachelor of Music in violin performance with a Certificate in Music Composition from the Robert McDuffie Center for Strings at Mercer University, where she graduated summa cum laude and received an Excellence in Music award. Her past teachers include Steve Koh, Ross Winter, Amy Schwartz-Moretti, David Kim, David Halen, Robert McDuffie, Samantha George, Benjamin Sung, and Julia Bullard (viola).
Bethany began playing the violin at the age of four through the Suzuki method. She has completed Suzuki training and teaches violin and viola in the University of Northern Iowa Suzuki School. She also serves as Adjunct Upper Strings Professor at Wartburg University, where she performs as concertmaster of the Wartburg Community Symphony Orchestra.
Bethany lives in Cedar Falls, IA, with her husband, composer Denzel Washington.
Bethany has been a member of the Des Moines Symphony since 2019.