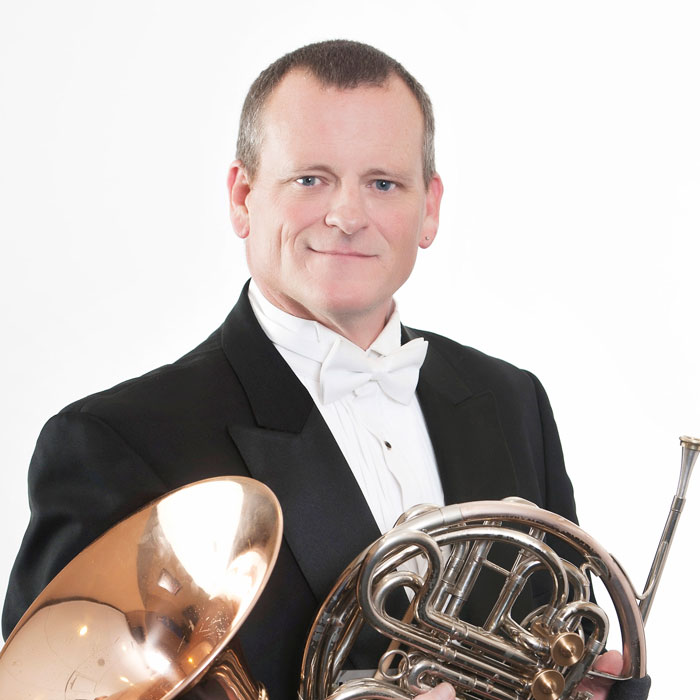 Instrument Principal, Horn
Bret Seebeck is Principal Horn with the Des Moines Symphony. He also performs in Eastern Iowa with Orchestra Iowa as third horn. Additional professional activities include the Des Moines Symphony Wind and Brass Quintets and Polaris Wind Quintet.
Formerly, Mr. Seebeck was a member of the Waterloo/Cedar Falls Symphony, Des Moines Metro Opera Orchestra, Dubuque Symphony, and The Southeastern Iowa Orchestra. During his tenure in the Des Moines Symphony, he has also regularly played in the pit for many Civic Center productions.  Mr. Seebeck is a renowned teacher of horn both privately and at educational institutions such as Drake University, Iowa State University, Central College, Grinnell College, and Simpson College.
Mr. Seebeck is a graduate of the University of Oklahoma.  While working on his Bachelor of Music degree, he studied with Eldon Matlick, William Scharnberg, and received master class instruction from renowned professional hornists such as Greg Hustis, Charles Kavalovsky, and Barry Tuckwell.
When not performing, Bret manages 80 acres of family crop ground and produces eight varieties of wine grapes with a twelve-acre vineyard.   Bret lives near Colfax, Iowa with his wife and two children.
Member of the Orchestra since
1988
Most memorable experience with the Orchestra
When I played Mahler's Symphony No. 5 for the first time. I had just become Principal Horn with the Orchestra and was very excited and nervous. The performance went well and I got my first standing ovation.
How I got started playing my instrument
I was impressed by a brass quintet performance in 5th grade. Started playing trumpet in 6th grade but was persuaded to switch to horn the following year. Never looked back!
Favorite composer
If I only had one favorite composer, then being a musician would get very boring.
Favorite solo piece
I'm partial to Richard Strauss' Horn Concerto No. 1. It showcases all the characteristics of the horn so well.
Other than classical music _____ is on my iPod
Rock, New Age, Pop and a few movies with good soundtracks.