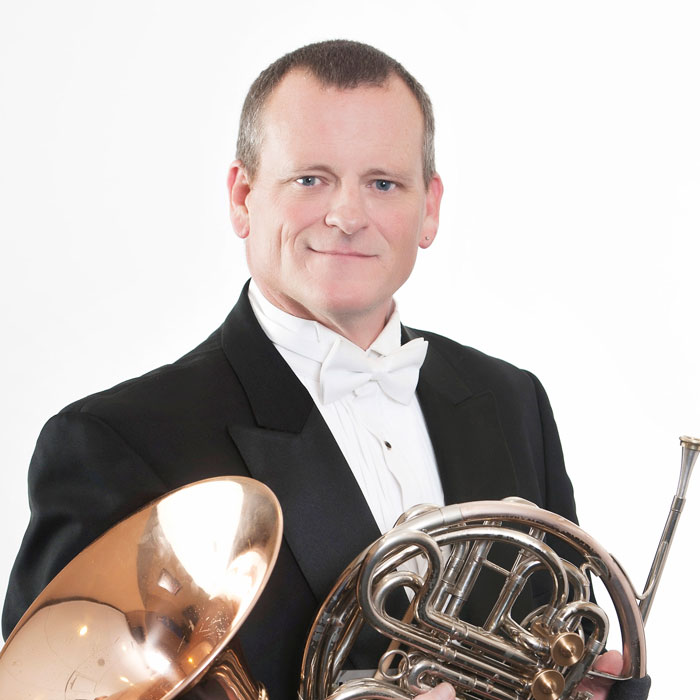 Instrument Principal, Horns
Bret Seebeck became a member of the Des Moines Symphony in 1988, serving as Principal Horn since 1995 to present. Additional professional activities include the DSM Symphony Wind and Brass Quintets and Polaris Wind Quintet.
Formerly, Mr. Seebeck has been a member of the Cedar Rapids Symphony, Waterloo/Cedar Falls Symphony, Des Moines Metro Opera Orchestra, Dubuque Symphony and The Southeastern Iowa Orchestra. During his tenure in The Des Moines Symphony, he has also played with many Civic Center productions including Beauty and the Beast, State Fair, Titanic, Evita, Ragtime, 42nd Street, Lion King, Spamalot, Camalot, Wicked, South Pacific, Mary Poppins, Young Frankenstein and West Side Story.  Mr. Seebeck also educated Central Iowa Horn Students for twenty years, both privately and at educational institutions such as Drake University, Iowa State University, Central College, Grinnell College and Simpson College.
Mr. Seebeck is a graduate of the University of Oklahoma.  While working on his Bachelor of Music degree he studied with Eldon Matlick, William Scharnberg, and received master class instruction from renowned professional Hornists such as Greg Hustis, Dr Charles Kavalovsky and Barry Tuckwell.
When not performing, Bret manages 80 acres of family crop ground and produces wine grapes with a two-acre Vineyard. Bret lives near Colfax, Iowa with his wife and two sons.
Mr. Seebeck has been a member of the Des Moines Symphony since 1988.