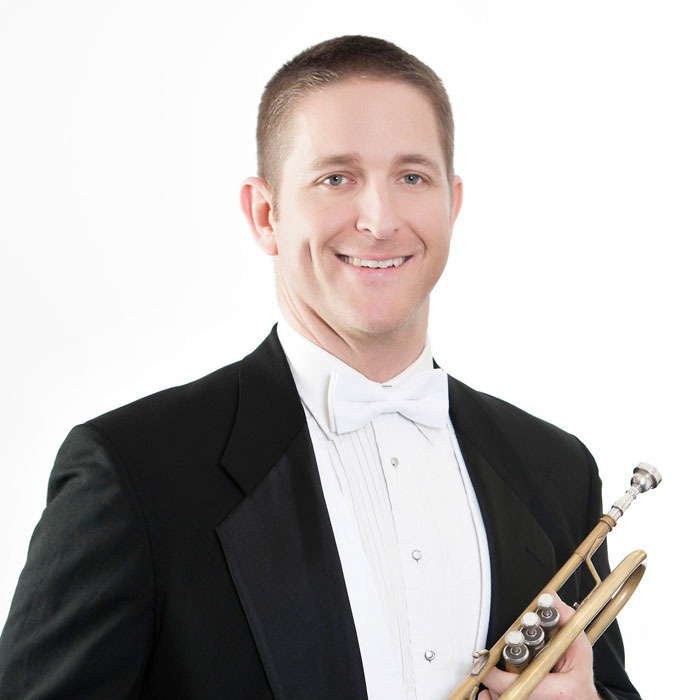 Carl Eitzen is a native of San Diego, Calif., and is currently a member of the United States Air Force Heartland of America Band. He is former principal trumpet of the Las Colinas, Garland and Arlington Symphonies in the Dallas/Fort Worth Metro area.  Carl has performed with other noted ensembles such as the Omaha Symphony, Dallas Symphony, Los Angeles Opera Orchestra, Kansas City Symphony, San Diego Chamber Orchestra, and Lincoln Symphony to name a few.  Carl has been musical director, show band leader and played lead trumpet aboard several ships for Carnival Cruise Lines.
As a soloist, Carl has been featured with the Heartland of America Band at the Grand Teton Music Festival and the Holland Performing Arts Center Opening Gala concerts in 2005, USAF Brass in Blue, University of Arizona Wind Ensemble and UCLA Symphonic Band.  He has also performed many recitals and conducted brass clinics throughout the Midwest and Southern California.
Carl's earliest music training on the trumpet came from his father, John Eitzen, while attending the San Diego School of Creative and Performing Arts.  He received his formal music education from the University of Arizona and University of California at Los Angeles where he earned his bachelor and baster of music degrees, respectively.  Carl's primary teachers include Jens Lindemann- international trumpet soloist and former member of the Canadian Brass, Keith Johnson- Regents Professor of Music at the University of North Texas and Edward Reid- Principal Trumpet of the Tucson Symphony and Professor of Trumpet at the University of Arizona.
Carl resides in Papillion, Neb., with his wife, Jennifer and daughter, Claire.  When not performing music, Carl enjoys spending time with his family and working out.
Carl has been a member of the Des Moines Symphony since 2010.