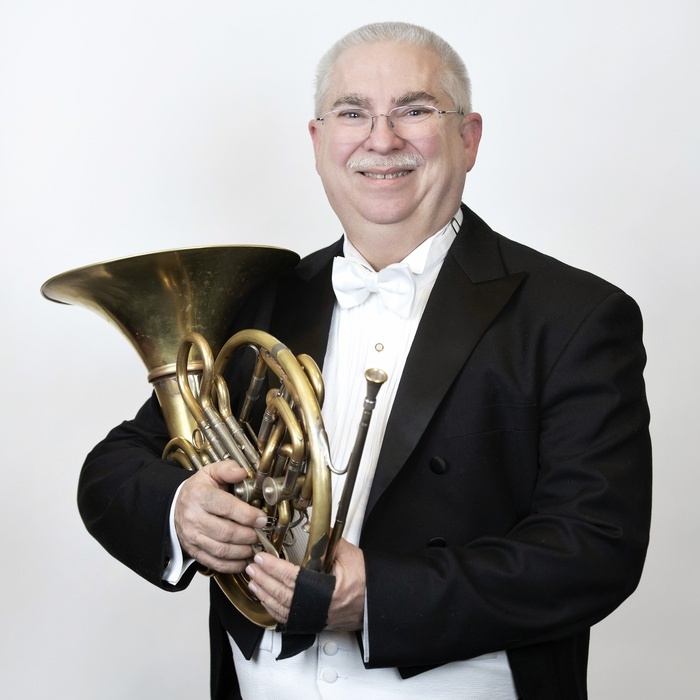 Horn Charles Harris (Andy) joined the Des Moines Symphony in 1997, serving as Assistant Principal Horn until winning the third horn position in 1999. This is the second time he has been a member of this organization. Charles and Des Moines Symphony Orchestra Principal Hornist, Bret Seebeck won positions at the same audition in 1989! Mr. Harris moved to Iowa in 1995 to join Orchestra Iowa, as a second horn. In 1996 he moved to the third horn position and has served as principal horn since 1998. He also performs with the Orchestra Iowa brass and woodwind quintets, as well as the Cedar Rapids Opera Theatre, and the Cedar Rapids Municipal Band. In 2011 he co-founded the Coe College Faculty Brass.
Andy has performed as a soloist throughout his career, including 1979 as featured soloist with the Jefferson City Symphony Orchestra, 1984 as winner of the Liberty Symphony Young Artists Competition, 1988 with the University of Missouri Symphony Orchestra, a 1992 subscription concert with the Monterrey (Mexico) Symphony and most recently with Orchestra Iowa in 2016. He has also held positions in the St. Louis Symphony Youth Orchestra (including their tour of Europe in 1983), the Savannah Symphony Orchestra, the Albany (GA) Symphony Orchestra, the Fort Smith Symphony, and the Missouri Symphony (formerly MOSSPAC).
He feels incredibly blessed to have had opportunities to perform with some of the most distinguished and interesting artists in recent memory. Including Ray Charles, Marilyn Horne, Roberto Clemente, Montserrat Caballé, Paul Robeson, Simon Estes, Yo Yo Ma, Izhak Perlman, and Manheim Steamroller. Originally from Fulton, Missouri, Andy has spent the majority of his career here in the Midwest. Music has subsequently allowed him to travel, live, and perform many places around the country and world, even living in Mexico for a year as a performer/teacher.
He teaches horn at Coe, Wartburg, and Kirkwood Colleges, and the Orchestra Iowa Symphony School. Filling out his "free time" he also works for a local Target store. He says, "I have a hard time answering people when they ask me what I do for my 'Real Job.' I have such fun doing all of it, that I sometimes don't believe that I have a typical 'Real Job.' I like my work, and I love my music!"