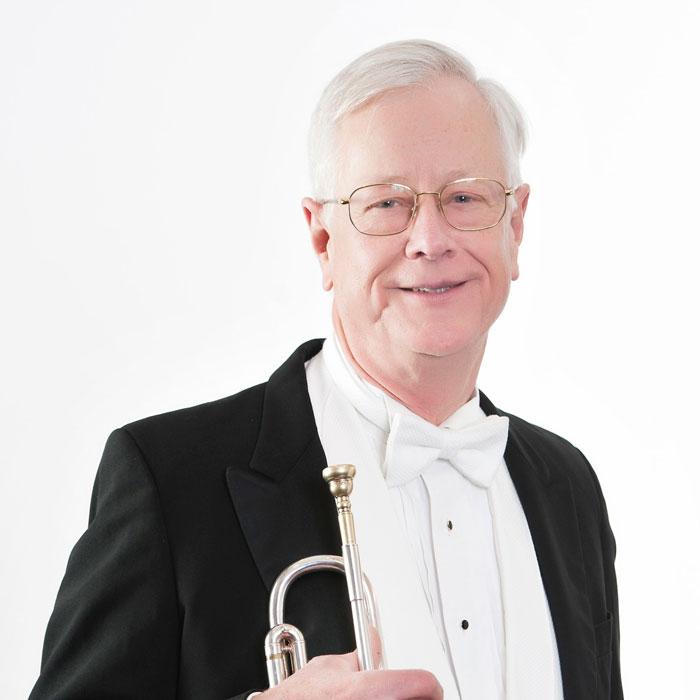 Craig Swartz grew up in Davenport, Iowa, and attended the Davenport School system which was nationally acclaimed for their music program. He earned a BME from Augustana College (Rock Island, IL) in 1974 and an MS in Music Education from Bemidji State University in 1987. He performed with the Quad Cities Symphony from 1975-80, Clinton Symphony from 1978-82, and has been a member of the Des Moines Symphony since 1987. He has played with the Bemidji Symphony since 2007. He was a member of several rock bands in the Quad Cities from 1972-82 and now performs with the Upper Mississippians and the Northern Lights Opera Company out of Park Rapids, Minnesota. He also has been a member of the Bemidji Area Community Band, the Bemidji Big Band, and does freelance work in the Des Moines and Bemidji areas.
Among others, Craig studied trumpet with Raymond Buesen, George Opheim, Renold Schilke, and Charles Decker. He also was a principal conducting student at workshops with Frederick Fennell, Craig Kirchoff, Robert Reynolds, and Miles Johnson. He has performed with virtually every artist that has performed with the Des Moines Symphony over the past 30-some years as well as Benny Goodman, Clark Terry, Doc Severinsen, Vincent Abatto and others over the past 50 years or so. Craig is a retired public school music educator, having taught band for 40 years in Iowa and Colorado. Swartz was also a regular member of the Bemidji State University MusiCamp faculty for 28 years, conducting the Wind Ensemble, Concert Band, Jazz 2, and teaching trumpet and other brass lessons, Music Theory, Music Fundamentals and Beginning Jazz Improvisation. He has been on the faculty of Grinnell College (IA) since 1997, teaching trumpet studio lessons.
Member of the Orchestra since
1987
Most memorable experience with the Orchestra
All experiences have been memorable!
How I got started playing my instrument
My parents insisted that each of the six of us study a musical instrument. The program in the Davenport schools was nationally known so I was always thrown up against outstanding players at school, in the Quad Cities Youth Symphony and throughout the rest of my formal education.
Favorite composer
No real favorite composer, I listen to everything from Bach to Pink and Lady Gaga.
Favorite solo piece
Probably Fasch's Concerto in D for piccolo trumpet