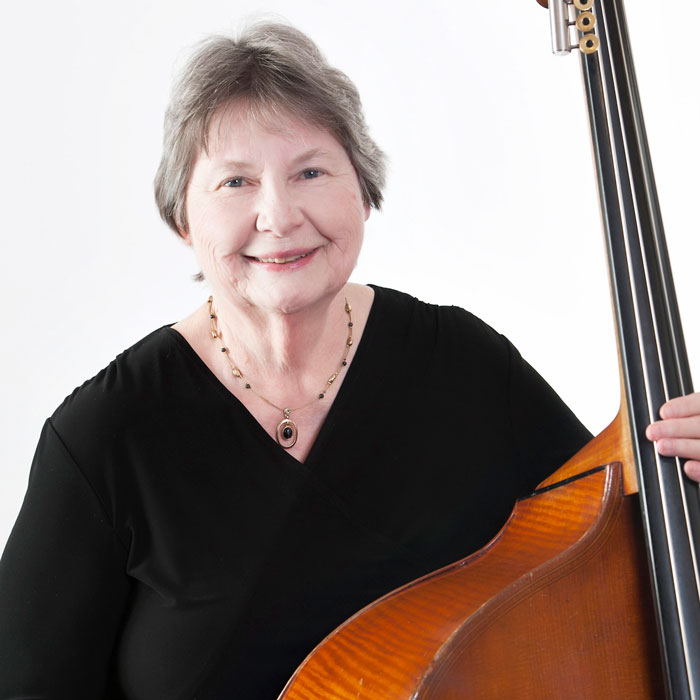 Donita (she/her/hers) first began playing bass with the Des Moines Symphony as a student at Drake University where her scholarship was contingent on playing bass in the Symphony, though she was actually a cello major. She married a Des Moines Symphony bass player, Richard McCoy, who was getting his Master's Degree at Drake and who tells anyone who asks that they met "fiddling around in the back of the orchestra", and they spent nearly 50 years playing together in the Des Moines Symphony bass section. He logged in 52 years, and though he had a head start, the 20-21 season is Donita's 52nd season. Donita was sidetracked from finishing her degree at Drake, but when the youngest of her four children started school, she finished her music degree at Iowa State University. 
Donita has taught elementary strings in Boone and Ames, but now teaches mostly piano in her home studio. She has been a member of Music Teachers National Association (MTNA), Iowa Music Teachers Association (IMTA), and Music Teachers of Central Iowa (MTCI) for over 30 years. She has held many offices in MTCI, and in IMTA has been Vice President for Auditions, Ethical Concerns Committee Chair, and President. She currently serves as Parliamentarian in IMTA. In 2018, Donita was named an MTNA Foundation Fellow. 
Donita was a member of the Des Moines Symphony from 1960-1965. She became a member once again in 1974.