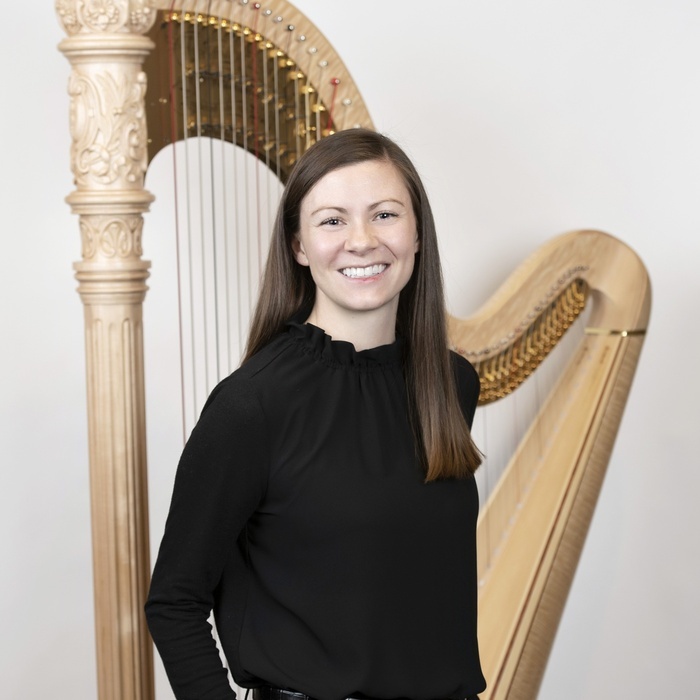 Instrument Principal, Harp
Erin Brooker-Miller is a Classical and Irish harpist with a passion for orchestral and chamber playing.
Erin is the Principal Harpist of the Des Moines Symphony Orchestra. Since joining the orchestra in 2017, she has been featured several times as a soloist and chamber musician including performing the Mozart Flute & Harp Concerto with then Principal Flutist Kayla Burgraff (Oct 2018), Debussy's Danse sacree et Danse profane (October 2020), twice playing on the orchestra's chamber series "Spotlight at the Temple" (2018, 2019), and performing two livestream solo concerts (2020).  Erin has performed with many additional orchestras including the Milwaukee Symphony Orchestra, Asheville Symphony Orchestra, Boise Philharmonic, Evansville Philharmonic Orchestra, and Kalamazoo Symphony, and Quad City Symphony, among others.  She has participated in the Round Top Music Festival, Fresh Inc Festival, Saratoga Harp Colony, and Miami Music Festival.
Happiest playing music with others, Erin was a founding member of the flute, harp, and percussion trio, Archaea Tree Ensemble, a member of the pop harp quartet HarpCore4, and has performed in an Irish harp and violin duo with her brother, Brennan Brooker, since 2004. They now perform as Goodfoot with her husband, Andy Miller on bodhran. Passionate about working collaboratively with composers, in 2015, Archaea Tree Ensemble hosted a weeklong festival retreat called Troublesome Gap. The festival invited five composers from across the United States to write new works for the trio and culminated in a standing room only concert premiering five new compositions.
Representing the United States, Erin competed and won numerous awards in traditional Irish music competitions in solo harp, duo, trio, and Grúpaí Cheoil categories at regional and All-Ireland Fleadh Cheoils between 2002 and 2010. Most notably, she won the Bronze medal for solo harp in 2007 and was a member of the Grand Prize winning Grúpaí Cheoil in 2002, the first time since 1957 that an ensemble from outside Ireland won that category. Erin was named an Alternate for a prestigious Fulbright Grant to Ireland in 2014.
Also an accomplished Arts Administrator, Erin served as the Executive Director of the USA International Harp Competition for five years leading the organization through two of the most successful competitions in its thirty year history. She is currently pursuing a Master of Business Administration at Marquette University.
Erin received a Master's degree from the Indiana University Jacobs School of Music and a Bachelor's degree as a Chancellor's Scholar from the University of Illinois Urbana Champaign. Her principal classical teachers include Susann McDonald, Dr. Ann Yeung, Elizabeth Hainen, and Ayako Watanabe; her principal Irish teachers include Eileen Gannon, Marta Cook, and Grainne Hambly.  Erin lives in Milwaukee, Wisconsin with her husband, percussionist Andy Miller, and divides her time between Milwaukee and Des Moines, IA.
Erin has been a member of the Des Moines Symphony since 2017.