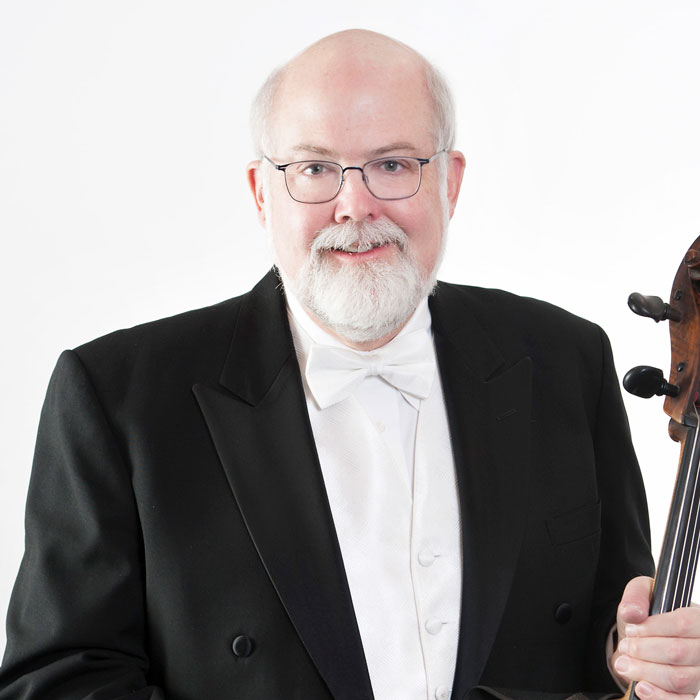 George Work, professor of cello, holds his bachelor's and master's degrees of music and a performer's certificate from the Eastman School of Music, where he also served as teaching assistant to Robert Sylvester. His principal teachers include Robert Sylvester, Paul Katz, Ronald Leonard, Gabor Rejto and Carol Work.
In 1981, he joined the Ames Piano Quartet, in residence at Iowa State University. The Quartet has released fourteen critically acclaimed CD recordings, one on the Musical Heritage label, five on Albany Records, and the others on Dorian/Sono Luminus Recordings. It has appeared in concert throughout the United States and Canada. International appearances include Salzburg, Austria, Paris and Marseilles, France, Taipei, Tainan, Kashiong and Taichung, Taiwan, Merida, Mexico, Havana, Cuba and Kaliningrad, Russia. The group has also been featured on NPR's "Performance Today," WQXR's "The Listening Room," and has appeared on a special edition of "St. Paul Sunday" commemorating the 50th anniversary of WOI radio. This latter led to an invitation to tape a second "St. Paul Sunday," which aired nationally for the first time in November 1999.
George Work has appeared as soloist with numerous orchestras in the Midwest, as well as in Taiwan, R.O.C.  and Kaliningrad, Russia. A faculty member at the a Brevard Music Center in North Carolina from 1998-2002, George Work was also chosen to be an artist faculty member at the first-ever Schlern International Music Festival, held in Voels am Schlern, Italy, in the summer of 2003. In addition to concertizing with the Ames Piano Quartet, George Work is also a member of the Belin String Quartet and the Des Moines Symphony. He has been a member of the Des Moines Symphony since 2008.