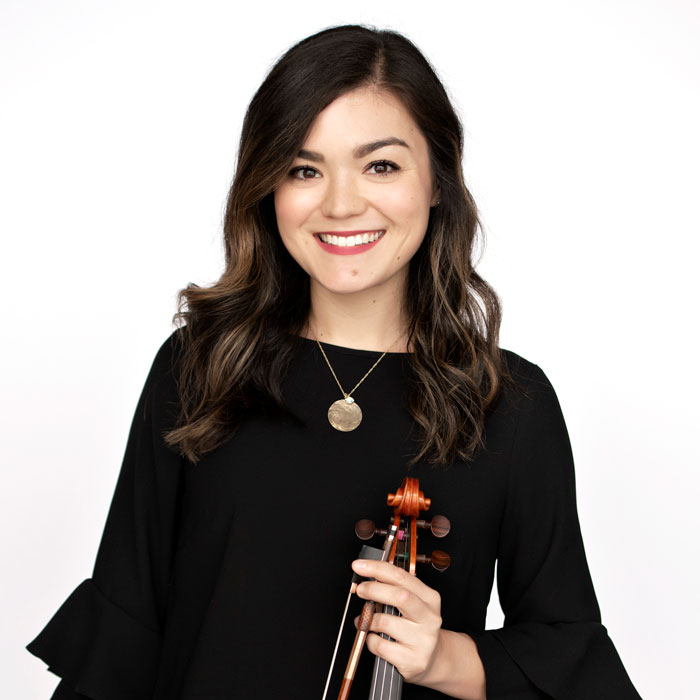 A native of Des Moines, violinist Hanna Wolle has quickly established herself as a dynamic performer, chamber musician, and orchestral player in the Des Moines area.
After beginning her musical studies at age four, Hanna quickly emerged as a talented violinist, winning several competitions in the Midwest. In 2005, she won a First Violin spot with the Des Moines Symphony as a junior in high school and rejoined the Symphony and the First Violin section in 2017 after moving back to Des Moines. In addition to performing with the Symphony, Hanna performs with her string quartet, Quartet 515, and the Dueling Fiddles with fellow Violinist Geneviève Salamone. Through various musical engagements, Hanna enjoys maintaining an active performing career in the area.
Hanna graduated from the University of Iowa with degrees in Economics and Chinese, and currently works at the Principal. In 2017, Hanna was recognized as a finalist for the Juice YP Creative of the Year award and was honored as a 2017 Business Record Forty Under 40 recipient.
Most memorable experience with the Orchestra
I first won a spot with the Symphony in my junior year of high school, and my first concert featured Itzak Perlman as the soloist. I still remember that concert so vividly - he played the Beethoven violin concerto, and I couldn't believe I had the chance to not only meet him but play with him as part of my first Symphony experience. I've had many great experiences since then, but playing with one of my favorite violinists was a definite highlight!
How I got started playing my instrument
I started playing the violin when I was four years old. My dad, a classically-trained violist, started me on the instrument. He comes from a musical family, so when I turned four, it was my turn to start playing an instrument!
Favorite composer
The 3 "B's" - Bach, Brahms, and Beethoven
Other than classical music _____ is on my iPod
Sade, The XX, A Tribe Called Quest