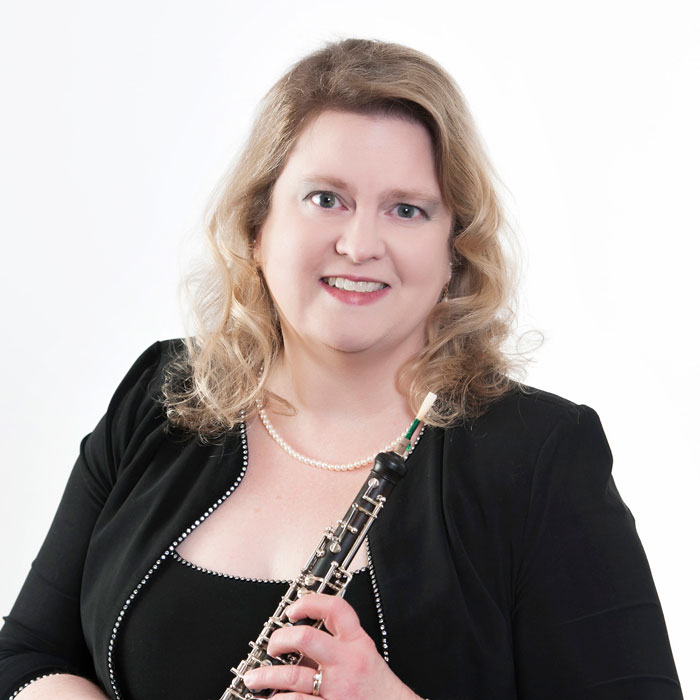 Instrument Principal, Oboe
Dr. Jennifer Wohlenhaus is the Principal Oboist of the Des Moines Symphony and oboist with the Polaris Wind Quintet. She performs frequently as a freelance oboist in the Des Moines/Central Iowa area.
In addition to performing, Dr. Wohlenhaus serves on the music faculty at both Drake University and Grinnell College. She is a Teaching Associate at Drake University, where she teaches oboe, bassoon, music theory, and aural skills. She is an Applied Music Associate at Grinnell College, where she teaches oboe and bassoon. Dr. Wohlenhaus also maintains an active private studio of oboe, bassoon, and piano students.
Dr. Wohlenhaus holds a D.M.A. from the University of Iowa, an M.M. from the San Francisco Conservatory of Music, and a B.M. in Applied Music and Music with Elective Studies in Business from Drake University. Her teachers have included Mark Weiger, Jay Light, and John de Lancie.
Member of the Orchestra since
1999
Most memorable experience with the Orchestra
I have two: First is playing Symphonie Fantastique in my first season on English horn with the former principal oboist, Jay Light, who was my oboe professor at Drake. Second is playing Scheherezade, one of my favorite pieces.
How I got started playing my instrument
Students in my hometown began instrument studies on a core group of about 7 instruments in 5th grade and were moved to other instruments (like the oboe or bassoon if they preferred) in 7th grade. In 5th grade, I wanted to be a percussionist because I had been playing the piano since age 5, but by the time they got to my name in the alphabet they had plenty of percussionists, so I was assigned to the flute. I was not thrilled about this but was promised that if I did well and practiced I would be allowed to play the oboe in 7th grade since my cousin had an oboe she was not using anymore. I dutifully practiced the flute for two years. In 7th grade, I was allowed to begin my oboe studies but spent the first week with a terrible plastic reed, unable to make any sound on the oboe! During the second week, while I was thinking that maybe I needed to stick with the piano & flute, I figured out how to make a sound. At the end of my 7th grade school year, my grandmother (who still comes to the Symphony on Sunday afternoons!) arranged for me to take a few lessons over the summer with Jay Light, the former DMSO Principal Oboist. Those lessons were extremely helpful, quite informative, and put me on the path to more serious oboe study.
Favorite composer
J. S. Bach (with Ravel a close second)
Favorite solo piece
L'horloge de Flore by Jean Francaix
Other than classical music _____ is on my iPod
Other than classical music, everything but country is on my iPod.