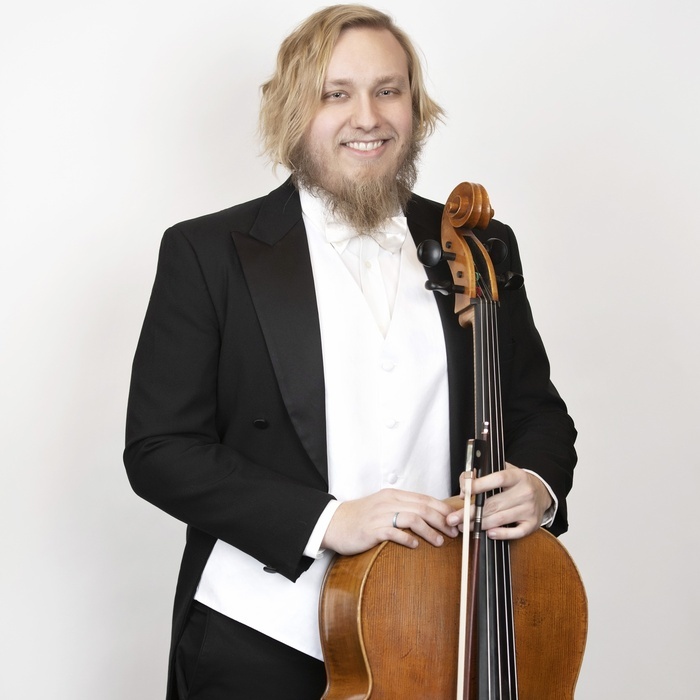 Jesse Nummelin is a native of Stevens Point, Wisconsin. He started Suzuki cello at age three with the Aber Suzuki Center for the Arts. Jesse went on to complete a Bachelor of Arts in cello performance at the University of Wisconsin - Stevens Point and a Masters of Music at Arizona State, where he worked as a Teaching Assistant to Professor Thomas Landschoot.
Jesse is an avid chamber musician and teacher. He is the assistant principal of Cello of the Des Moines Symphony, section Cello at Duluth Superior Symphony, and South Dakota Symphony. He has played with orchestras including Phoenix Symphony, Central Wisconsin Symphony Orchestra, Scottsdale Arts Orchestra, Musica Nova, Tucson Pops, and the Tucson Symphony.
He has played with the CWSO scholarship quartet, premiered several compositions with a string quartet at the Museum of Musical Instruments in Phoenix, AZ, and has performed on the UWSP radio broadcast "Acoustic Revival." He also made a series of Jazz recordings through the Foulger Institute with acclaimed artists Allison Eldredge and Tom Landschoot. Jesse has performed with notable artists including Lang Lang, Andrea Bocelli, Pinchas Zukerman, Anne Akiko Meyers, the Trans-Siberian Orchestra, Curtis Stigers, the Juilliard String Quartet and John Williams.
He has taught cello to people of all ages and backgrounds through various programs and private studios. He served as a faculty of cello at the Aber Suzuki Center for the Arts at the University of Wisconsin - Stevens Point in 2016. Jesse currently lives in St. Paul and teaches cello at the St. Paul Conservatory of Music, Mount Olivet School of Music, the Waldorf City of Lakes School, and Music Connection in Forest Lake. Jesse's teachers include Thomas Landschoot, Tom Rosenberg, Dr. Lawrence Leviton, Dr. Tim Mutschlecner, John Greiner, and Susan Bender.
Jesse has been a member of the Des Moines Symphony since ____.