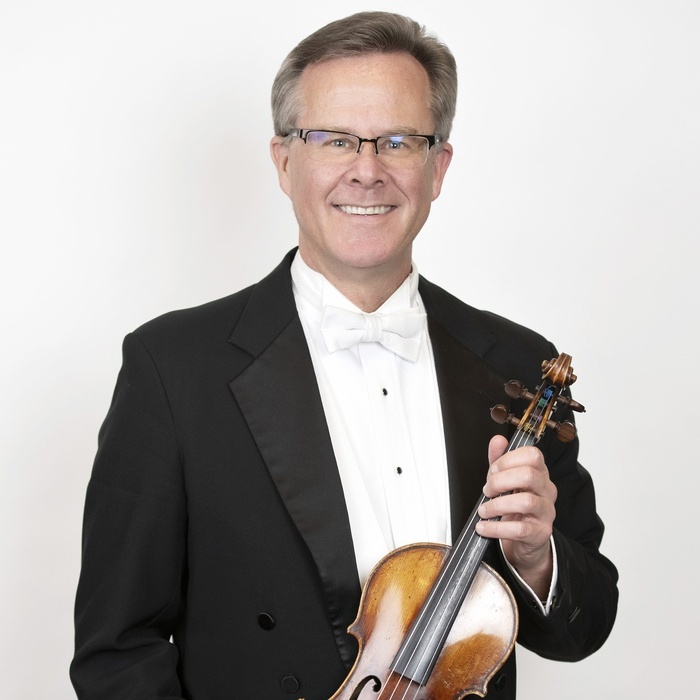 Instrument Concertmaster, First Violins
Dr. Jonathan Sturm has been concertmaster of the Des Moines Symphony since 1991, and the 2022-23 season is his 32st as concertmaster. He is the longest-serving concertmaster in the orchestra's history and has appeared as a soloist with the orchestra ten times, including his appearance this fall with his wife, principal cellist Julie Sturm, in Beethoven's Triple Concerto. During his years in Des Moines, Jonathan has also served as concertmaster of the Des Moines Metro Opera and the Des Moines Brandenburg Ensemble. Besides his violin performing, Jonathan is also a world-touring violist, and for 19 years he performed as a violist in the Ames Piano Quartet with concerts in Russia, Cuba, South Africa, and across the United States and Canada. He has been heard on St. Paul Sunday and Performance Today radio broadcasts and has recorded 11 compact discs on labels including Dorian, Sono Luminus, Fleur de Son, and Albany. His audio/video project entitled Fire and Romance—on which he arranged, conducted, performed, produced, and edited solo and accompanied violin repertoire—was a silver medal winner in the Global Music Awards in 2014.
Jonathan was a founding member of the Belin String Quartet in 2000, performing summer concerts for three years in Des Moines, and he rejoined the ensemble in 2018, performing on both violin and viola. He has taught private lessons to numerous violin and viola students in Central Iowa many of whom have won regional competitions and continued their studies at reputed conservatories of music. He was the recipient of the Iowa String Teacher Association's Leopold LaFosse outstanding studio teacher award in 2018. 
Jonathan has presented at numerous conferences and at universities on music success strategies, financial planning for musicians, assessment tools for the private lesson, stage fright, performing with new colleagues, and Baroque performance practice. His articles in peer-reviewed journals range from violin pedagogy to higher education administration; he has written encyclopedia entries on various musical topics for Salem Press, and is on the editorial board for the Journal of Performing Arts Leadership in Higher Education. As Professor of Music at Iowa State University, he was the recipient of an outstanding teaching award in 2009 and an outstanding service award in 2017, and he has served as president of the Iowa State University Faculty Senate twice, in 2016 and 2019.
Jonathan first became a professional orchestra musician at age 15, joining the second violins of the Norfolk (VA) Symphony (which has since become the Virginia Symphony). His professional training came from Oberlin Conservatory, The Eastman School of Music, and Indiana University, where he studied with renowned concertmaster Josef Gingold. Prior to assuming the concertmaster chair in Des Moines, Jonathan was acting concertmaster of the Rhode Island Philharmonic Orchestra. 
Jonathan has been a member of the Des Moines Symphony since 1991.