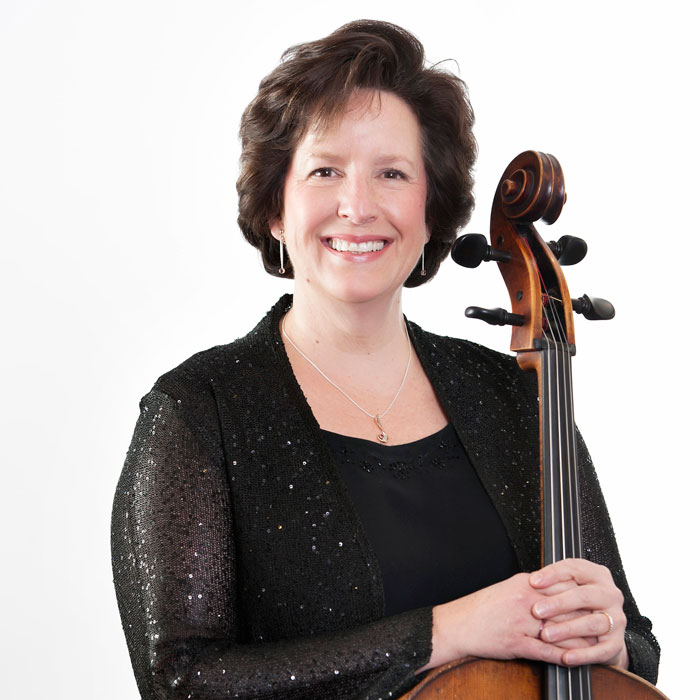 Instrument Principal, Cellos
Julie Sturm has held the principal cello chair in the Des Moines Symphony since 1998. Her performing career as a cellist in solo and chamber repertoire has taken her across the United States, as well as to Germany, Europe, Canary Islands, Israel, Albania, and South Korea. She has collaborated with the Munich Philharmonic as well as the German Orchester der Nationen, and was the featured soloist performing Dvorak's cello concerto with the Taejon Symphony in Korea. Other recital appearances include Mexico City, Passau, Germany, Los Angeles and Boston. She will be featured in 2021 in Beethoven's Triple Concerto, along with Jonathan Sturm, violin and Nicholas Roth, piano.
Before moving to Iowa, Julie was the director of the chamber music program and professor of music theory at Boston's Walnut Hill School for the Arts. In Iowa, she has been on the faculty at Drake University, Grinnell College, Central College, and Iowa State University. She is currently a full teaching professor in music theory at Iowa State University. Julie is a Fulbright scholar, having studied German Harmonielehre (music theory instructional texts across history) in Munich. Her PhD in Music Theory comes from the University of Arizona. She also studied the cello at San Francisco Conservatory and Indiana University. She plays an early 20th century cello by the Hungarian luthier Janos Spiegel.
Julie has been Principal Cello of the Des Moines Symphony since 1998.