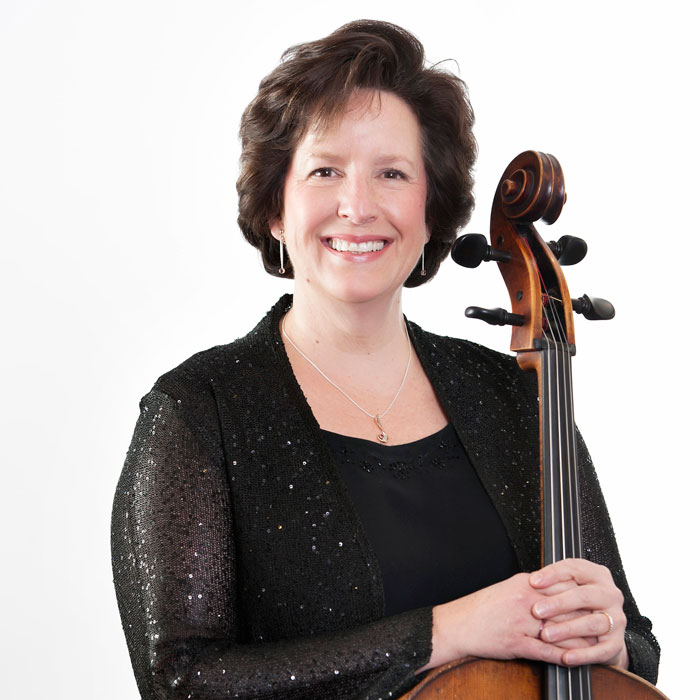 Instrument Principal, Cello
Julie Sturm joined the music theory faculty of the Department of Music at Iowa State University in 2010. Dr. Sturm is a Fulbright scholar, studying German Harmonielehre (instructional texts in music theory) from 1990-91. Her PhD in music theory is from the University of Arizona.
As a cellist with international experience including concertos, recitals and orchestral performances, Julie also holds degrees in cello performance from the San Francisco Conservatory and Indiana University. Among her many and varied performance credentials, she has collaborated with the Munich Philharmonic, has toured Israel, Germany and the Canary Islands with Orchester der Nationen, has been the soloist in Dvorak's Cello Concerto in Taejon, South Korea, and has appeared as a recitalist in Mexico City, Berlin, Munich, Passau, Los Angeles and Boston, in addition to her more recent appearances in Iowa.
Dr. Sturm has held the principal cello chair of the Des Moines Symphony since 1998, during which time she has also held professorships at Drake University and Grinnell College, where she has taught cello, chamber music and music theory. Prior to moving her career to Iowa, Julie directed the chamber music and theory programs at The Walnut Hill School for the Arts in Natick, Mass.
She plays a cello made by the Hungarian luthier Janos Spiegel.
Most memorable experience with the Orchestra
Our concert with Yo-Yo Ma. There was a huge audience, he's a wonderful man and performer and he kissed me on the cheek five times (one time after congratulating me on my own solo in the concert). Such fun and wonderful music.
How I got started playing my instrument
Both my parents are professional musicians. All of us five daughters learned first on the piano and then a string instrument was suggested. My older sister, Ruth, played the violin and I wanted to be like her so I told mom I would like to play the violin. Unfortunately, at the time, my younger sister, Laura, had already told my mom the same thing. Mom did not really want three violinists (I think she secretly hoped to build a string quartet in the family) and gently suggested I take up the cello instead. Sometimes moms really do know best. It was the perfect choice!
Favorite composer
There are so many wonderful compositions by so many interesting composers. How could I possibly choose just one?
Favorite solo piece
Depends on what I am playing at the time, but I do have a special affinity for Bach's Cello Suite in D Minor and Rachmaninoff's Cello Sonata. There is always another favorite out there.