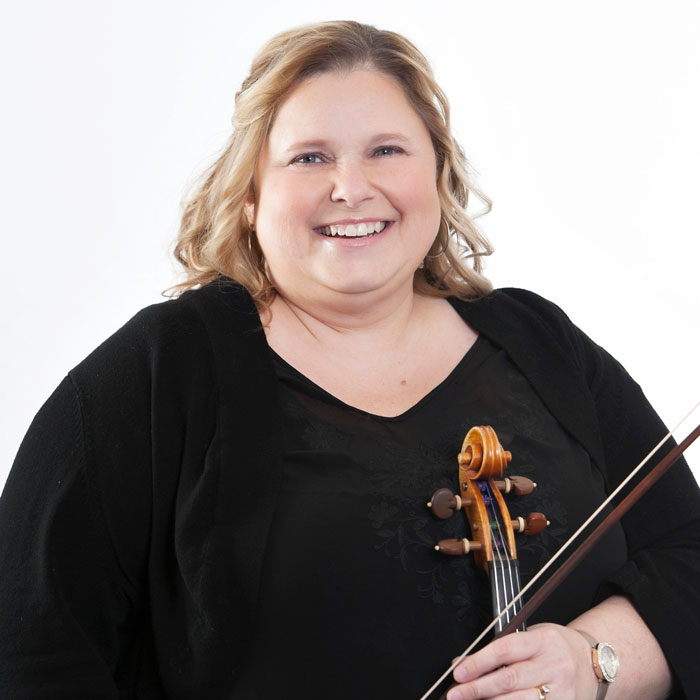 Violinist Linda Pfund Swanson began her career as First Violinist of the Pioneer Quartet of the Des Moines Symphony. With the quartet, she performed recitals throughout Iowa, which were sponsored by the Iowa Arts Council and the Des Moines Symphony. In addition to traditional concerts, the quartet performed in over one hundred of Iowa's public schools and with the Iowa Communication Network, held interactive educational programs in Iowa's classrooms. Radio broadcasts of the quartet have aired on Iowa Public Radio, and PKN radio in Danbury, Connecticut, with members of the Manhattan String Quartet. Since 1993, Mrs. Swanson has continued to perform in the First Violin Section of the Des Moines Symphony. In addition to her position with the symphony, Mrs. Swanson joined the first violin section of Des Moines Metro Opera, in which she played until 2007. While with the quartet, Mrs. Swanson was invited to serve as Guest Concertmaster of the Boise Philharmonic as a finalist for the Concertmaster position and Langroise Trio Fellow of Albertson College. Mrs.Swanson also joined the 40th season of the Britt Music Festival and performed under the baton of James DePreist as Acting Principal Second Violin.
Following her position with the Pioneer Quartet, Mrs. Swanson joined the faculty of Graceland University, which was possible through an endowment given by Dwight and Ruth Vredenburg. As an artist, Mrs. Swanson performed Beethoven's Violin Concerto with the University Orchestra, performed with the Vredenburg Trio, and collaborated with visiting professor Yosif Radianov of Sofia, Bulgaria.. In 2002 and 2005, Mrs. Swanson served on the Faculty of Drake University as Teaching Artist of the Violin. She has also instructed students at the Drake Community School of Music, Central College Music Connection, Peabody Conservatory Preparatory Division, and University of Northern Colorado String Project. Mrs. Swanson has given master classes at The University of Northern Iowa, Albertson College of Idaho, Central College, Drake University, and University of Northern Colorado.
Mrs. Swanson holds a Bachelor's Degree in Violin Performance from University of Northern Colorado. While attending the university, she was awarded Outstanding Freshman Scholar and the Angie Southard Performance Award. As a soloist, she performed Mendelssohn Concerto in E Minor with the University Orchestra at the Music Educators National Conference in Colorado Springs. Winning a Concerto competition, Mrs. Swanson also performed Vivaldi's Winter as a soloist with the orchestra on a tour of South Korea. The concerts were broadcasted on Korean Radio and Television. After arriving back in Colorado, she traveled to Kingsville, Texas as string finalist in the Kingsville International Competition. In Colorado, she auditioned for the 1990 National Repertory Orchestra and was accepted for the nine-week season. During the festival, Mrs. Swanson was offered a position in the Colorado Springs Symphony. She began her Master's Degree in Violin Performance from Peabody in 1991, studying with Baltimore Symphony Concertmaster, Herbert Greenberg. Her chamber music instructor was Earl Carlyss from the Julliard Quartet. In the summers, she participated in National Orchestral Institute, Sarasota Music Festival, and Blossom Music Festivals. Mrs. Swanson performed in master classes for concertmasters; William Preucil, Martin Chalifour, Daniel Majeske, Joseph Silverstein and Norman Carol. At Blossom, she had the privilege of performing Dvorak's New World Symphony in the Cleveland Orchestra with stand partner, Associate Concertmaster- Martin Chalifour.
Recently, Mrs. Swanson traveled to Idaho to Collaborate with Lutanist, Lucas Harris and members of University of Idaho on a performance of Nauwach's Teutscher Villanellen for the Idaho Bach Festival. Additionally , she was honored to assist Jennifer Wohlenhaus on her Faculty Oboe Recital at Drake University.
Mrs. Swanson has been a member of the Des Moines Symphony since 1993.