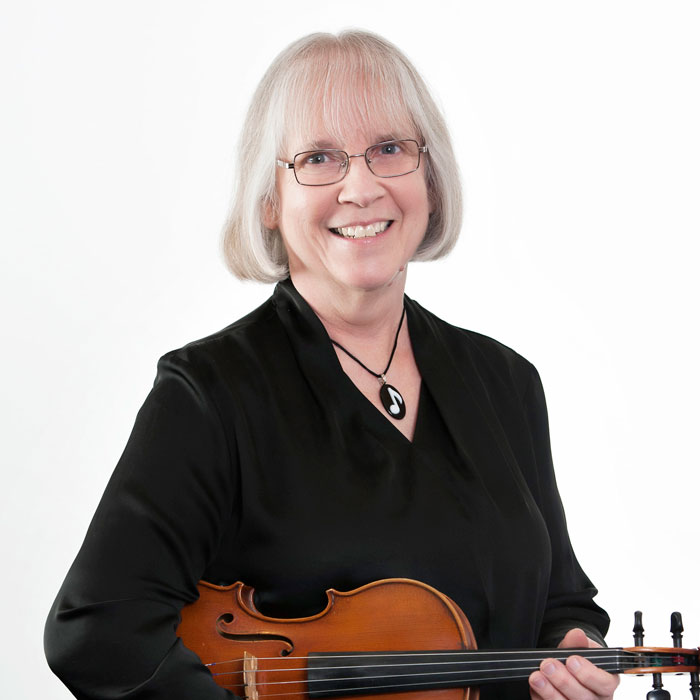 Mary Dahlby grew up in Cedar Rapids, Iowa, where she studied violin with Marlis Windus, concertmaster of the Cedar Rapids Symphony. In addition to performing with her school orchestras, she performed with the Cedar Rapids Youth Symphony six years and the Cedar Rapids Symphony two years. She appeared as a soloist with the Cedar Rapids Youth Symphony.
Dahlby graduated from Iowa State University with a bachelor of science degree in home economics education and from Northwest Missouri State University with a master of science degree in home economics. While at Iowa State, she performed with the Iowa State Symphony Orchestra and a student quartet.
She has taught various combinations of family and consumer sciences, health, and talented and gifted programs in Iowa school districts including Brooklyn-Guernsey-Malcom, Adel-DeSoto-Minburn, Dallas Center-Grimes and Urbandale. She currently teaches family and consumer sciences at Urbandale High School and was named the Iowa Jump$tart Coalition Financial Educator of the Year in 2008 and retired from teaching family and consumer sciences at Urbandale High School in 2014.
Dahlby and her husband, Gordon,  have two children and five grandchildren.
Member of the Orchestra since
1975
Most memorable experience with the Orchestra
Mary Travers of Peter, Paul, and Mary stopped our pops concert performance at Vets Auditorium. She said she wanted to wait for the noisy fans to be turned off before continuing, so everyone could hear the flute solo principal flutist Sandra Wacha was playing so beautifully.
In 2018 I designed a second violin section T-shirt to honor Misha Rosenker's twenty years as our principal second violinist. Matt Meyer came up with the saying, "If you can't play with Misha, you can't play with anyone!" a few months earlier, when we were discussing how we felt Misha brings out the best in our playing. The numbers next to the names on the shirt indicate the number of Masterworks concert sets each violinist had sat with Misha in the first stand. One hundred percent of those contacted about purchasing the T-shirt chose to participate. Then our section, including three retirees, had so much fun surprising Misha before our May sectional rehearsal.
How I got started playing my instrument
My older brother chose the violin because a neighbor boy was playing the violin. My brother was later switched to cornet. When it was my turn to choose an instrument in 4th grade, I never gave it much thought. Why would I choose another instrument when we already had a perfectly good violin for me to play? I would not be a violinist today if the Cedar Rapids Community School District had not had a string program. Public school teachers first told my parents I should take private lessons and then, after a few weeks of studying with a high school student, told my parents I deserved a better teacher.
Favorite composer
Franz Schubert
Favorite solo piece
Fritz Kreisler's Praeludium and Allegro
Hobbies
Spending time with family and photography