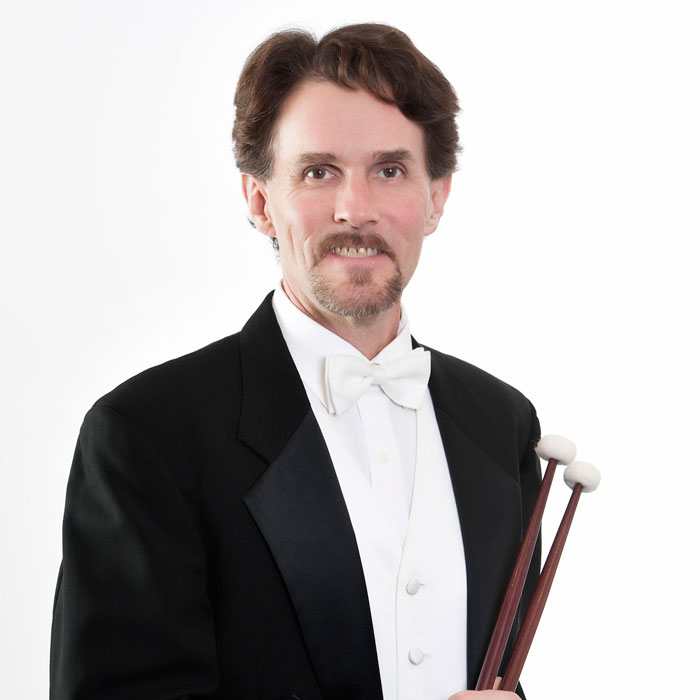 Instrument Principal, Timpani
Michael Geary (he/him/his) is the Principal Timpani for the Des Moines Symphony. He is a native of Mason City and became an extra percussionist with the Quad City Symphony Orchestra (QCSO, Tri City at the time) as a college freshman and was appointed Timpanist three years later. The same year he became Resident Percussionist with the University of Iowa Center for New Music, beginning a l4-year association with that ensemble and ultimately developing a reputation as a skilled interpreter of challenging 20th-century repertoire. He has premiered numerous solo and collaborative works often working directly with composers and performing from coast to coast and Alaska at conferences and universities. While at the University of Iowa, Geary was a member instructor and composer for the Hawkeye Marching Band over the course of ten seasons.
Geary is also a  Percussionist with the Cedar Rapids Symphony as well as the Cedar Rapids Opera Theatre. He has performed often in Hancher Auditorium and other area venues. He champions Australian composers, whom include Carl Vine, presenting the premiere of the orchestrated version of his Percussion Concerto in Des Moines and the North American Premiere of the Percussion Symphony with colleagues from the QCSO.
ln 1992, he joined the orchestra of the Spoleto Festival, performing during ten seasons in Italy and Charleston, South Carolina. He took part in such projects as Prokofiev's War & Peace, Berg's Wozzeck, Strauss' Der Rosenkavalier and Elektra, Shostakovich's The Nose and diverse works of festival founder Gian Carlo Menotti. He was also featured in Milhaud's Creation du Mondeo Crumb's Madrigals and the American Premiere of Mauricio Kagel's Oral Treason. He performed there with renowned artists including Luciano Pavarotti, Renee Fleming, Placido Domingo, Renata Scotto, Jean-Yves Thibaudet, and conductors Richard Hickox, James Conlon, Steven Mercurio,  Christopher Keane and Spiros Argiris. Geary's contemporary projects include performances and recordings with David Gompper, Lewis Nielson, John D. White and cellist Craig Hultgren (former QCSO member and a Davenport native). He is heard on numerous Spoleto Festival recordings on the Chandos label as well as CRI, Music & Arts, aca, and Innova.
Geary holds degrees from the University of Iowa and has also taught at lowa State University. He studied with Thomas L. Davis at the UI, Steven Schick  (his predecessor at the CNM) and Cloyd Duff, the long-time Timpanist of the Cleveland Orchestra.
Geary has served on the faculties of The University of Iowa, Iowa State University, and Luther College.
Geary has been a member of the Des Moines Symphony since 1987.