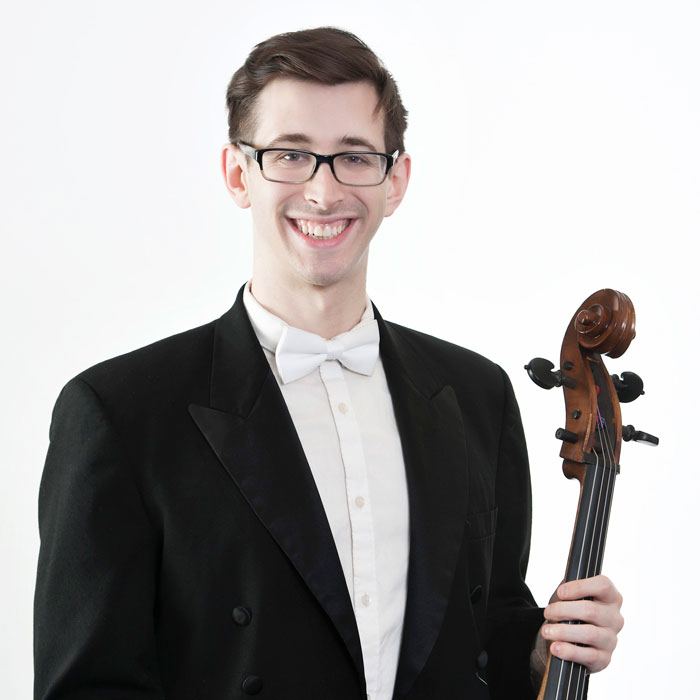 Hailing from New York, Paul Virgilio moved to Des Moines, Iowa in 2009 to study cello with Dr. Ashley Sandor-Sidon at Drake University. In that time, Paul has grown his career in the Greater Des Moines area through various orchestral engagements, work with Quartet 515 (of which he is a founding member), and solo/chamber projects.
Member of the Orchestra since
2010
Most memorable experience with the Orchestra
If I'm being perfectly honest, one of my more vivid memories was a misstep back in 2016. During a rehearsal of Poulenc's Organ Concerto, I miscounted and played a big solo F sharp. The way I remember it, it was the loudest note I've played in my entire life! I was saved from my sinking feeling of shame by Maestro Giunta. He laughed and exclaimed, "Great tone, though!"
How I got started playing my instrument
When I was in elementary school, my classmates and I were given a sheet with different instruments on it and asked to pick two that we would want to learn. The cello was actually my second choice -- my first was the French horn! I wound up being given a cello instead. That was probably for the best!
Favorite composer
As long as they create from a place of sincerity, I truly feel that there is something to appreciate in the work of every artist. With that said, I've always enjoyed Prokofiev.
Favorite solo piece
A classic: Bach's Cello Suite No. 1 in G major
Hobbies
I enjoy cooking, reading, and spending time with friends.
Other than classical music _____ is on my iPod
As long as it has a shade of 'different', I'm probably going to be into it! From Cyrille Aimee to Animals as Leaders to Open Mike Eagle, I'm always ready to lend my ears.