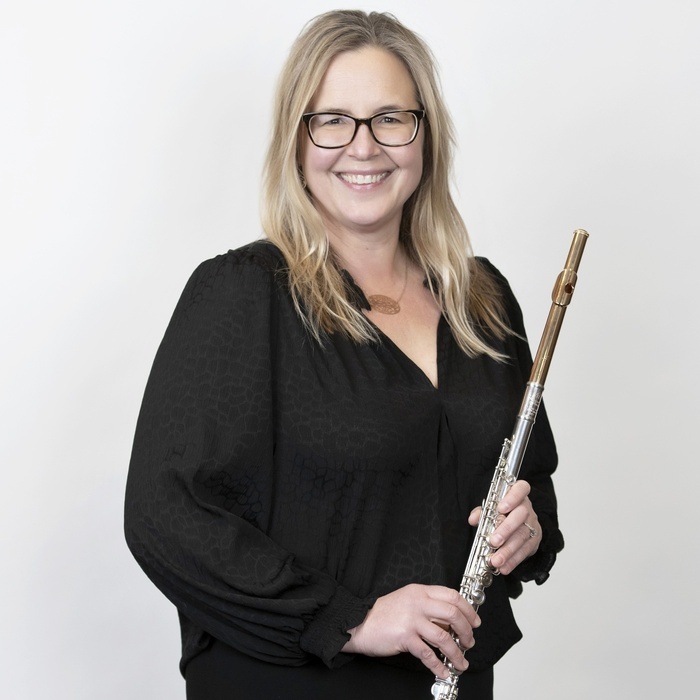 Sonja Giles (she/her/hers) has distinguished herself both domestically and abroad as a soloist, chamber musician, and educator at a variety of venues in the United States, Austria, Belgium, Italy, England, Germany, and Russia. She has appeared as a soloist with the Kaliningrad Symphony Orchestra (Russia), Iowa State University Wind Ensemble, Ottumwa Symphony Orchestra, Iowa State University Orchestra & Chamber Orchestra, and numerous bands throughout Iowa. Before joining the Des Moines Symphony in 2019, Sonja served as Second Flute for the 2016/2017 and 2017/2018 seasons, and Piccoloist for the 2018/2019 season. She is currently the flutist for touring Off-Broadway shows at the Des Moines Civic Center, having frequently performed with Orchestra Iowa, the Cedar Rapids Opera Company, and the Des Moines Metro Opera Company.
In addition to her performing career, Sonja is equally zealous about her role as an educator. As Associate Professor of Flute at Iowa State University, she has received several significant awards, including the University Award for Early Excellence in Teaching and the Cassling Early Excellence in Teaching award. Her innovative teaching style has led to her giving collegiate masterclasses in Wisconsin, Minnesota, Alabama, Mississippi, Iowa, Wyoming, Arkansas, Nebraska, North Carolina, and Georgia.
In demand as a guest artist and pedagogue, Sonja's festival performances include the Upper Midwest Flute Festival, North Carolina Flute Day, Illinois Flute Day, Young Musicians Camp, Mid-South Flute Festival, and most recently as the main guest artist for the inaugural Alabama Flute Day. As an active participant at the National Flute Conventions, Sonja has performed, given classes, conducted the ISU Flute Ensemble, judged various competitions, and is currently serving as NFA Collegiate Flute Choir Coordinator. A Miyazawa Artist, Sonja Giles is based in Ames, Iowa.
She received her Doctorate of Musical Arts from the University of Minnesota, where her dissertation on Marcel Moyse's Tone Development Through Interpretation led to her publications, The Melody Book, volumes 1 & 2. Sonja also holds degrees from The University of Alabama (B.M.) and The University of Iowa (M.M.) and is grateful for her wonderful flute mentors, Sheryl Cohen, Tadeu Coelho, Immanuel Davis, Julia Bogorad-Kogan, and Keith Underwood.