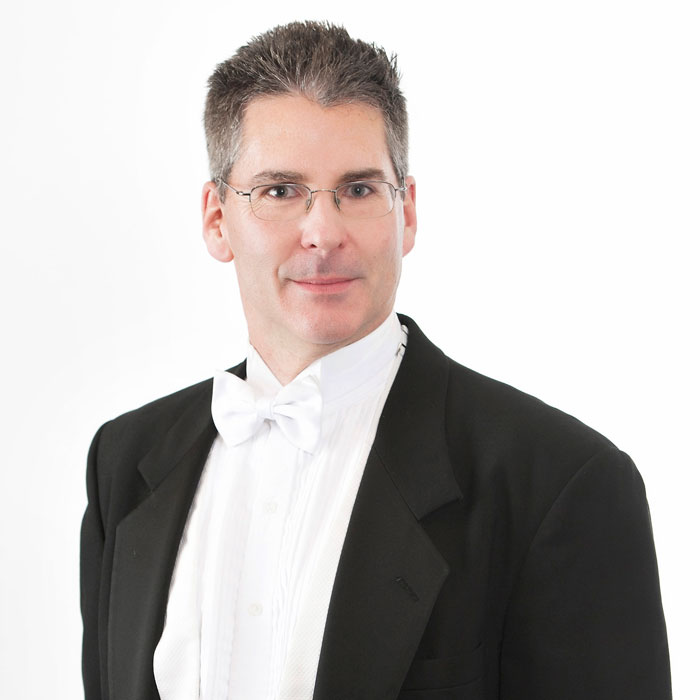 Born in Washington D.C. and raised in Maryland and Illinois, Tom joined the Des Moines Symphony as a percussionist in 2000.  Tom began playing percussion in 1976 at the age of 9 with the encouragement of his mom, who was an elementary school music teacher and dad, who was a Major in the U.S. Army and worked for the National Security Agency.  Tom earned a Bachelor of Music from Illinois Wesleyan University and a Master of Music from the New England Conservatory of Music where he studied with Frank Epstein of the Boston Symphony Orchestra.  While in graduate school, Tom performed with the Boston Philharmonic and spent summers at the Aspen Music Festival in Colorado where he studied with Tom Stubbs of the St. Louis Symphony.  After living in the cold Northeast for a few years, Tom was offered and accepted a job as a cruise ship drummer based out of Miami just before moving back to the Midwest.  Since moving to Iowa, he has performed with the Omaha, Quad City and Peoria Symphonies in addition to his duties with the Des Moines Symphony.  Tom is also a member of Orchestra Iowa in Cedar Rapids where he has been Principal Percussionist since 1992.
Member of the Orchestra since
2000
Most memorable experience with the Orchestra
Performing Mahler's Symphony No. 2 in the 2009-2010 season.
How I got started playing my instrument
My mom, who was an elementary music teacher, got me started with private lessons in fifth grade in Bowie, Maryland after listening to me bang on pots and pans from the kitchen for many years. During those early years the influence of Ringo Starr from The Beatles and hearing/seeing drumlines at bicentennial parades further enhanced my interest in the drums.
Favorite composer
Mahler
Favorite solo piece
George Hamilton Green's "Triplets" (for xylophone)
Hobbies
Golf, jogging, biking, reading and traveling
Other than classical music _____ is on my iPod
The Pat Metheny Group