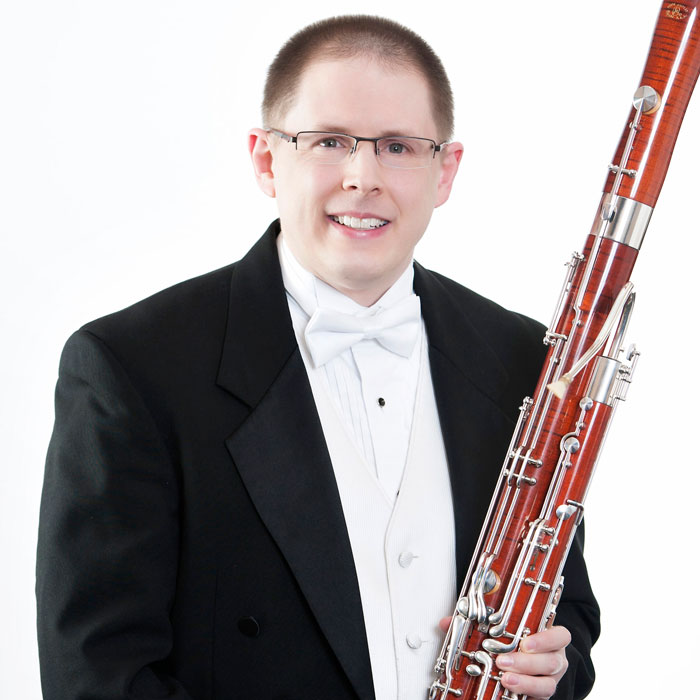 A native of Des Moines, Timothy Gale received a bachelor's degree in music performance from the University of Northern Iowa where he studied with David Rachor.  He earned Master of Arts degree in music performance from the University of Iowa in 2003, under the direction of Benjamin Coelho.  He is the second bassoonist with the Des Moines Symphony, a position he has held since 1995.  Mr. Gale has also appeared with various professional orchestras and ensembles throughout the state ofIowa including the Waterloo-Cedar Falls Symphony Orchestra, and the Des Moines Metro Opera.  In addition to his musical activities, he is currently an employee of Wells Fargo  and recently completed an M.A. in Theology from the University of Notre Dame.
Member of the Orchestra since
1995
Most memorable experience with the Orchestra
Performing with and being acknowledged by Yo-Yo Ma, and playing first bassoon on Bartok's Concerto for Orchestra.
How I got started playing my instrument
I heard musical examples of this great instrument that I really liked in school. I learned that it was called the bassoon. Once I got to 6th grade I just couldn't resist giving it a try.
Favorite composer
Mozart
Favorite solo piece
Carl Maria von Weber's Andante and Hungarian Rondo
Other than classical music _____ is on my iPod
Jazz