The Des Moines Symphony is excited to launch DMSO at Home, a new series of videos and streaming content aimed at connecting with our community online during this period of closures and concert postponements. 
"The arts have the ability to comfort and bring hope; something we could all use a little more of right now. In times like these when so many are struggling, we want to do our part to help enrich our community through great music. All of us at the Symphony hope that these 'DMSO at Home' videos can brighten spirits and bring us together."

Joseph Giunta, Music Director & Conductor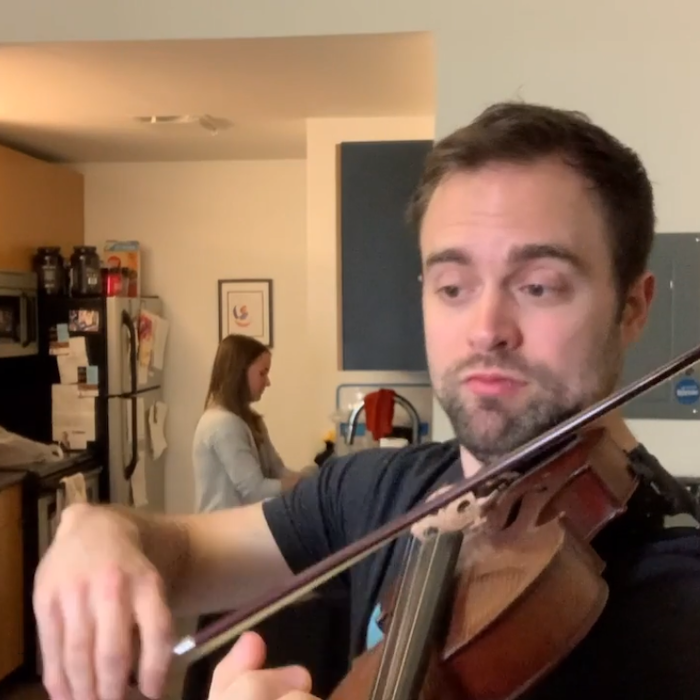 Photo: Violinist Robert Espe plays for 20 seconds to demonstrate proper handwashing technique
Our ongoing musical offerings for our audiences—to be posted online and linked on the Orchestra's social media channels with #DMSOatHome—will include regular self-produced videos from musicians; a weekly score study series with Music Director & Conductor Joseph Giunta; and "mini-concerts" streamed from the homes of Orchestra musicians and broadcast live on Facebook.
Starting Sunday, April 5, musicians will stream concerts from their homes on the Des Moines Symphony's Facebook page; recordings of these broadcasts will be archived on the Des Moines Symphony website. Visit the Des Moines Symphony on Facebook for a full schedule of upcoming performances.
DMSO at Home's weekly series of musician-produced videos will provide behind-the-scenes access into the lives of our musicians including stories, performances, and more. Our social media channels as well as our website will be updated regularly with new videos from Orchestra musicians, as well as contributions from Des Moines Symphony Academy faculty and students.
"We miss making great music for our audiences, and our musicians can't wait to perform for you all at the Civic Center once again. During this time when we are unable to present concerts at the traditional sense, it is important to all of us to stay connected with our community through new and exciting channels to continue to share the excitement and joy of great orchestral music."

Richard Early, Executive Director