On May 5, the Des Moines Symphony announced its summer 2021 season of concerts, including both broadcast and in-person performances through Labor Day weekend.
SYMPHONY PARTNERS WITH IOWA PBS, IOWA PUBLIC RADIO ON STATEWIDE BROADCAST OF ITS YANKEE DOODLE POPS
The Symphony's 27th Annual Yankee Doodle Pops Concert, originally planned for Friday, July 2 at the Iowa State Capitol, will instead take place as a statewide broadcast thanks to a unique partnership with Iowa PBS and Iowa Public Radio.
Each year, the Des Moines Symphony welcomes more than 100,000 Central Iowans to celebrate Independence Day at Yankee Doodle Pops, the largest single-day concert event in Iowa. This July, Music Director & Conductor Joseph Giunta and the musicians of the Des Moines Symphony are pleased to bring The Des Moines Symphony's 27th Annual Yankee Doodle Pops to its largest-ever audience through a statewide broadcast in partnership with Iowa PBS and Iowa Public Radio.
As always, the Des Moines Symphony will perform time-honored patriotic favorites, including the 1812 Overture and Stars & Stripes Forever. Broadway's Hugh Panaro (Phantom of the Opera) will join the Symphony for a return appearance, singing selections from Les Miserables, The Music Man and more. The winner of the Des Moines Symphony's annual "Oh Say, Can You Sing?" competition will open Yankee Doodle Pops with The Star-Spangled Banner.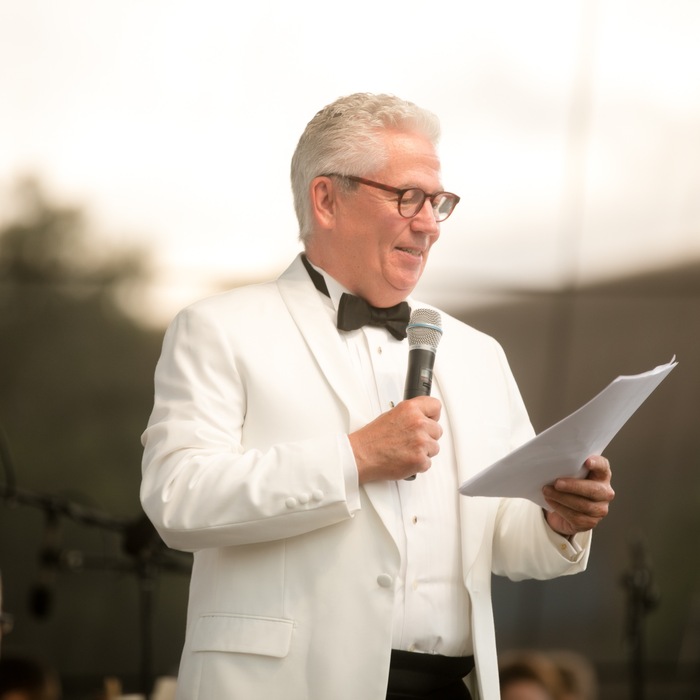 "After much deliberation, we have come to the conclusion that we cannot responsibly invite 100,000 Iowans to gather shoulder to shoulder on the Capitol grounds this July," said Executive Director Richard L. Early. "We are grateful to Iowa PBS and to Iowa Public Radio for working with us to reimagine this concert in a way that allows us to reach more Iowans than ever before, despite the COVID-19 pandemic. We look forward to performing our 28th Annual Yankee Doodle Pops in person at the Iowa State Capitol in July 2022."
"We are thrilled to be able to share the Des Moines Symphony's Yankee Doodle Pops on Iowa PBS," said Molly Phillips, executive director and general manager of the statewide network. "The spirited arrangements, the thundering cannons and the dazzling fireworks have come to define how central Iowans celebrate our independence each July. Now, families anywhere in Iowa can share in this popular and patriotic tradition."
The television broadcast will be hosted by Kevin and Mollie Cooney and will feature all-new footage celebrating the sights and sounds of Yankee Doodle Pops. The Orchestra's performance will be recorded in Hy-Vee's Ron Pearson Center, allowing the musicians of the Des Moines Symphony to remain safely distanced thanks to more than 21,000 square feet of performance space.
"Hy-Vee is very happy to be welcoming the Des Moines Symphony to the Ron Pearson Center for this year's Yankee Doodle Pops event," Brad Waller, Hy-Vee's assistant vice president of community relations, said. "It has been an honor to support this patriotic tradition for the last eight years and we're excited to be part of bringing this event back in a way that allows everyone to enjoy the music of the Symphony in a safe way."
Iowans can tune in to the television broadcast on Iowa PBS Friday, July 2 at 8:30PM or Sunday, July 4 at 6:00PM. Iowa Public Radio's broadcast of the Symphony's Yankee Doodle Pops will air on IPR Classical signals Sunday, July 4 at 12:00PM and again on Monday, July 5 at 11:00AM.
"We look forward to broadcasting this event every year," said Al Schares, Music Program Director at Iowa Public Radio. "Even though we won't be celebrating together in person, we hope Iowans will still enjoy the sounds of the Symphony wherever they're celebrating Independence Day in 2021."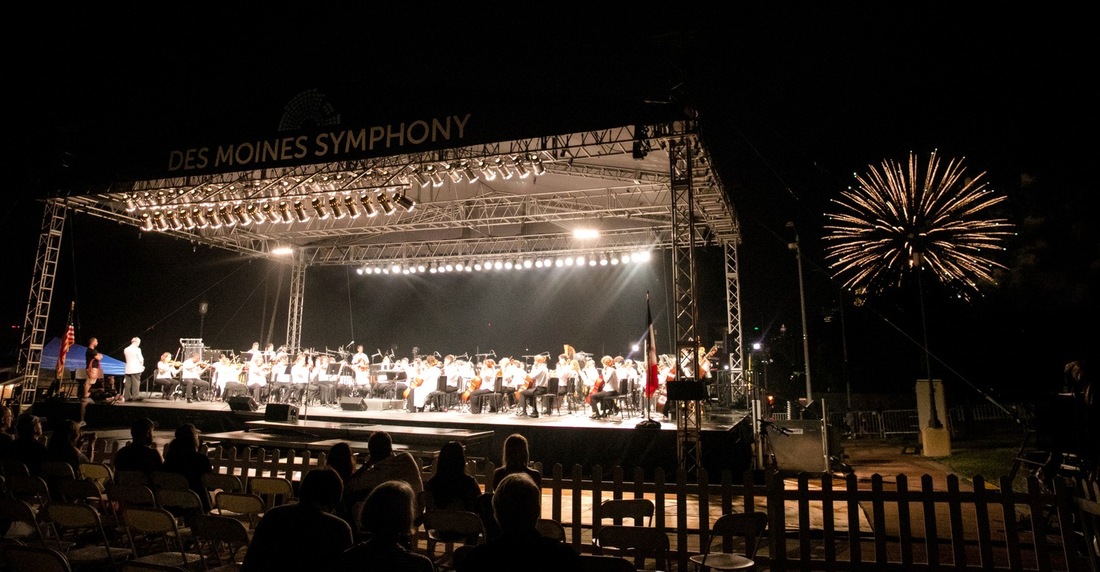 SYMPHONY TO LAUNCH SECOND SEASON OF 'WATER WORKS POPS'
The Symphony plans to perform its second season of Water Works Pops on Labor Day weekend, offering a holiday weekend of free music in the Lauridsen Amphitheater at Water Works Park. These free, outdoor concerts, offered the evenings of Saturday, September 4 and Sunday, September 5, will be presented thanks to the generous support of Linda & Tom Koehn.
The Symphony is closely monitoring guidance from the CDC and the Iowa Department of Public Health to create a distanced and safe environment for its outdoor concerts. Detailed guidelines, including distancing, masking requirements, and capacity limits, will be announced later in the summer.
"As always, the health and safety of our audiences, musicians, and staff is of the utmost importance," said Early. "Thanks to the advice of several medical professionals serving on our COVID-19 Response Team as well as the mitigation strategies being developed by our administrative staff, we are confident that we will be able to perform these outdoor concerts in a safe environment, allowing our community to experience live, in-person symphonic music once again."
On Saturday, September 4 at 7:30pm, Broadway Diva Capathia Jenkins (Disney's Newsies, The Civil War) and three-time Grammy nominee Ryan Shaw will light up the Lauridsen Amphitheater with Aretha: A Tribute, a glittering celebration of Aretha Franklin, featuring iconic favorites from Respect and Think to A Natural Woman and Amazing Grace.
The Symphony takes the stage again on Sunday, September 5 at 7:30pm with a celebration of iconic film composer John Williams. From Star Wars to Harry Potter and more, Joseph Giunta will lead the Orchestra in a celebration of movie magic under the stars.
General Admission to Water Works Pops is free and open to the public.