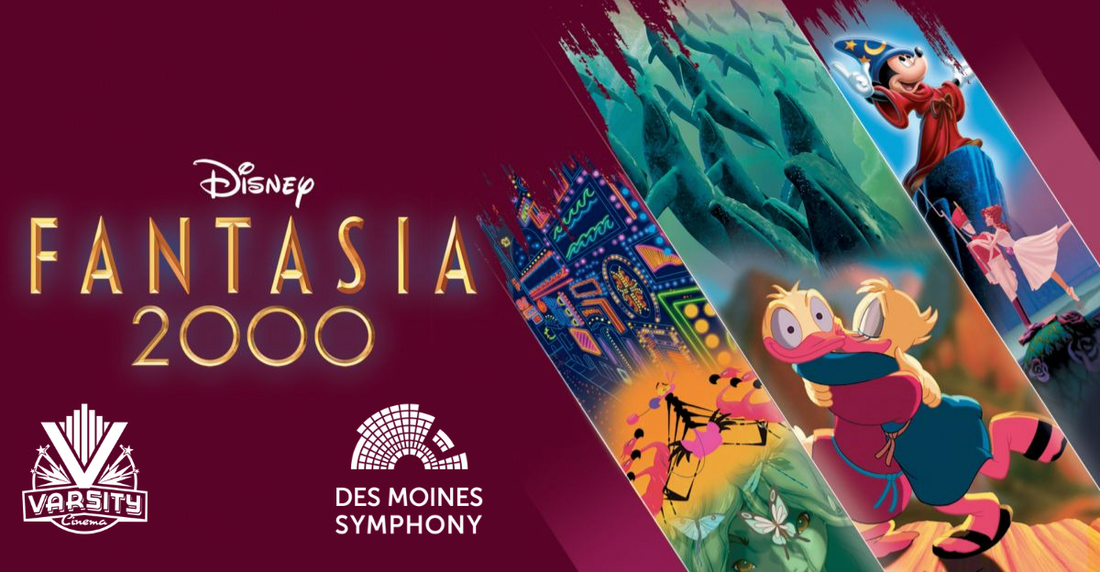 Join us at Varsity Cinema on July 29, July 30, and August 1, to watch the magic of music unfold in Disney's Fantasia 2000! 
Released on December 31, 1999, to ring in the new millennium, Fantasia 2000 continues the legacy of Walt Disney's original 1940 masterpiece, Fantasia. The film features nine beautifly animated segments that highlight some of the greatest achievements in classical music. During the 2023-2024 season, you'll hear your Des Moines Symphony perform Gershwin's iconic Rhapsody in Blue, which is prominently featured in the film and is celebrating its 100th Anniversary in 2024!
Family-Friendly Screenings
Bring the family and join us on Saturday, July 29 and Sunday, July 30 to see this extravagant movie in the theater! And be sure to come early! Kids and adults alike will have the opportunity to see and play instruments that they hear during the movie! Our Instrument Petting Zoo is a great way to experience string instruments...and it is included with your movie ticket purchase!  
Cocktail Hour + Evening Showing
But these events aren't just for kids! On Tuesday, August 1, we will host a special screening of Fantasia 2000 at 7:00 PM. Prior to the movie, we invite you to a cocktail hour where you will have a chance to sample our signature drink created for this screening. Adults will also get the chance to try out their skills at the Instrument Petting Zoo. 
About Varsity Cinema
Varsity Cinema is a nonprofit organization with a mission is to grow the film culture in Des Moines. Varsity Cinema is located at 1207 25th Street, Des Moines, Iowa 50311.