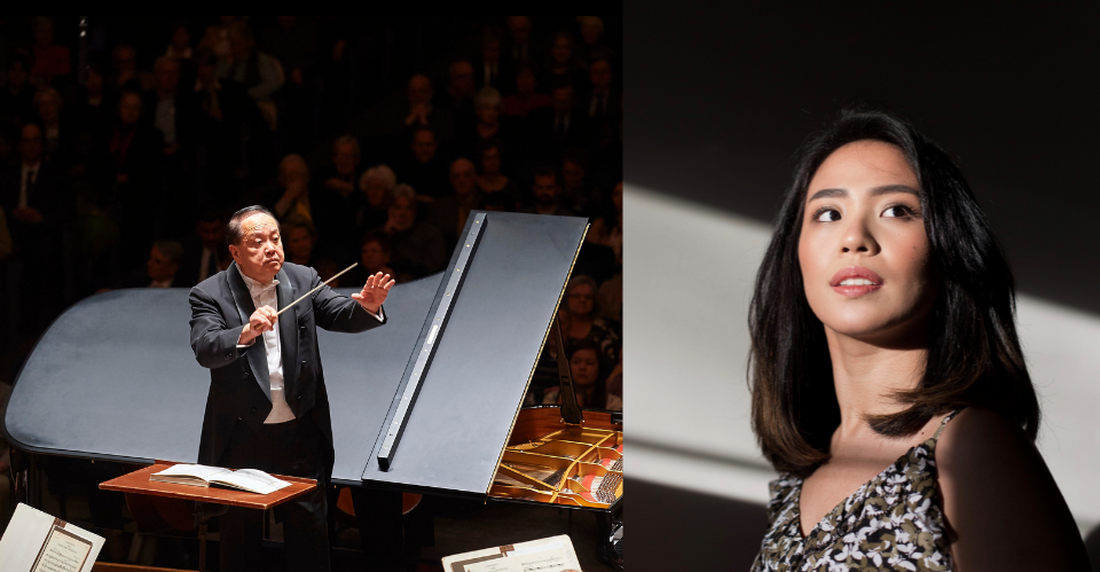 Pulitzer Prize-winner and MIT professor John Harbison was inspired in 1986 by F. Scott Fitzgerald's The Great Gatsby to compose his "Foxtrot for Orchestra," Remembering Gatsby. He returned to the subject and musical ideas of the piece a decade later for his opera The Great Gatsby, premiered by the Metropolitan Opera in 1999. Ludwig van Beethoven displayed his gifts as both composer and pianist in the Concerto No. 3 of 1803. His hearing was already deteriorating, however, and after he premiered the Concerto No. 4 in 1807, he had to give up performing completely. The Symphony No. 5 of 1937 rehabilitated Dmitri Shostakovich's reputation after his censure by the Soviet government the year before, but it also contains a darker current of emotion that reflects the country's life under Joseph Stalin's iron rule.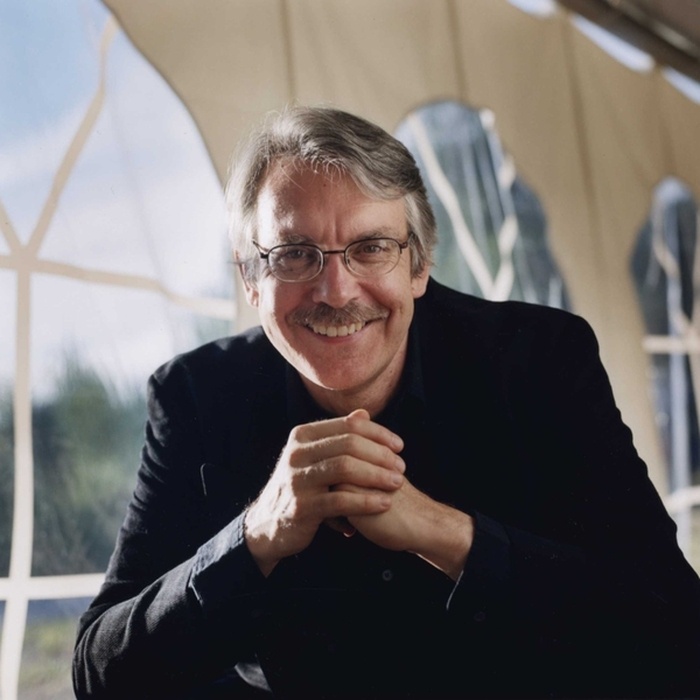 JOHN HARBISON
Born December 20, 1938 in Orange, New Jersey.
REMEMBERING GATSBY: FOXTROT FOR ORCHESTRA
• First performed on September 11, 1986 in Atlanta, conducted by Robert Shaw.
• These concerts mark the first performance of this piece by the Des Moines Symphony.
(Duration: ca. 8 minutes)
John Harbison, one of America's leading composers, was born in Orange, New Jersey on December 20, 1938, and studied at Harvard and Princeton, where his principal teachers included Walter Piston, Roger Sessions and Earl Kim; additional studies were in Berlin with Boris Blacher. Harbison has received many awards and fellowships, including those from the American Academy of Arts and Letters, BMI, Kennedy Center, Guggenheim Foundation, American Composers Orchestra and American Music Center; he also holds four honorary doctorates. In May 1987, he was awarded the Pulitzer Prize in Music for his cantata The Flight into Egypt; he received a MacArthur Foundation "Genius" Award in 1989 and the prestigious Heinz Award for Arts and Humanities in 1998. Harbison has taught at CalArts, Boston University, Duke University and the Aspen Music Festival, and since 1969 has been Professor of Music at the Massachusetts Institute of Technology, where he is currently Institute Professor, the highest academic distinction offered resident faculty. He has also taught at Tanglewood since 1984, serving as head of the composition program there from 2005 to 2015 and frequently directing its Festival of Contemporary Music. His residencies include Tanglewood's Berkshire Music Center, Santa Fe Chamber Music Festival, American Academy in Rome, Pittsburgh Symphony Orchestra, Los Angeles Philharmonic and St. Paul Chamber Orchestra. Harbison has received commissions from the Fromm, Koussevitzky, Rockefeller and Naumburg foundations, as well as from several of the country's leading orchestras. His works include six symphonies, three operas, concertos for piano, flute, brass choir, viola, cello, double bass, oboe and violin, music for orchestra, and many compositions for a wide variety of vocal and instrumental chamber ensembles. His opera The Great Gatsby, commissioned by the Metropolitan Opera, was premiered to great acclaim in December 1999 and has since been performed by Lyric Opera of Chicago and revived by the Met. Among his commissions is the sacred motet Abraham, premiered in the presence of the late Pope John Paul II on January 17, 2004 at a concert at the Vatican on the theme of "Reconciliation Between Jews, Christians and Muslims." In addition to his experience as a composer and teacher, Harbison is also known as a conductor and performer. He won First Prize in conducting under Herbert von Karajan at the Salzburg Sommerakademie, and for several years led Boston's Cantata Singers, a group specializing in Baroque and contemporary music. As a performer, he is a jazz pianist and a chamber music violist.
John Harbison derived Remembering Gatsby from some early sketches for his opera based on Fitzgerald's novel The Great Gatsby, premiered at the Metropolitan Opera in 1999. Of this "Foxtrot for Orchestra," he wrote, "The piece begins with a cantabile [singing] passage for full orchestra, a representation of Gatsby's vision of the green light on Daisy's dock. Then the foxtrot begins, first with a kind of call to order, then a 1920s tune for one of the party scenes, played by a concertino [a small group of solo instruments] led by soprano saxophone. The tune is then varied and broken into its components, leading to an altered reprise of the call to order, and an intensification of the original cantabile. A brief coda combines some of the motives and refers fleetingly to the telephone bell and the automobile horns, instruments of Gatsby's fate. My father, eventually a Reformation historian, was a young show-tune composer in the 1920s, and this piece may also have been a chance to see him in his tuxedo again."
The score calls for piccolo, three flutes, three oboes, English horn, three clarinets, bass clarinet, soprano saxophone, two bassoons, contrabassoon, four horns, three trumpets, three trombones, tuba, timpani, bass drum, crash cymbals, suspended cymbal, snare drum, xylophone, glockenspiel, triangle, claves, flexatone, drum set, piano and the usual strings consisting of first violins, second violins, violas, violoncellos and double basses.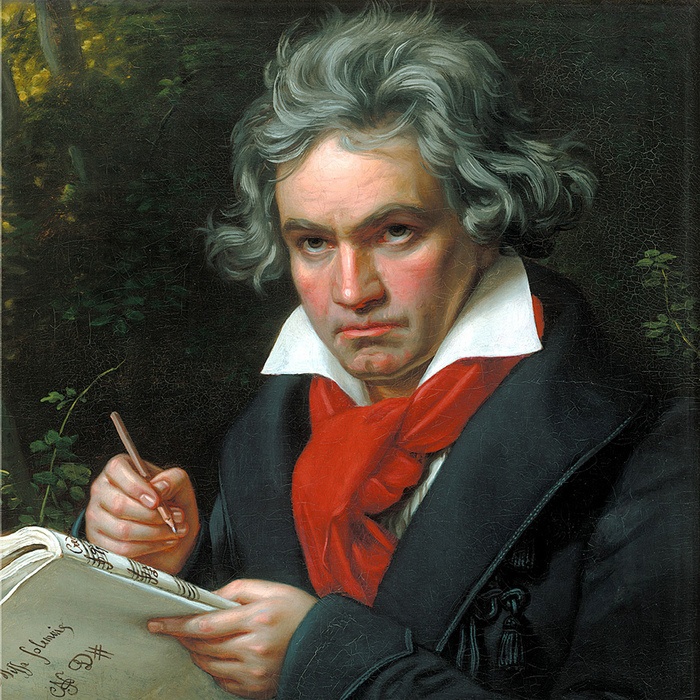 LUDWIG VAN BEETHOVEN
Born December 16, 1770 in Bonn;
died March 26, 1827 in Vienna.
PIANO CONCERTO NO. 3 IN C MINOR, OP. 37
• First performed on April 4, 1803 in Vienna, with the composer as soloist.
• First performed by the Des Moines Symphony on May 3, 1964 with Frank Noyes conducting and Tong-Il Han as soloist. Subsequently performed five times, most recently on April 9 & 10, 2016 with Joseph Giunta conducting and Charlie Albright as soloist.
(Duration: ca. 34 minutes)
By 1803, Emanuel Schickaneder, the colorful character who figured so prominently in the closing pages of Mozart's life as the librettist and producer of The Magic Flute, had taken over the management of Vienna's Theater-an-der-Wien. His house was locked in a fierce competitive battle with the court-subsidized Kärtnertortheater, run by Baron Peter von Braun. When von Braun hired the distinguished Luigi Cherubini as resident composer, Schickaneder felt obliged to counter with his own music master, and he approached Beethoven with an offer. Beethoven, who had felt the need to write for the stage for some time, accepted gladly — especially since the job carried free lodgings in the theater as part of the compensation. He and Schickaneder dutifully plowed through a small library of possibilities for an operatic subject, but none inspired Beethoven until he took up work on Fidelio late in 1803.
In the meantime, Beethoven took advantage of his theatrical connection to put some of his instrumental works on display. Since opera was forbidden in Catholic countries during Lent at that time, the Theater-an-der-Wien was available for concerts in the early spring, and Beethoven scheduled such an event during April 1803. It had been fully three years since he had last presented a concert entirely of his own music, and he had several scores that were awaiting their first presentations, including the Second Symphony, the oratorio Christ on the Mount of Olives and the Third Piano Concerto. He programmed all of these, and, for good measure, tossed in the First Symphony, which had been premiered at his concert three years earlier.
Beethoven proceeded enthusiastically with plans for the concert, working right up to the last minute putting finishing touches on the new compositions. (His pupil Ferdinand Ries found him in bed writing trombone parts for the oratorio only three hours before the rehearsal began.) He had only a single rehearsal on the concert day for this wealth of unfamiliar music, and, with his less-than-adept players, it is little wonder that it went poorly. The public and critical response to the concert was lukewarm, undoubtedly due in large part to the inadequate performance. Beethoven, however, was delighted to have played his music for the Viennese public, and he was well on his way to becoming recognized more for his ability as a composer than as a pianist.
The Third Concerto's first movement opens with the longest orchestral introduction in Beethoven's concertos. The strings in unison present the main theme; the lyrical second theme is sung by violins and clarinet in a contrasting major mode. The closely reasoned development section grows inexorably from thematic fragments heard in the exposition. The recapitulation begins with a forceful restatement of the main theme by the full orchestra. The second movement is a nocturne of tender sentiments and quiet moods. Though analysis reveals its form to be a three-part structure (A–B–A), it is in spirit an extended song — a marvelous juxtaposition of hymnal tranquility and sensuous operatic love scene. The traditional, Classical rondo was a form of simple, high spirits meant to send the audience away in a bubbly mood. Mozart, in his late concertos, had begun to explore the emotional depth possible with the rondo, and in the Third Concerto, Beethoven continued that search. He incorporated elements of sonata design into the finale to lend it additional weight, even inserting a fugal passage in the second episode. Only in the closing pages is the dark world of C Minor abandoned for a vivacious romp through C Major to close this wonderful work of Beethoven's early maturity.
The score calls for flutes, oboes, clarinets, bassoons, horns and trumpets in pairs, timpani and the usual strings.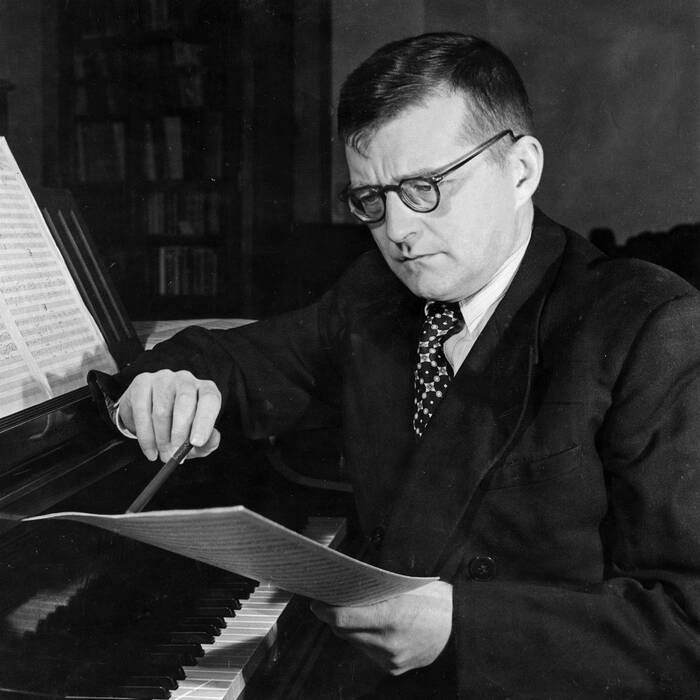 DMITRI SHOSTAKOVICH
Born September 25, 1906 in St. Petersburg;
died August 9, 1975 in Moscow.
SYMPHONY NO. 5 IN D MINOR, OP. 47
• First performed on November 21, 1937 in Leningrad, conducted by Vevgeny Mravinsky.
• First performed by the Des Moines Symphony on October 13, 1973 with Willis Page conducting. Subsequently performed six times, most recently on May 14 & 15, 2011 with Joseph Giunta conducting.
(Duration: ca. 45 minutes)
"COMPOSER REGAINS HIS PLACE IN SOVIET," read a headline in The New York Times on November 22, 1937. "Dmitri Shostakovich, who fell from grace two years ago, on the way to rehabilitation. His new symphony hailed. Audience cheers as Leningrad Philharmonic presents work."
Shostakovich's notoriety began before he was twenty with the cheeky First Symphony; he was immediately acclaimed the brightest star in the Soviet musical firmament. In the years that followed, he produced music with amazing celerity, and even managed to catch Stalin's attention, especially with his film scores. (Stalin was convinced that film was one of the most powerful weapons in his propaganda arsenal.) The mid-1930s, however, the years during which Stalin tightened his iron grip on Russia, saw a repression of the artistic freedom of Shostakovich's early years, and some of his newer works were assailed with the damning criticism of "formalism." The storm broke in an article in Pravda on January 28, 1936 entitled "Muddle Instead of Music." The "muddle" was the opera Lady Macbeth of the Mzensk District, a lurid tale of adultery and murder in the provinces that is one of Shostakovich's most powerful creations. The denunciation, though it urged Shostakovich to reform his compositional ways, also encouraged him to continue his work, but in a manner consistent with Soviet goals. As "A Soviet composer's reply to just criticism" — a phrase attributed to Shostakovich by the press, though it does not appear in the score — the Fifth Symphony was created and presented to an enthusiastic public. Shostakovich had apparently returned to the Soviet fold, and in such manner that in 1940 he was awarded the Stalin Prize, the highest achievement then possible for a Russian composer.
Since the appearance in 1979 of the purported memoirs of Shostakovich (Testimony), however, the above tale has needed some reconsideration. The prevailing interpretation of the Fifth Symphony had been that generally it represented triumph through struggle, à la Beethoven's Fifth and Ninth Symphonies, and specifically the composer's renunciation of his backslidden ideological ways. But in Testimony, Shostakovich, bitter, ill, disillusioned, said, "I think it is clear to everyone what happens in the [finale of the] Fifth Symphony. The rejoicing is forced, created under threat, as in Boris Godunov. It's as if someone were beating you with a stick and saying, 'Your business is rejoicing, your business is rejoicing,' and you rise, shaky, and go marching off muttering, 'Our business is rejoicing, our business is rejoicing.' What kind of apotheosis is that? You have to be a complete oaf not to hear that. People who came to the premiere in the best of moods wept." Shostakovich's thoughts about the Fifth Symphony bear directly on the listener's perception of the work. The key to the work's meaning, its finale, can no longer be seen as a transcendence or negation of the tragic forces invoked in the earlier movements, especially the third, but rather as an affirmation of them. The boisterous trumpets and drums are not those of a festival or a peasant dance, but of a forced death march — Stalin's "exterminations" outnumbered those of Hitler. The Fifth Symphony arose not from Shostakovich's glorification of his nation. It arose from his pity.
The sonata-form first movement begins with a stabbing theme in close imitation. The tempo freshens for the second theme, an expansive melody of large intervals. The sinister sound of unison horns in their lowest register marks the start of the development. The intensity of this section builds quickly to a powerful, almost demonic march. The recapitulation rockets forth from a series of fierce brass chords. The scherzo brims with sardonic humor. The Symphony's greatest pathos is reserved for the Largo. For much of its length, its expression is subdued, but twice the music gathers enough strength to give out a despairing cry. The finale is in three large sections. The outer sections are boisterous and extroverted, the central one, dark-hued and premonitory. Whether the mood of rough vigor of this framing music or the tragedy of the central section stays longer in the mind is a matter listeners must determine for themselves. The delicate formal balance that Shostakovich achieved here could be tipped in either direction depending on the experience the individual brings to it. Only great masterworks can simultaneously be both so personal and so universal.
The score calls for piccolo, two flutes, two oboes, E-flat clarinet, two B-flat clarinets, two bassoons, contrabassoon, four horns, three trumpets, three trombones, tuba, timpani, bass drum, crash cymbals, snare drum, xylophone, glockenspiel, triangle, tam-tam, two harps, celesta, piano and the usual strings.