Beethoven composed The Consecration of the House, perhaps his most ceremonial work, for the re-opening of Vienna's Theater-an-der-Wien in 1822. Tchaikovsky's Piano Concerto No. 1, one of the best-loved works in the concerto repertory, was premiered in Boston in October 1875. Remarkably, Russia's most famous composer also had his Piano Concerto No. 2 premiered in America, in New York in 1881. There could not be a more appropriate title than Starburst for a work by Jessie Montgomery, whose meteoric career as composer, violinist and educator now encompasses commissions for the Metropolitan Opera and New York Philharmonic, and a three-year residency with the Chicago Symphony Orchestra. Mussorgsky's Pictures at an Exhibition was inspired by a memorial showing of works by his friend artist and architect Victor Hartmann, who died at age 39.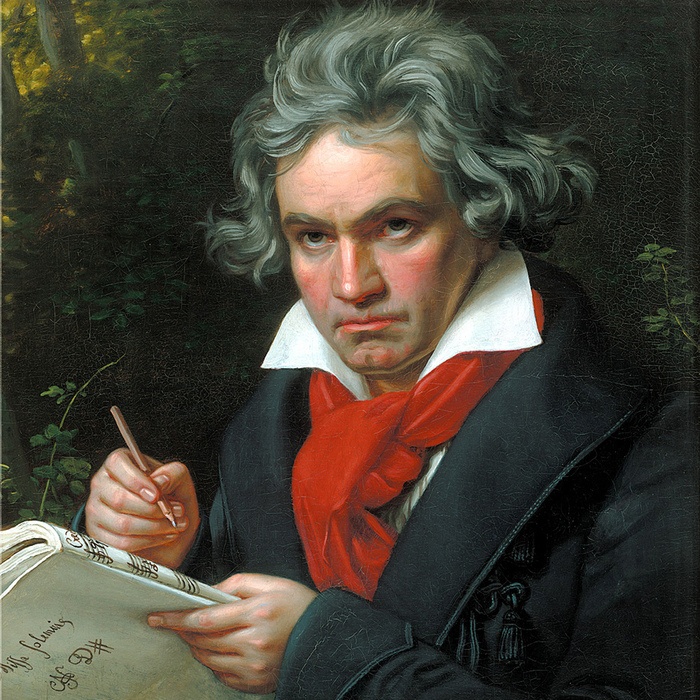 LUDWIG VAN BEETHOVEN
Born December 16, 1770 in Bonn;
died March 26, 1827 in Vienna.
OVERTURE TO THE CONSECRATION OF THE HOUSE
• First performed on October 3, 1822 in Vienna, conducted by Franz Gläser.
• First performed by the Des Moines Symphony on October 13 & 14, 1979 with Yuri Krasnapolsky conducting. The only subsequent performance occurred on April 4 & 5, 2009 with Joseph Giunta conducting.
(Duration: ca. 11 minutes)
Beethoven suffered increasing physical distress during his last decade from edema and severe intestinal inflammation, conditions exacerbated by his Type-A personality and his none-too-tidy lifestyle. He regularly sought (and regularly ignored) advice from physicians, but he did believe in the restorative powers of mineral baths and water treatments, and many of his travels during those years were planned around extended stops at various German and Austrian spas. Early in September 1822, he installed himself in the town of Baden, a few miles south of Vienna, where he was immediately pounced upon by the enterprising theatrical impresario Carl Friedrich Hensler, manager of the Theater-an-der-Wien, which was to be reopened on October 3rd after an extensive renovation. For the inaugural performances in the house, Hensler invited Beethoven to resurrect The Ruins of Athens, a ceremonial play that he had supplied with incidental music for the opening of the National Theater in Budapest ten years before. The text was to be rewritten for the occasion by the Viennese poet Carl Meisl, but most of the Ruins music could be adapted for the Viennese spectacle, which would be appropriately titled The Consecration of the House. Beethoven agreed to supply a new overture and closing chorus, and to oversee the premiere, and the music was written at lightning speed just before its October 3rd premiere. Nominally, Beethoven, seated at a piano, conducted the rehearsal and the first performance, hoping to catch a few stray vibrations with his left ear, which still sometimes worked a little. In the interests of unanimity, however, all of the players' eyes were fixed on Franz Gläser, the Josephstadt's young house conductor, who stood behind the composer and gave signals at crucial moments.
The unusual form of The Consecration of the House is constructed of two separate, compact movements played without pause. It opens with stentorian, full-orchestra chords separated by silences, a gesture reminiscent of that which begins the "Eroica" Symphony. There follows a broad woodwind melody whose phrases are punctuated by solemn harmonies from the trombones. The woodwind theme grows to heroic stature before giving way to rousing trumpet fanfares accompanied by chugging scales from the bassoons. Next comes a quiet, filigree paragraph of continuous rhythmic motion that reaches a climax before subsiding to make way for a halcyon strain of hymnal character. A faster rhythmic figure is introduced, quickly gains speed, and leads without pause into the second movement. The remainder of the Overture is an extensive, spirited and masterful fugal working-out of the energetic theme presented by violins and high woodwinds.
The score calls for flutes, oboes, clarinets and bassoons in pairs, four horns, two trumpets, three trombones, timpani and the usual strings consisting of first violins, second violins, violas, violoncellos and double basses.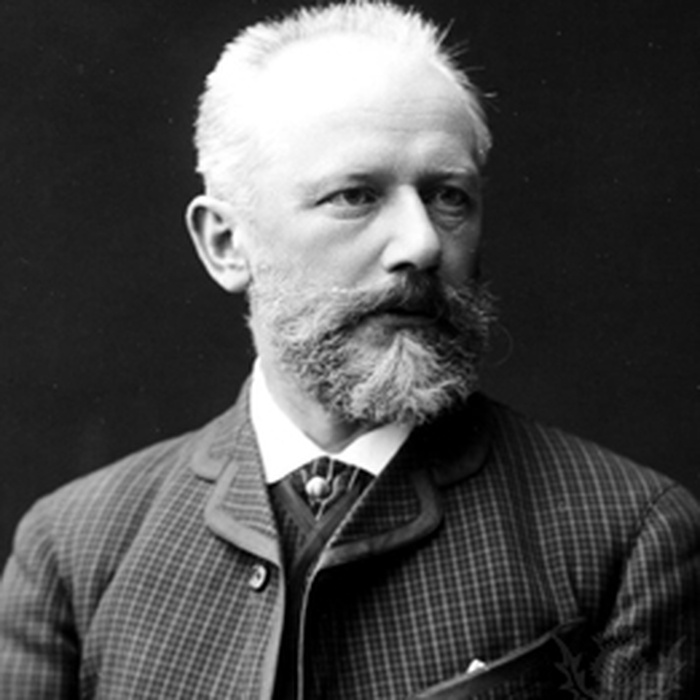 PETER ILYICH TCHAIKOVSKY
Born May 7, 1840 in Votkinsk, Russia;
died November 6, 1893 in St. Petersburg.
PIANO CONCERTO NO. 1 IN B-FLAT MINOR, OP. 23
• First performed on October 25, 1875 in Boston, conducted by Benjamin Johnson Lang with Hans von Bülow as soloist.
• First performed by the Des Moines Symphony on March 16, 1947 with Frank Noyes conducting and Jesus Maria Sanroma as soloist. Subsequently performed twelve times, most recently on September 26 & 27, 2015 with Joseph Giunta conducting and Natasha Paremski as soloist.
(Duration: ca. 32 minutes)
At the end of 1874, Tchaikovsky began a piano concerto with the hope of having a success great enough to allow him to leave his irksome teaching post at the Moscow Conservatory. By late December, he had largely sketched out the work, and sought the advice of Nikolai Rubinstein, Director of the Moscow Conservatory and an excellent pianist. Tchaikovsky reported the interview in a letter:
"On Christmas Eve 1874, Nikolai asked me to play the Concerto in a classroom of the Conservatory. We agreed to it. I played through the work. There burst forth from Rubinstein's mouth a mighty torrent of words. It appeared that my Concerto was utterly worthless, absolutely unplayable; the piece as a whole was bad, trivial, vulgar." Tchaikovsky was furious, and he stormed out of the classroom. He made only one change in the score: he obliterated the name of the original dedicatee — Nikolai Rubinstein — and substituted that of the virtuoso pianist Hans von Bülow, who was performing Tchaikovsky's piano pieces across Europe. Bülow gladly accepted the dedication and asked to program the premiere on his upcoming American tour. The Concerto created such a sensation when it was first heard, in Boston on October 25, 1875, that Bülow played it on 139 of his 172 concerts that season. (Remarkably, Tchaikovsky's Second Piano Concerto was also premiered in this country, by Madeleine Schiller and the New York Philharmonic Society conducted by Theodore Thomas on November 12, 1881.)
Tchaikovsky's First Piano Concerto opens with the familiar theme of the introduction, a sweeping melody nobly sung by violins and cellos above thunderous chords from the piano. Following a decrescendo and a pause, the piano presents the snapping main theme. (Tchaikovsky said that this curious melody was inspired by a tune he heard sung by a blind beggar at a street fair.) The clarinet announces the lyrical, bittersweet second theme. The simplicity of the second movement's three-part structure (A–B–A) is augured by the purity of its opening — a languid melody in the solo flute. The center of the movement is of very different character, with a quick tempo and a swift, balletic melody. The languid theme and moonlit mood of the first section return to round out the movement. The crisp rhythmic motive presented immediately at the beginning of the finale and then spun into a complete theme by the soloist dominates much of the movement. In the theme's vigorous full-orchestra guise, it has much of the spirit of a robust Cossack dance. To balance the vigor of this music, Tchaikovsky introduced a romantic melody first entrusted to the violins. The dancing Cossacks repeatedly advance upon this bit of tenderness, which shows a hardy determination. The two themes contend, but the flying Cossacks have the last word.
The score calls for flutes, oboes, clarinets and bassoons in pairs, two trumpets, four horns, three trombones, timpani and the usual strings.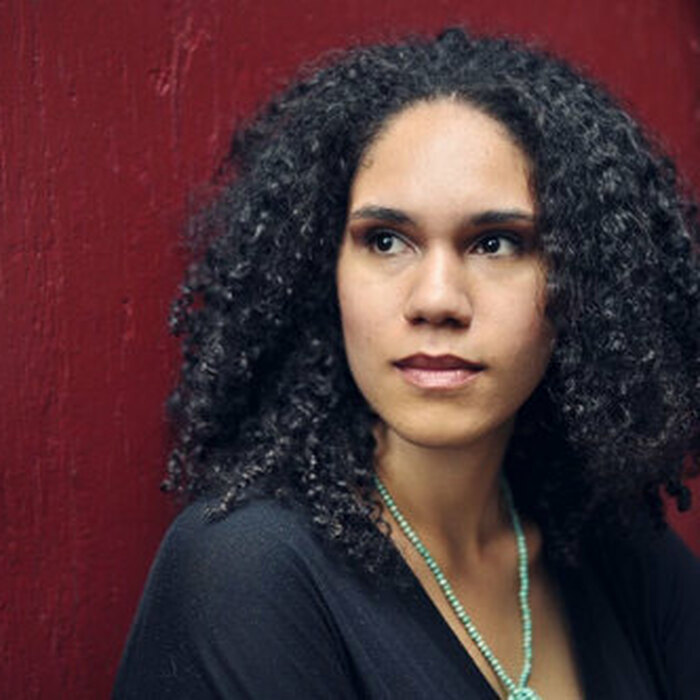 JESSIE MONTGOMERY
Born December 8, 1981 in New York City.
STARBURST FOR STRING ORCHESTRA
• First performed in September 2012 at the New World Center in Miami by the Sphinx Virtuosi.
• These concerts mark the first performance of this piece by the Des Moines Symphony.
(Duration: ca. 3 minutes)
American violinist, composer and music educator Jessie Montgomery, who began a three-year term as Mead Composer-in-Residence with the Chicago Symphony Orchestra in July 2021, started studying violin at age four at the Third Street Music School Settlement in her native New York City. She was composing and improvising by age eleven, and while still in high school twice received the Composer's Apprentice Award from the Chamber Music Society of Lincoln Center. Montgomery went on to earn a Bachelor's degree in violin performance at The Juilliard School and a Master's from New York University in film scoring and multimedia; she has also studied composition with Derek Bermel and Steven Burke and is currently a Graduate Fellow in Music Composition at Princeton University. In 2020, she was appointed to the faculty of the Mannes School of Music in New York. As a performer and educator, Montgomery was a co-founding member of PUBLIQuartet (an ensemble made up of composers and arrangers, featuring their own music as well as that of other New York-based composers), a member of the Catalyst Quartet and Providence String Quartet (dedicated to using music as a means of exploring possibilities for social change in underserved communities in the Providence area, where she taught violin, improvisation and composition to Community MusicWorks students), a faculty member of the Apple Hill Center in New Hampshire, Music at Port Milford in Canada, and Third Street Music School Settlement in New York, and a long-time affiliated artist with Sphinx, an organization that supports young African-American and Latino string players, in which she was a two-time laureate; she is also an active participant in the New York classical and new music scenes. As a composer, Montgomery has created works for concert, theater and film (one of which was in collaboration with her father, Ed Montgomery, also a composer and an independent film producer), and held residencies with the Deer Valley Music Festival, New York Youth Symphony, American Composers Orchestra and Sphinx Virtuosi. Among her rapidly accumulating distinctions are the Leonard Bernstein Award from the ASCAP Foundation and the Sphinx Medal of Excellence. Jessie Montgomery is currently working on a commission for Project 19, the New York Philharmonic's multi-year celebration of the 100th anniversary of the 19th Amendment, passed by Congress in 1919 and ratified by the states the following year, which granted women the right to vote. The Philharmonic began premiering these new compositions by 19 women composers in February 2020.
Jessie Montgomery wrote, "The brief one-movement Starburst for string orchestra is a play on imagery of rapidly changing musical colors. Exploding gestures are juxtaposed with gentle fleeting melodies in an attempt to create a multidimensional soundscape."
The score calls for the usual strings.
MODEST MUSSORGSKY
Born March 21, 1839 in Karevo, Pskov District, Russia;
died March 28, 1881 in St. Petersburg.
ORCHESTRATED IN 1923 BY MAURICE RAVEL
Born March 7, 1875 in Ciboure, France;
died December 28, 1937 in Paris.
PICTURES AT AN EXHIBITION
• Orchestral version by Ravel first performed on May 3, 1923 in Paris, conducted by Sergei Koussevitzky.
• First performed by the Des Moines Symphony on December 2, 1945 with Frank Noyes conducting. Subsequently performed six times, most recently on March 4 & 5, 2017 with Joseph Giunta conducting.
(Duration: ca. 32 minutes)
In the years around 1850, with the spirit of nationalism sweeping through Europe, several young Russian artists banded together to rid their native art of foreign influences in order to establish a distinctive character for their works. At the front of this movement was a group of composers known as "The Five," whose members included Mussorgsky, Rimsky-Korsakov, Borodin, César Cui and Mily Balakirev. Among the allies that "The Five" found in other fields was the artist and architect Victor Hartmann, with whom Mussorgsky became close personal friends. Hartmann's premature death at 39 stunned the composer and the entire Russian artistic community. The noted critic Vladimir Stassov organized a memorial exhibit of Hartmann's work in February 1874, and it was under the inspiration of that showing of his late friend's works that Mussorgsky conceived his Pictures at an Exhibition for piano. Maurice Ravel made his masterful orchestration of the score for Sergei Koussevitzky's Paris concerts in 1923.
Promenade. According to Stassov, this recurring section depicts Mussorgsky "roving through the exhibition, now leisurely, now briskly, and, at times sadly, thinking of his friend." The Gnome. Hartmann's drawing is for a fantastic wooden nutcracker representing a gnome who gives off savage shrieks while he waddles about.
Promenade — The Old Castle. A troubadour sings a doleful lament before a foreboding, ruined ancient fortress.
Promenade — Tuileries. Hartmann's picture shows a corner of the famous Parisian garden filled with nursemaids and their youthful charges.
Bydlo. Hartmann's painting depicts a rugged wagon drawn by oxen. The peasant driver sings a plaintive melody (solo tuba) heard first from afar, then close-by, before the cart passes away into the distance.
Promenade — Ballet of the Chicks in Their Shells. Hartmann's costume design for the 1871 fantasy ballet Trilby shows dancers enclosed in enormous egg shells.
Samuel Goldenberg and Schmuyle was inspired by a pair of pictures depicting two residents of the Warsaw ghetto, one rich and pompous (a weighty unison for strings and winds), the other poor and complaining (muted trumpet). Mussorgsky based both themes on incantations he had heard on visits to Jewish synagogues.
The Marketplace at Limoges. A lively sketch of a bustling market.
Catacombs, Roman Tombs – Cum Mortuis in Lingua Mortua. Hartmann's drawing shows him being led by a guide with a lantern through cavernous underground tombs. The movement's second section, titled "With the Dead in a Dead Language," is a mysterious transformation of the Promenade theme.
The Hut on Fowl's Legs. Hartmann's sketch is a design for an elaborate clock suggested by Baba Yaga, a fearsome witch of Russian folklore who flies through the air. Mussorgsky's music suggests a wild, midnight ride.
The Great Gate of Kiev was inspired by Hartmann's plan for a gateway for the city of Kiev in the massive old Russian style crowned with a cupola in the shape of a Slavic warrior's helmet. The majestic music suggests both the imposing bulk of the edifice (never built, incidentally) and a brilliant procession passing through its arches.
The score calls for two piccolos, three flutes, three oboes, English horn, two clarinets, bass clarinet, two bassoons, contrabassoon, E-flat alto saxophone, four horns, three trumpets, three trombones, tuba, timpani, bass drum, crash cymbals, suspended cymbal, snare drum, xylophone, glockenspiel, chimes, triangle, whip, ratchet, tam-tam, celesta, two harps and the usual strings.