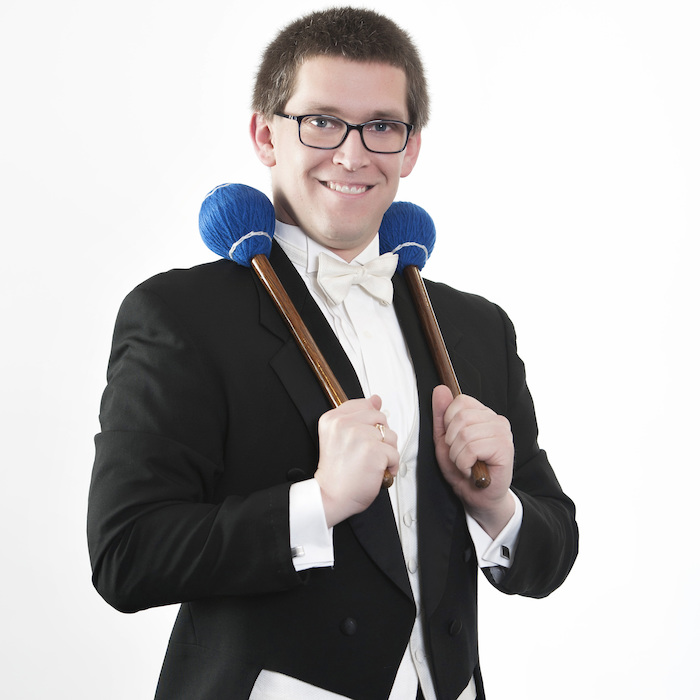 Position: Principal Percussion, Director of Operations, and Symphony Academy Faculty Member
Tell us about your very first encounter with music.
My first encounter with music came from watching the 80s cartoon, Alvin and the Chipmunks. I was hooked on all of the singing and harmonizing. Back then, I could actually sing along in the same octave.
When did you decide that you wanted to become a professional musician?
I knew I wanted to make a living playing percussion way back in Junior High. After sixth grade, I quit playing baseball, started going to music camps every summer, and began taking private lessons with a second percussion teacher. I've been at it ever since.
What are the responsibilities of a Director of Operations at a Symphony?
At any orchestra, the Director of Operations is the person that oversees all of the on-stage and backstage logistics for every rehearsal and concert. Depending on the organization, the responsibilities can also include overseeing orchestra personnel, overseeing guest artists, organizing tours, organizing musician auditions, producing outdoor concerts, and much more.
What Des Moines Symphony performances stand out in your memory? 
My first season with the DMSO was 2010-11, and Maestro Giunta had programmed Ravel's Bolero for that Season. This was my first time playing the solo snare drum part. When it finally came to rehearsal time, Maestro Giunta decided to place the snare drum at the very front of the stage, in front of the First Violins. I was terrified!  I'll never forget it.
How do you typically prepare for a concert?
I typically begin focusing my practice towards a specific concert when we are two weeks out from the concert (one week out from the rehearsals). During that time, I will practice my parts, listen to the music in order to get reacquainted, and also practice along with different recordings of the same piece. If I have a particularly challenging or exposed solo part coming up, I will begin focusing on that three or four weeks out from concert time.
What do you find to be the most challenging part of your job? And the most fulfilling?
The most challenging part of my work is balancing my time between musician work and administrator work. Both jobs are quite time-consuming. Along that same line, it is very fulfilling to be able to contribute to the Des Moines Symphony as both a musician and a staff member. It is very rewarding to bring a musician's perspective to my Operations work and create the best rehearsal/performance environments that I can for my musician colleagues.
What are some of your other interests and hobbies?
When I have a day that I'm not at the office and/or on stage, I try to get outside to ride my bike on the miles and miles of Des Moines bike paths or take my kayak out on a nearby river or lake. I also enjoy collecting and playing modern designer board games.