Our November 12 concert, Copland & Vivaldi, features two of our own Des Moines Symphony musicians as soloists on Vivaldi's Concerto for Two Trumpets. Read on to learn more about Principal Trumpet Andrew Bishop and Second Trumpet Andy Classen!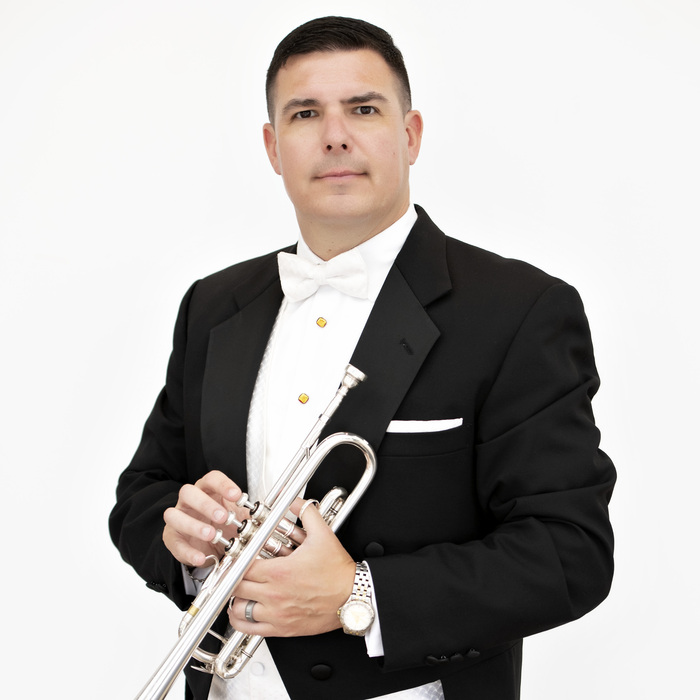 Principal Trumpet Andrew Bishop, originally from Lindsborg, Kansas, was raised in a family and community that believes deeply in the arts. Lindsborg is known as "Little Sweden USA" and was founded by a Swedish society with an appreciation for music and the fine arts. The town took its name from three original founders whose support of fine arts became a longstanding community tradition: S.P. Lindgren, S.A. Lindell, and A.P. Linde. In 1881, the town presented its first rendition of Handel's Messiah. Fifty singers from the village and adjacent farms gathered to witness the historic event. To this day, Handel's Messiah is presented each year on Easter Sunday, the climax of weeks of community preparation and local arts exhibitions. 
With its deep musical roots, Lindsborg was the perfect place for Andrew to grow up. From an early age, Andrew knew what he wanted to do and could be seen playing a plastic trumpet from the age of four. His mother, an accomplished organist and pianist, encouraged him to pursue his dream of becoming a classically trained musician.
Andrew, who holds degrees from Wichita State University and the University of Missouri, was named Principal Trumpet of the Des Moines Symphony in the spring of 2019. Before winning this position, Andrew was Principal Trumpet for the Fort Collins (Colorado) Symphony, Opera Fort Collins, and the Colorado Bach Ensemble. He currently performs with the Apollo Chamber Brass and Boulder Brass in addition to the Des Moines Symphony. Andrew says his favorite part of being a professional musician is "being able to perform some of the most beautiful music ever written, and being able to share that experience both with other musicians and audience members alike."
Besides following the St. Louis Cardinals, Andrew enjoys cooking, vacationing with his wife, and spending time with their two puggles, Bella and Matai. In addition to these hobbies, Andrew spends his free time arranging music for trumpet and brass ensemble, editing/engraving new editions of all kinds of printed music, and trying the many restaurants and brewpubs Des Moines has to offer.
Andrew has been featured several times in our DMSO at Home series. Click here to watch a concert of trumpet favorites from Gershwin to John Williams, originally livestreamed in August and accompanied by his professional organist and pianist mother, Genevieve Bishop. Andrew performed in our October Family Concert featuring the DMSO Principal Brass Musicians, and in June, he shared a video featuring a few of his favorite orchestral excerpts from a daily trumpet Facebook challenge.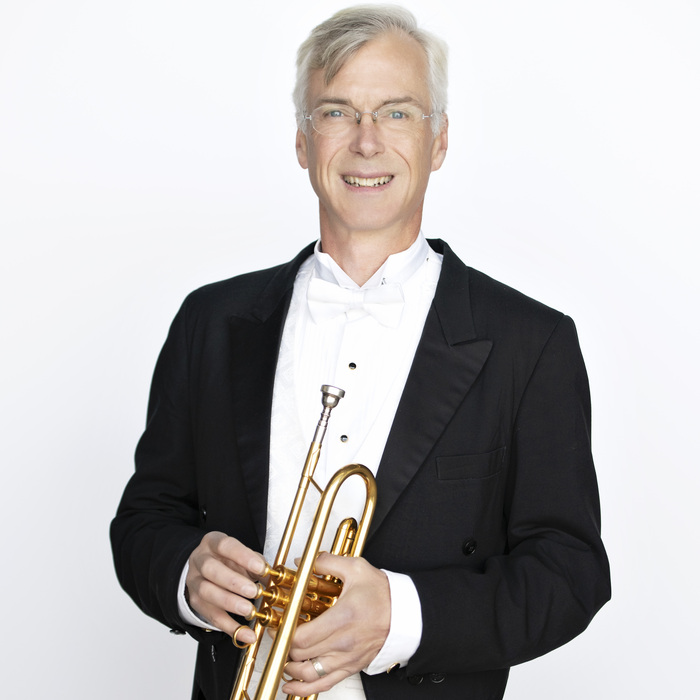 Clinician, guest artist, professor, and musician Andy Classen has always loved playing the trumpet. Growing up, Andy would practice for up to four hours a day throughout high school, college and many years into his professional career. "I wouldn't let anything get in the way of my practicing as more practicing equals more results," he explains. Classen received a Bachelor in Music Education from the University of Wisconsin – Eau-Claire and a Master of Music in Trumpet Performance from the University of Tennessee. He loves to play all styles of music, but is most well-known in Des Moines for his jazz and classical playing.
When he is not teaching or playing with the Symphony, you can find Andy directing the Turner Center Jazz Orchestra, golfing, or playing with his 14 year-old chocolate lab, Bailey. He is an accomplished composer and is published through C.L. Barnhouse Publishing.
Des Moines Symphony audiences may be most familiar with Andy's work through the impressive multi-instrument videos he's shared through the DMSO at Home series. His first recording started with a simple multi-track recording of a six-part piece; after the success of the first video, he continued making the arrangements bigger and more difficult. His largest recording to date features more than 20 individual recordings of himself on trumpet, flugelhorn and mellophone, along with Mark Grimm on drum set and Steve Charlson on bass. If you've missed his previous videos, click through to watch his performances of A Quiet Place, La Fiesta, Time Check, Hawaii Five-O, Malaguena, Wind Machine, Channel One Suite, and Rhythm of our World. 
On Thursday, November 12, Andrew Bishop and Andrew Classen feature in Vivaldi's sparkling Concerto for Two Trumpets, plus the Orchestra performs Copland's idyllic Appalachian Spring in our next Live from the Temple concert, Copland & Vivaldi. Reserve your streaming passes now!