This summer, Olivia Cantrell and Mallory Nelson joined the Des Moines Symphony team without ever setting foot in the office. Read below to learn what the summer was like for our first-ever remote interns!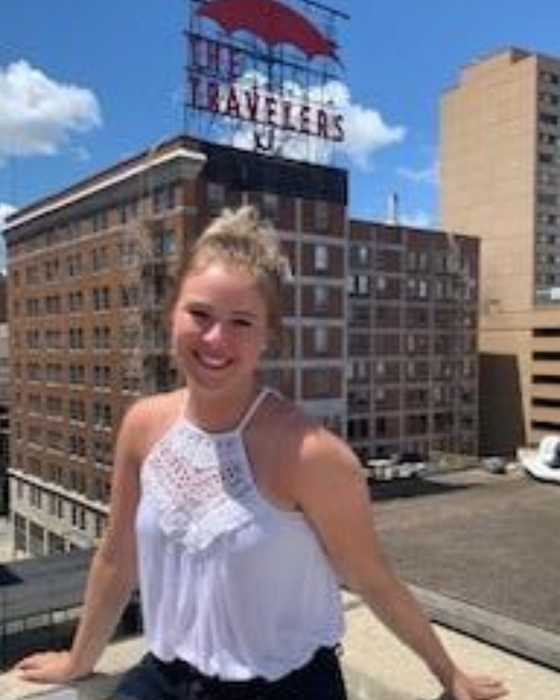 Hi! My name is Olivia Cantrell, and I was the Marketing and Development Intern for the Des Moines Symphony this summer. Music has always been an essential part of my life, but performing was not the route I wanted to take. Growing up in a musical family, I experienced both the performance and administration sides of the music industry. After some very long conversations with my parents, I decided performing arts administration was the path I wanted to pursue in college. I currently attend Drake University, where I will be a Junior in September. I am a Marketing Major and have a Minor in Music, which allows me to play French Horn in almost all of the Drake University Bands. I am originally from Massachusetts and Wisconsin, but my family recently moved to Florida, so I call many places home, including Des Moines. Des Moines is such a fantastic city, and I was excited to see the Des Moines Symphony Orchestra had two intern positions for the summer. Over the past two years, I have attended numerous DMSO concerts and knew that this would be a great place to start my career in performing arts administration.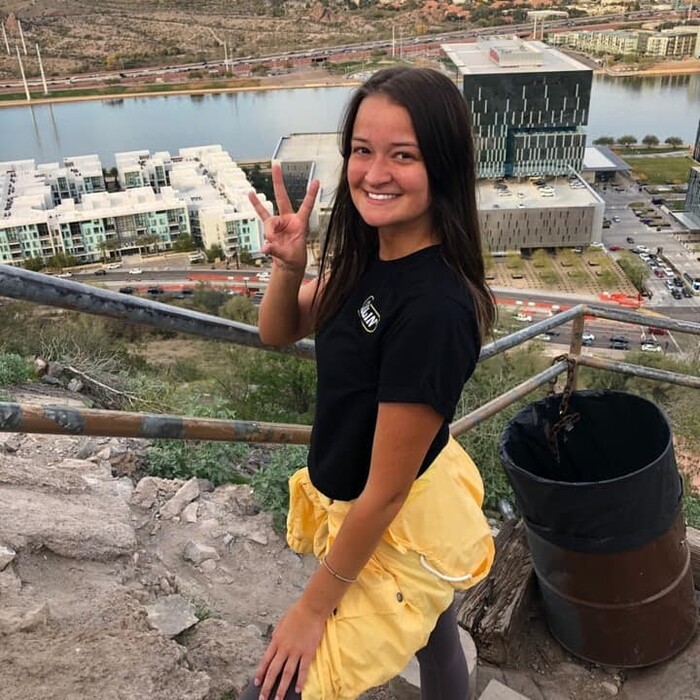 Hi Des Moines Symphony goers! My name is Mallory Nelson, and I was the marketing intern for the Des Moines Symphony this summer. I am a native Iowan who grew up in the Des Moines area. However, I do attend school out of state at Arizona State University. I will be a Senior this fall, finishing my degree in marketing and my minor in dance. A huge passion of mine is the performing arts, specifically dance. I grew up competing and being on stage, where I started dancing at the age of three. I guess you could say that performing arts will always be a part of me, and I have always wanted to find a way to combine my major with my minor. When I saw the intern position at the Des Moines Symphony, I knew that I had to apply. No matter how far I went away for college, Iowa - more specifically - Des Moines will always be my home. I am so excited that I had the opportunity to intern for the symphony this summer!
What did you like about working from home? 
Olivia: When I accepted the position as Marketing and Development Intern, Drake had already sent its students home for the rest of the semester. Still, I was not anticipating working from home all summer as well. After finishing the semester online, I had already developed good work habits that were a big help in staying focused when the internship started. We had a set period from which to work on Mondays, Wednesdays, and Fridays, but my schedule varied from day to day. I found creating an itemized schedule helped me stay focused and complete the tasks I needed to get done. Another plus to working from home was working in comfortable clothes. I started the summer wearing business casual on workdays, but as the summer progressed, however, the business casual migrated to more and more relaxed. However, with a routine already down, this did not seem to affect my productivity.
Mallory: When I was interviewing, I came home on spring break, expecting to go back to Arizona to finish my junior year. Instead, I finished my classes via Zoom, which has now seemed to become the norm. Although working during a pandemic may not appear ideal, it does have some benefits. The first being that when I work, I can wear comfortable clothes, which created a laidback experience. Besides having a more relaxed work environment, a positive for myself has been able to switch up my surroundings. I would go from sitting on the front porch to my desk to a local coffee shop. Changing my surroundings definitely helped me from not going crazy. Lastly, I currently reside in Pella, which is not a far drive from Des Moines, but not having to commute every Monday, Wednesday, and Friday was an added bonus for sure!
What were the challenges of working remotely?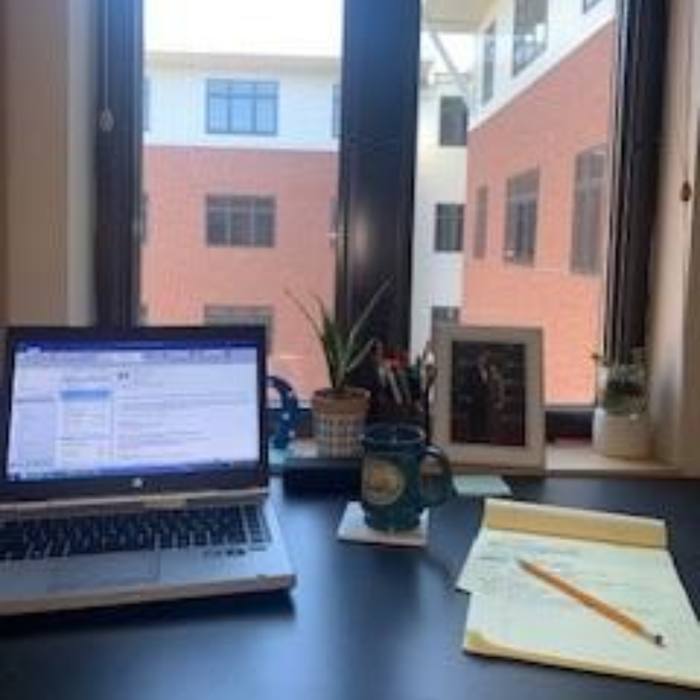 Photo: Olivia's home workspace
Olivia: I am a very social person and love getting to meet new people, so the biggest challenge about working from home for me was not being able to meet my fellow intern Mallory or anyone else in the office. The only time I met in-person with any DMSO staff member was when I picked up and dropped off my work laptop to Ali, one of my supervisors. Every Monday, we had a staff meeting, so at least I could put a face to a name a couple of weeks in, but it wasn't the same as interacting with everyone in the office. By the end of the first month, I still did not know anyone well except for my supervisors. To get to know everyone better, Mallory and I scheduled one-on-one meetings to gain more insight on what each position did and how the organization functioned as a whole. These meetings definitely helped in meeting all the staff. In a one-on-one meeting, someone said that by the end of the second or third week, we would have known everyone in the office pretty well because of where the intern desks are located in the office.
Mallory: I definitely missed not being able to build personal connections with those on staff and my fellow intern Olivia. It was hard to log on to work every day and have little to no human interaction, besides talking to people through zoom and messaging. However, like Olivia previously mentioned, we did get the opportunity to have one on one discussions with each staff member. This allowed for more insight into how the Symphony operates and was an excellent opportunity to get to know the staff members better. Another challenge of working from home was all the possible distractions that could come up. These distractions varied every day from my family of five, also being home this summer to my dog scratching on my door, my phone going off with notifications, and having a construction crew working on my street. To help combat this, I would change up my workspace around the house and put on headphones to block out the many noises.
What projects did you most enjoy working on? 
Olivia: I worked on many small tasks this summer but also had the opportunity to complete three large projects. One of them started in late June and is still going on. When the United States shut down in March and April, no one knew if symphonies would be able to play for a live audience come September. To account for this, most organizations created a task force that planned multiple scenarios that could be carried out at the drop of a hat for the 2020-2021 Season. DMSO was no exception and started planning for live-streamed concerts until at least through December. I was tasked with researching different live stream platforms we could host our concerts on. Late June and all of July, I searched for and met with many different platforms all over the United States (and the world). The most complicated part of this project was keeping track of all the platforms and continuously updating a large spreadsheet with all the information. Towards the end of this research, I helped our Director of Operations, Aaron Williams, with looking for local audio/video companies to take on the technology side of the live streams. There's still plenty of work to be done for these concerts, but I'm excited to see the final products.
Another project I enjoyed was planning and executing a marketing plan for the Symphony Academy. It started off as making three short video ads for the Academy and grew into a whole plan, including blog posts on our website, photo posts on Instagram and Facebook, and posting the video ads on social media. The third project I completed was a Meet the Musicians blog post series that will start to be published in mid-August. This was an up-close and personal look at some of the musicians that participated in DMSO @ Home. Through these blog posts, readers can learn what led that musician to become a musician, what they do for fun, and what career they would have if they were not a professional musician. I also asked each of them the best piece to introduce someone to classical music and created a Spotify playlist (which you should definitely check out).
Mallory: Megan Helmers (Director of Marketing & Public Relations) and Ali Henkle (Marketing Manager) did a great job finding many tasks to do amidst a pandemic despite the fact that it wasn't a typical internship. One of the first projects that I got to work on was a digital inventory of social media platforms, which was then presented to the board. In this project, I looked at various platforms, including Facebook, Twitter, Google Analytics, Instagram, Mailchimp, and YouTube. Where I then compared the same variable (ex; engagement rates) against different dates and years. This showed where there was growth or in what areas there could be an improvement. I enjoy being on social media, so it was fun to see and learn from the analytics side of the platforms.
I also worked on a metadata project. If you're asking yourself what metadata is, that's exactly what I asked myself when I started this project. This was definitely one of the more challenging projects that I had. I was asked to research metadata and the best practices. This is when I found out that it's a form of coding that occurs on the admin side of the website. This code followed with a short description of what the page is about leads users on google to the correct pages. To change the Meta descriptions for the Des Moines Symphony, I first went to Google search console. This is where it tells you key words on Google that are driving traffic to your site. I then used those keywords to develop descriptions for different website pages. After a few days, the descriptions changed on google, and I was happy that I learned a new skill. Lastly, one of my favorite projects I got to work on was uploading Symphony in Sculpture I, II, & III on to Spotify and other music streaming platforms. If you would like to listen, go ahead and give The Des Moines Symphony Spotify account a follow!
Final thoughts and takeaways
Mallory: I have learned so many things throughout this strange summer. For me looking into the future once I graduate, I am still unsure of what path is for me. There are many things that one can do with a marketing degree that makes it hard to narrow down what I want to pursue. I enjoy the performing arts, and I also enjoy advertising. This next year I will be exploring both options of whether an ad agency is for me or arts admin. The biggest takeaway for me would be that wherever I work or end up, I need to be able to adapt. Working during this pandemic has shown me that nothing is set in stone and that the industry is constantly changing. Whatever career I end up in, I am now prepared to be flexible. I am grateful for this internship, as many other organizations canceled. I would just like to thank the Symphony and staff for the opportunity to learn, grow, and better myself.
Olivia: The biggest thing I will take away from this summer is that this is exactly what I want to do after graduation. I think college students' biggest fear is landing themselves in a job that they are not sure if they actually enjoy. A lot of this exploration is done through internships, good and bad, and I am fortunate enough to know that I am on the right path and that belonging to a marketing team for an orchestra is still the end goal. This internship also gave me a lot of confidence in my work. I was not just doing busywork. In October, November, and December, when friends and family stream DMSO concerts, I can look at it and say, I was a big part of making that happen. There is no better feeling in the world. The future work I do, whether in another internship, school projects, or working for the Drake Bands Marketing Team, I can accomplish the task without doubting if I am doing it right and am not afraid of asking questions, which I did a lot of this summer. When all is said and done, I am very grateful to the Des Moines Symphony staff for the opportunity to intern this summer and look forward to working with them again because, as my father always says, "The music industry is not a small world, it is no bigger than a large room."
Thanks to Olivia and Mallory for a great summer!