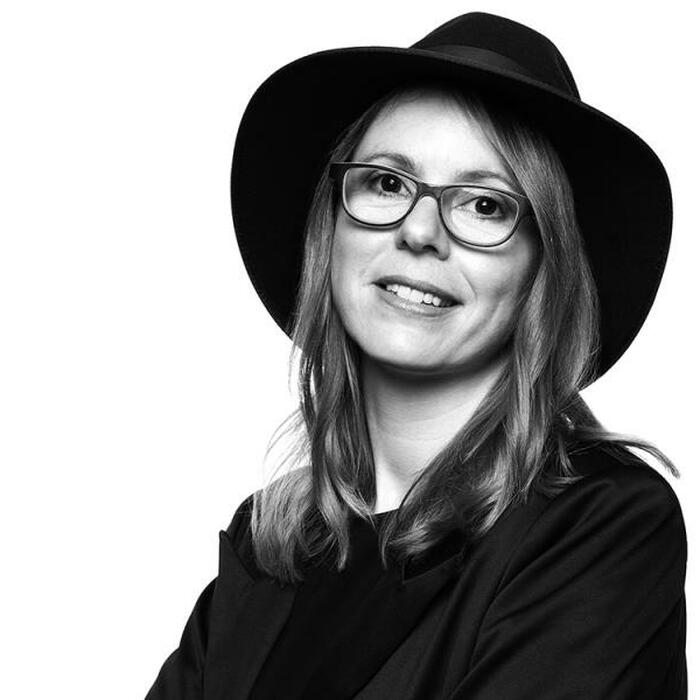 ANNA CLYNE 
Born March 9, 1980 in London. 
THIS MIDNIGHT HOUR (2015) 
First performed on November 13, 2015 Plaisir, France, conducted by Enrique Mazzola.
These concerts mark the first performances of this piece by the Des Moines Symphony.
(Duration: ca. 12 minutes) 
"Anna Clyne," according to the biography provided by her publisher, Boosey & Hawkes, "is a composer of acoustic and electro-acoustic music, combining resonant soundscapes with propelling textures that weave, morph and collide in dramatic explosions. Her work often includes collaborations with cutting edge choreographers, visual artists, film-makers and musicians worldwide." 
Anna Clyne was born in London in 1980, studied music from early in life (she recalls lessons "on a piano with randomly missing keys"), began composing at age eleven (a fully notated piece for flute and piano), and received her undergraduate training at Edinburgh University and a Master's degree from the Manhattan School of Music; her teachers include Julia Wolfe, Marina Adamia and Marjan Mozetich. Clyne is now a member of the composition faculty of Mannes/The New School in New York City, and serves as Mentor Composer for the Orchestra of St. Luke's DeGaetano Composer Institute. 
Clyne's career has been on a meteoric trajectory since she completed her education — performances by leading ensembles and soloists around the world and commissions from the American Composers Orchestra, Carnegie Hall, Los Angeles Philharmonic, London Sinfonietta, Opus 21, Janus Trio, Jerome Foundation, New York Voices (a collaboration between the Albany Symphony and the New York State Archives), ASCAP, Seattle Chamber Players and Houston Ballet; selection as a participant in a master class with Pierre Boulez in New York City; director of the New York Youth Symphony's award-winning program for young composers "Making Score" from 2008 to 2010. Clyne serves as Composer-in-Residence with both the Philharmonia Orchestra of London and Trondheim Symphony Orchestra (Norway) in 2022–2023, after which she begins a residency with the Helsinki Philharmonic Orchestra for the following season. 
Clyne's dedication to both education and collaboration are evidenced by her extended residency with the Chicago Symphony Orchestra (CSO) in 2010-2015, when she not only composed six works for the ensemble — including the Grammy-nominated double-violin concerto Prince of Clouds — but also conducted workshops with the Chicago Public Schools and incarcerated youth at the city's Juvenile Detention Center, joined with Yo-Yo Ma and musicians of the Civic Orchestra, CSO and Chorus to help realize the work of young poets, musicians and composers at such events as the Humanities Festival and Youth in Music Festival, and worked with art therapist Caroline Edasis to develop an innovative collaboration between the Chicago Symphony Orchestra's Learning Institute and residents in the memory care unit of the Mather Pavilion Residential Nursing Home. Her additional residencies, which often allow community involvement, include the Cabrillo Music Festival, Campos do Jodão International Music Festival in Brazil, Orchestre National d'Île de France, Scottish Chamber Orchestra, Baltimore Symphony Orchestra, Berkley Symphony and Los Angeles–based Hysterica Dance Company. She has additionally led seminars and master classes at the Curtis Institute of Music, Columbia University, Manhattan School of Music, Conservatoire de Saint-Maur, Institute of Musical Research at the University of London and other noted institutions.  
Anna Clyne's rapidly accumulating collection of honors includes eight consecutive ASCAP Plus Awards, Hindemith Prize, Charles Ives Fellowship from the American Academy of Arts and Letters, and the Clutterbuck Award from the University of Edinburgh, as well as awards from Meet the Composer, American Music Center, Foundation for Contemporary Arts, Jerome Foundation and International Artist Sponsorship; she also received a grant from Opera America to develop a work titled Eva, about the German-born American post-minimalist sculptor Eva Hesse (1936-1970), which was workshopped in spring 2018 during her residency at the composer collaborative National Sawdust in Brooklyn, New York.  
Clyne wrote, "The opening of This Midnight Hour was inspired by the character and power of the lower strings of the orchestra. From there, it draws inspiration from two poems [below]. Whilst it is not intended to depict a specific narrative, my intention is that it will evoke a visual journey for the listener." 
La Música 
Juan Ramón Jiménez  
Music; — a woman unclad 
crazily running through the spotless night! 
Harmonie du soir ("Evening Harmony") 
Charles Baudelaire 
Now comes the time when, quivering on its stem,  
Each flower sheds perfume like a censer; 
Sounds and scents turn in the evening air;  
Melancholy waltz and reeling languor! 
Each flower sheds perfume like a censer; 
The violin throbs like a wounded heart,  
Melancholy waltz and reeling languor! 
The sky is sad and beautiful like a great altar. 
The violin throbs like a wounded heart, 
A fond heart that loathes the vast black void! 
The sky is sad and beautiful like a great altar. 
The sun has drowned in its congealing blood. 
A fond heart that loathes the vast black void 
And garners in all the luminous past! 
The sun has drowned in its congealing blood ... 
Your memory within me shines like a monstrance! 
The score calls for piccolo, two flutes, two oboes, two clarinets, two bassoons, four horns, two trumpets, three trombones, tuba, timpani, bass drum, cymbals, vibraphone, crotales, tam-tam and the usual strings consisting of first violins, second violins, violas, violoncellos and double basses.