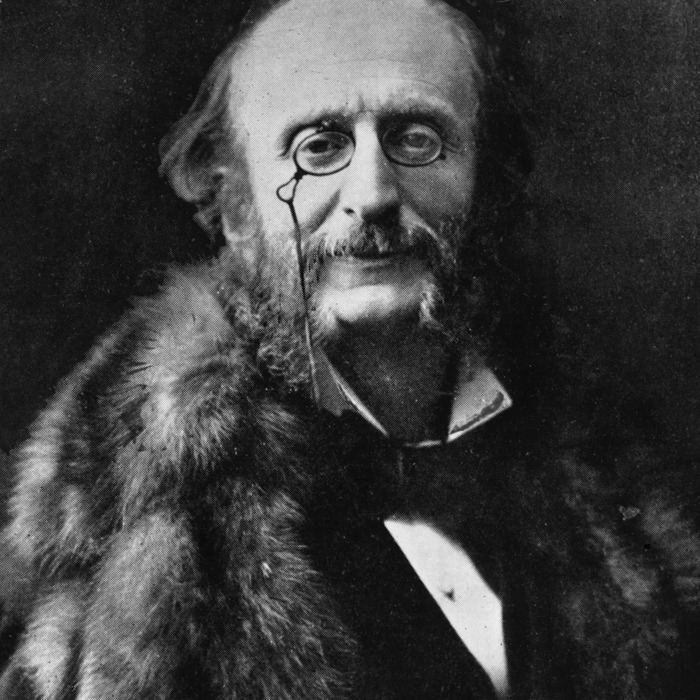 JACQUES OFFENBACH 
Born June 20, 1819 in Cologne; 
died October 5, 1880 in Paris. 
ARRANGED BY MANUEL ROSENTHAL 
Born June 18, 1904 in Paris; 
died June 5, 2003 in Paris. 
MUSIC FROM GAÎTÉ PARISIENNE 
First performed on April 5, 1938 in Monte Carlo, conducted by Manuel Rosenthal.
First performed by the Des Moines Symphony on December 2, 1945 with Frank Noyes conducting. Two subsequent performances occurred, most recently on December 31, 2014 with Joseph Giunta conducting.
(Duration: ca. 25 minutes) 
In 1937, the famed Russian-American impresario Sol Hurok became associated with Léonide Massine and René Blum in reorganizing the Ballet Russe of Monte Carlo, a descendent of Serge Diaghilev's sensational Paris troupe. In planning the repertory, they decided that one number must be gay and lighthearted, with a score bubbling with melody and joie de vivre. After first considering the music of Johann Strauss, they settled on the operettas of Jacques Offenbach as the perfect source for their new ballet; Gaîté Parisienne seemed an appropriate title. Manuel Rosenthal, the noted French composer and conductor, was entrusted with supervising the music, in collaboration with Jacques Brindejonc-Offenbach. The preparations for Gaîté Parisienne proceeded while the Ballet Russe was on tour in America, as Hurok recounted: "Massine, Rosenthal, two pianists and a flock of copyists established themselves in a large room at the Copley Plaza in Boston, and assembled from the Boston Public Library and the Harvard Library all the extant scores of the Offenbach operettas. There the ballet was blocked out, and the basic musical material selected from the wealth of sparkling melody. Everyone adjourned to Paris. Comte Étienne de Beaumont, who was responsible for the ballet's scenario, also designed the sets and costumes, and the music was given into the hands of Rosenthal, who, with enormous taste and skill, put the score together and orchestrated it." The premiere, at the Théâtre de Monte Carlo on April 5, 1938, was a glittering success. 
Hurok provided the following summary of the ballet's slight plot: "Gaîté Parisienne is the romantic dream of a glamorous night in Paris. The setting is a highly fashionable, but not very proper, restaurant of the Second Empire, whose customers, while not being the best of citizens, are marvelous company. Their lives revolve around amours, brief but intense; their day begins at nine in the evening and ends only at dawn, when the last waltz is danced and the last champagne glass is emptied." 
The score calls for two flutes, two oboes, two clarinets, two bassoons, two horns, three trumpets, three trombones, tuba, timpani, bass drum, cymbals, snare drum, glockenspiel, xylophone, tambourine, triangle, woodblock, ratchet, harp, piano and the usual strings.