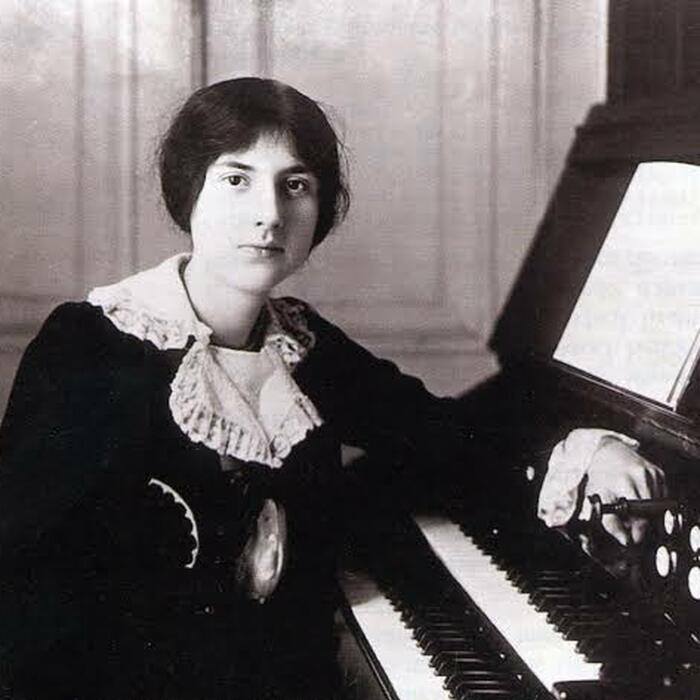 LILI BOULANGER 
Born August 21, 1893 in Paris; 
died March 15, 1918 in Mézy-par-Meulan. 
D'UN MATIN DE PRINTEMPS ("OF A SPRING MORNING") 
First performed on June 3, 1919 in Paris.
These concerts mark the first performances of this piece by the Des Moines Symphony.
(Duration: ca. 5 minutes) 
"Though Lili Boulanger died in 1918 at the age of 24," wrote musicologist David Noakes, "hers was a creative life of more than mere promise; it was a life, at least, of partial fulfillment." The name of Boulanger was indelibly inscribed into the annals of music by Nadia Boulanger, the 20th-century's most influential teacher and mentor of composers. Despite her seismic impact on modern music, Nadia never considered herself a composer ("not bad, but useless" is how she dismissed her original works), and firmly held that the family's creative talent had been inherited by her younger sister, Lili. And considerable talent there was to inherit. The girls' paternal grandfather, Frédéric, taught cello at the Paris Conservatoire; his wife was the well-known soprano Marie-Julie Boulanger. The couple's son, Ernest, won the Prix de Rome in 1835, became a successful opera composer in Paris and teacher of singing at the Conservatoire, and was awarded the Légion d'Honneur in 1870. In 1877, he married Raïssa Mychetsky, one of his most talented students, when he was sixty and she nineteen. Among the family's friends and regular visitors were Charles Gounod, Gabriel Fauré, Jules Massenet and Camille Saint-Saëns. It was into this privileged musical environment that Nadia was born in 1887; Marie-Juliette Olga (Lili) came along six years later. 
Lili's musical talent was evident from her earliest years. She could reliably carry a tune by two, and three years later began tagging along with Nadia to sit in on her older sister's classes at the Conservatoire. Lili studied harp, piano, cello and violin with some of the city's best teachers during the following years, but steady bouts of ill health, precipitated by a near-fatal attack of pneumonia when she was three, precluded the physical exertions necessary to master any of those instruments. She turned instead to composition, and began serious study of that discipline in 1909 with Georges Caussade and Paul Vidal. Three years later, she was formally admitted to the Conservatoire, but illness prevented her from participating in the Prix de Rome competitions that year. A stay at a sanitarium on the English Channel restored her health sufficiently enough for her to win the Prix in 1913 with her cantata Faust et Hélène, the first woman to earn that coveted honor. That same year, she also received the Prix Lepaulle and the Prix Yvonne de Gouy d'Arsy.  
Lili's arrival at the Villa Medici in Rome was delayed by illness until March 1914, and even then, weakened by the trip and the activity of the preceding year, she was confined to her room for nearly a month and could not resume work until late in the spring. Lili was granted special permission for a visit home in July, and she had to remain in France when World War I broke out the following month. She organized an extensive program of letter-writing, communication and support among the Conservatoire students who had been mobilized and their families and friends during the following year, and did not return to Rome until early 1916. There she set to work on an operatic version of Maeterlinck's La Princesse Maleine, with whose lonely heroine she identified. She worked on this and other projects as much as she could, but her health was in steady decline during the ensuing months. In February 1917, she went to convalesce at Arcachon, on the Atlantic coast near Bordeaux, but she did not improve, and was taken to Paris in July for emergency surgery. The procedure brought only little and temporary relief. She next went to the family summer home at Gargenville for several months, and returned to Paris in December, but soon had to leave for Mézy, west of the city, when the capital was subjected to heavy German bombardment early in 1918. She died in Mézy on March 15th. 
Despite her early death and the debilitating state of her health, Lili Boulanger completed a substantial number of compositions in which she demonstrated a highly developed creative personality imbued with the pastel Impressionism characteristic of turn-of-the-20th-century France: eighteen works for chorus, many accompanied by orchestra (notably settings of three Psalms); two cantatas; some twenty songs; a half-dozen orchestral scores, including a Poème symphonique; and pieces for organ, piano, violin and flute. The opera La Princesse Maleine remained unfinished at her death. In a review of a performance of her music in 1921, Louis Vuillemin wrote, "Lili Boulanger brought to music a keen and prodigiously human sensibility, served in its expression by the full range of natural gifts, from grace, color, charm and subtlety to winged lyricism and obvious power, easy and profound. Such virtues, so rarely brought together for the benefit of one single creative temperament, are to be found in her works." 
The complementary works D'un Matin de Printemps ("Of a Spring Morning") and D'un Soir triste ("Of a Sad Evening") of 1918 were the last scores Lili Boulanger wrote with her own hand; her Pie Jesu, probably envisioned as part of a complete Requiem Mass, was dictated to her sister. The manuscripts' labored notation betrays the deteriorating condition of Lili's health; Nadia had to add the finishing details of dynamics and articulations. The composer conceived each piece in three versions: one for orchestra, another for piano trio, and a third for violin (or flute) and piano (D'un Matin de Printemps), and cello and piano (D'un Soir triste). The two compositions share a common idea for their thematic material, but exhibit the contrasting moods implied by their titles — D'un Soir triste is mournful and painted in somber tones, while D'un Matin de Printemps is bright and festive. 
The score calls for piccolo, two flutes, two oboes, English horn, two clarinets, bass clarinet, two bassoons, contrabassoon, four horns, three trumpets, three trombones, tuba, timpani, cymbals, snare drum, triangle and the usual strings.