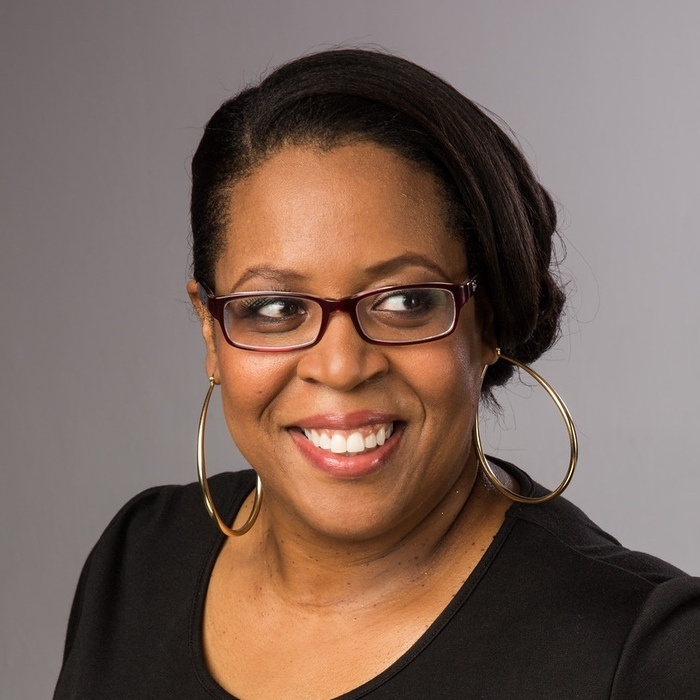 VALERIE COLEMAN 
Born September 3, 1970 in Louisville, Kentucky. 
SEVEN O'CLOCK SHOUT 
First performed online by the Philadelphia Orchestra on July 6, 2020, conducted by Yannick Nézet-Séguin.
These concerts mark the first performances of this piece by the Des Moines Symphony.
(Duration: ca. 6 minutes)  
Valerie Coleman, Performance Today's "2020 Classical Woman of the Year," was born in Louisville, Kentucky in 1970 and began her music studies at age eleven; within three years she had written three symphonies and won several local and state flute competitions. Coleman received Bachelor's degrees in both Composition and Flute Performance from Boston University, where she was two-time winner of the Young Artist Competition and recipient of the University's Woodwind Award; she earned a Master's degree in Flute Performance from the Mannes College of Music in New York. Coleman made her Carnegie Hall recital debut as winner of Meet the Composer's 2003 Van Lier Memorial Fund Award; among her additional distinctions are the Aspen Music Festival Wombwell Kentucky Award, the inaugural Michelle E. Sahm Memorial Award from the Tanglewood Music Festival, first recipient in the Brooklyn Philharmonic's Mentorship Program, ASCAP Concert Music Award, Chamber Music America's Classical Commissioning Program, Herb Alpert Ragdale Residency Award, and citations from the American Academy of Arts and Letters and United States Artists.  
Valerie Coleman was the founder of the Grammy Award-nominated Imani Winds and the all-African-American quintet's flutist and resident composer until 2018. She has also performed across North America and Europe as soloist and chamber musician. Her rapidly expanding creative catalog includes works for orchestra, concert band, chamber ensembles, ballet (Portraits of Josephine Baker), and arrangements for woodwind quintet. In September 2021, she was commissioned by the Metropolitan Opera along with two other Black composers — Jessie Montgomery and Joel Thompson — to develop new works in collaboration with the Lincoln Center Theater. She has taught at Juilliard and the University of Miami, and in 2021 was appointed Clara Mannes Fellow for Music Leadership at the Mannes School of Music in New York. 
When COVID-19 shut down concert life In March 2020, musicians began exploring ways that modern technology could keep them in contact not just with audiences but with each other. Valerie Coleman's Seven O'Clock Shout, commissioned by the Philadelphia Orchestra, not only addressed that technical challenge but also used the circumstance of those difficult months as the inspiration for its content. Coleman composed Seven O'Clock Shout for a modest-size ensemble, parts were distributed to the individual isolated musicians, the tricky online coordination of the players was achieved, and the virtual premiere was conducted by Yannick Nézet-Séguin on July 6, 2020 (video at philorch.org); the same forces gave the live concert premiere on October 6, 2021 at the gala re-opening of New York's Carnegie Hall after its eighteen-month closure. 
"Seven O'Clock Shout is an anthem inspired by the tireless frontline workers during the COVID-19 pandemic," wrote Coleman, "and the heartwarming ritual of evening serenades that brought people together amidst isolation to celebrate life and the sacrifices of heroes. The work begins with a distant and solitary solo between two trumpets in fanfare fashion to commemorate the isolation forced upon humankind, and the need to reach out to one another. The fanfare blossoms into a lushly dense landscape of nature, symbolizing both the caregiving acts of nurses and doctors as they try to save lives and nature transforming and healing herself during a time of human self-isolation. Seven O'Clock Shout ends in a proud anthem in which we all come together with grateful hearts to acknowledge that we have survived yet another day." 
The score calls for piccolo, two flutes, oboe, English horn, two clarinets, two bassoons, two horns, two trumpets, trombone, tuba, timpani, bass drum, cymbals, marimba, vibraphone, claves, cowbell, whistle, harp and the usual strings consisting of first violins, second violins, violas, violoncellos and double basses.