In June and July, we asked you to share your opinions about our upcoming season — and you did! Hundreds of you filled out our surveys, offered feedback, and expressed your opinions about our return to live concerts. We heard you, and we wanted to share how we've incorporated your feedback into our season planning.
We asked our survey respondents, "how often do you attend the Des Moines Symphony?" to ensure that we were hearing from the segments of our audience who would be most invested in the outcome of our planning decisions.
These percentages, averaged between June and July, indicated a good response from those who attend most frequently, though we were glad to see that more casual attendees also wanted to share their thoughts. Any plans we made needed to take both single ticket buyers and subscribers into account.
How does our audience feel about in-person concerts?
Before we could plan our 2020-2021 Season, we needed to know whether our audience was ready to return to in-person concerts. We asked about both indoor and outdoor concerts in our June and July surveys so that we would not only be able to track any changes from month to month, but compare our audience's level of comfort both inside and outdoors. 
Just over a third of our audience indicated they were ready to return to indoor concerts with no distancing or mask requirements in place. From June to July, this shifted downward. Those who were ready to return decreased from 32.7% to 28.2%, while those who were not yet comfortable returning to indoor concerts increased from 23.6% to 27.5%. 
Plenty of you told us you were willing to return to indoor concerts, provided social distancing and mask requirements were in place; in fact, this percentage stayed virtually the same from June to July at 44%. This was encouraging to learn, and we took these numbers into account as we examined the logistics and discussed what changes we would need to make at the Civic Center to accomodate a distanced audience. Ultimately, we did not feel we were yet able to take on the necessary requirements as well as adequately space our musicians onstage, but the willingness of our audience to attend given certain safety precautions will inform our eventual move back to in-person concerts. In addition, the positive response regarding outdoor concerts in a distanced, masked setting will help us plan as we look toward spring and summer 2021.
Will our audience watch livestreams?
Livestreamed concerts seemed like a good opportunity to reach our community while keeping our musicians safe. But, would our audience watch?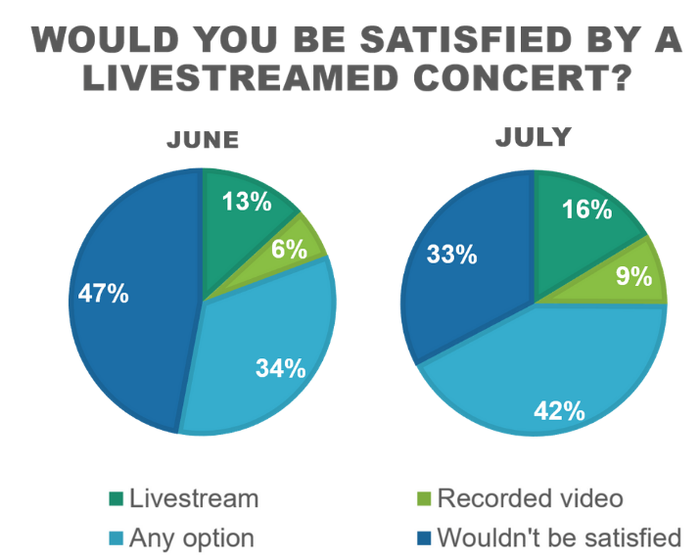 We asked our audience whether, in the event that in-person concerts weren't possible, they would be satisfied with some form of streaming (either a livestream, a recorded video, or any option.) In June, 53% of respondents indicated they would be satisfied with some form of streaming, while 47% indicated they would not be satisfied.
As in several of our other questions, things changed in July. We saw a 20-point increase from 47% to 67% when totaling all "yes" responses (livestream, recorded video, or any option), indicating that 2/3 of our audience would be satisfied with livestreamed concerts. The percentage who indicated they wouldn't be satisfied by a livestream decreased from 47% in June to 32.7% in July, a nearly 15-point drop.
While we certainly understand that livestreams won't work for everyone, these findings encouraged us, and we moved ahead to pursue livestreaming as an option for our fall concerts. 
What types of online content are most engaging? 
We wanted to know what types of events our audience would be most interested in attending. Content for kids and families? Opportunities to ask questions and interact with musicians? Or something we hadn't even thought to offer?
When we asked what types of online content you were most interested in, the most overwhelmingly popular choice was livestreamed concerts. 66% of you told us you were interested in livestreamed concerts featuring a full or partial orchestra, while 49% also wanted to see small chamber ensembles similar to what we've featured during our DMSO at Home livestreams.
Music history and appreciation classes were of interest to 31% of our audience; in response, we've developed a series of five Classical Conversations events through December. These online events will be held on Zoom and cover a wide variety of topics related to the Live from the Temple concert repertoire. 
Our online programming will feature behind the scenes footage, interviews with musicians and with Maestro Giunta, and a variety of additional suggestions borne out by strong survey responses. 
"I applaud your work to keep music alive virtually during this period."

SURVEY RESPONSE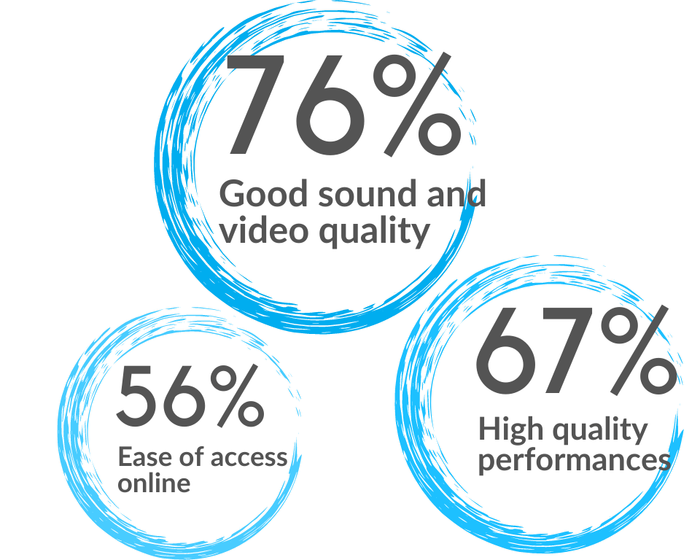 When we asked which elements of an online performance were most important, you were nearly unanimous in agreeing that good sound and video quality was first on your list. We hear you, and we agree! Based on these results, we've engaged a slate of professional partners to assist us in ensuring our Live from the Temple streams are broadcast using the highest possible audio and visual standards.
Next, you told us that high quality performances were also important to you. Finally, over half of you told us that ease of accessing the concerts online was key. We're using your feedback to ensure that access to our livestreams is as simple and seamless as possible. Watch for more information in September! 
"We need music more than ever during these uncertain times."

SURVEY RESPONSE
What does our audience miss most?
We know that nothing will ever replace live music, and we can't wait to get back into the Civic Center to perform for you again. But in the meantime, we wondered whether some of the things our audience misses most about live concerts could be replicated in our livestreams. Could we somehow give our audience what they were most missing through our digital slate of events?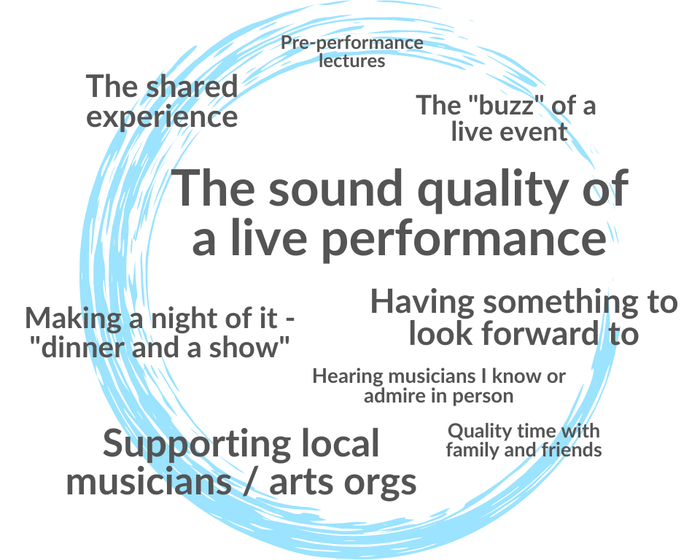 The number one thing our audience is most missing about live performances? The sound quality. There's something very special about hearing a Des Moines Symphony concert in person, and we're all missing it right now. While our livestreams will never equal the thrill of hearing live symphonic music in the Civic Center, we're going to do our best to bring you as close to that experience as possible. 
Many responses indicated that our audience was missing the social aspect of concerts: having something to look forward to, the shared experience in the hall, or even making a night of it with dinner and a show. We're planning to partner with three local restaurants to offer pre-concert meals and drinks for pickup before our Live from the Temple concerts; additionally, we'll be hosting social and educational events in the week leading up to each concert. Keep watching for further announcements.
We're grateful that so many of you chose to share your thoughts about our upcoming season. We're incorporating your feedback every step of the way, and as we move forward, we'll keep asking you to weigh in and let us know if we're on the right track. 
We can't wait to perform live in the Civic Center again. Until we can do so safely, we'll continue to explore the best ways to deliver high-quality performances online. 
"Thank you for your excellent programming; and this initiative to reach the symphony audience."

SURVEY RESPONSE