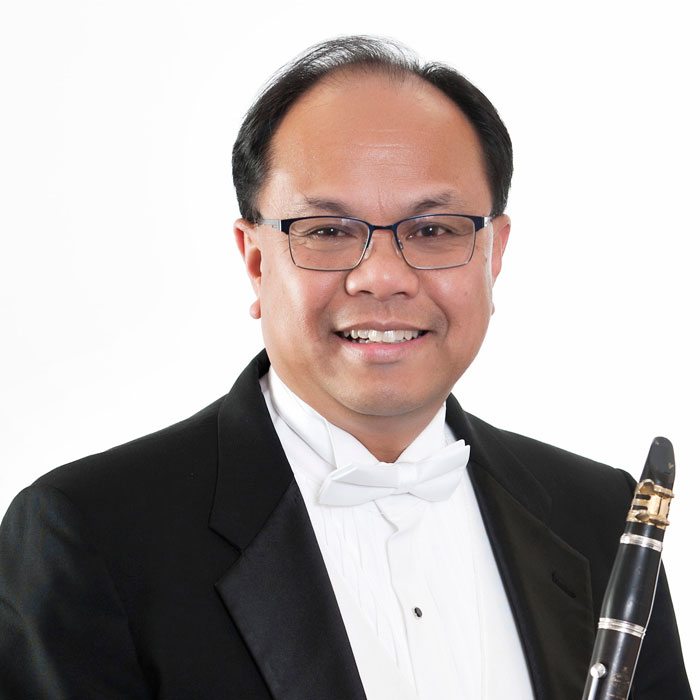 Title Orchestra Personnel Manager
Clarence Padilla is a Professor of Music (clarinet) at Drake University in Des Moines, Iowa, and served as Music Department Chair from 2004 to 2018.  Professor Padilla has concertized, conducted and presented master classes across the United States in Iowa, Minnesota, Missouri, Nebraska, California, Tennessee, Illinois, Wisconsin, Nevada, Michigan, Ohio, Kansas, Arizona and the District of Columbia.  International performances and teaching presentations have been given in Italy (2018/2019), Ecuador (2017), Brazil (2014), France (2011/2017/2019), China (2009/2013/2016), Mexico (2005/2007), and Germany and Austria (1993/2019).
Clarence Padilla has been a regular member of the Des Moines Symphony since 2000, appeared as a clarinet soloist with the orchestra in 2013, and served as the Acting Principal Clarinet for the 2010-11 Concert Season.  Mr. Padilla has performed with a highly varied group of artists, including Gil Shaham, Yo-Yo Ma, Itzhak Perlman, Joshua Bell, Sarah Chang, Midori, Ray Charles, Leslie Odom, Jr., Kristin Chenoweth, Marilyn McCoo, Amy Grant, Celtic Thunder, Sutton Foster, Simon Estes, The Manhattan Transfer, Roger Williams, Patrick Stewart, Lee Greenwood, and conductors Michael Tilson Thomas, Gerard Schwarz, JoAnn Falletta, Bright Sheng and Lukas Foss. He has also recorded for the Disney Company Entertainment Division and Touchstone Pictures.
Mr. Padilla has frequently performed for national touring musicals including Evita, Sound of Music, Cinderella, A Gentlemen's Guide to Love and Murder, Phantom of the Opera, Wicked, Mary Poppins, Young Frankenstein, West Side Story, Music of Andrew Lloyd Webber, South Pacific, La Cage Aux Folles, White Christmas and 42nd Street. Clarence Padilla is the Conductor and Musical Director for the Des Moines Metro Concert Band, a professional wind ensemble that performs during the summer months under the auspices of the Music Under the Stars Concert Series.  He also serves as the Personnel Manager for the Des Moines Symphony Orchestra and is the Local Musicians Contractor for Des Moines Performing Arts.  Mr. Padilla previously performed with the Laguna Beach Festival of the Arts Orchestra, the Long Beach Municipal Band (California) and the Cedar Rapids Symphony Orchestra.
Clarence Padilla has released three solo compact disc recordings: In Play (2014), With the Wind (2010), and Playing Through (2002).  Additionally, Professor Padilla appears as a soloist on two compact discs recorded by the Drake University Wind Symphony - Mosaic (2013 – Liquid Ebony by Dana Wilson) and Collage (2009 – Jazz Suite for Clarinet and Wind Symphony by Bill Liston).  Padilla's solo recordings include the music of William Dougherty, Graham Lyons, Alec Templeton, Francis Poulenc, Paul Jean-Jean, Ralph Kendrick, Pierre Gabaye and Andrew Classen.  
Clarence Padilla was an Artist-in-Residence at the 2019 Orfeo Music Festival in Vipiteno, Italy.  He performed as a soloist and chamber musician at the 2018 International Lyric Academy Music Festival in Vicenza, Italy, and presented a recital at the Ono Zone International Music Festival in Quito, Ecuador in 2017. In 2014, he was an instructor, performer and conductor at the 25th Festival de Musica Colonial e Musica Antiga da Pro-Musica in Juiz de Fora, Brazil. He presented solo recitals, conducted and taught in residence at Minzu University (Beijing, China) in 2016 and 2013. In 2011 and 2017, Padilla was invited by the French Ministry of Culture and The Concours Dutilleux to present solo & chamber recitals throughout the Nouvelle-Aquitaine region of southwestern France.  In 2017, Professor Padilla presented master classes at the Gabrielle Fauré Conservatory in Angouleme, France and the National Conservatory of Music in Quito, Ecuador.
Professor Padilla was a featured soloist with the Drake University Wind Symphony at the 2008 and 2012 North Central Division Conference of the College Band Director's National Association.  Padilla has performed at The International Congress of Clarinet and Saxophone in Acapulco, Mexico, the National Conservatory of Mexico, and at the National University of Mexico. Mr. Padilla is also an active chamber musician as the clarinetist with The Drake Trio and The Polaris Wind Quintet.
Students who have studied with Clarence Padilla have been selected as winners and finalists for state, regional and national competitions sponsored by the Music Teacher's National Association (MTNA), the National Foundation for the Arts, the International Clarinet Association and the Des Moines Symphony.  Former students have been accepted to study at many of the prestigious music programs across the country, including the University of Southern California, Ohio State University, Rice, University of Florida, De Paul and Arizona State University.
Clarence Padilla holds a Bachelor of Music Degree from California State University, Long Beach, a Master of Music Degree in clarinet performance from the University of Southern California and has pursued doctoral studies in clarinet performance at USC where he was a student of Mitchell Lurie and David Shifrin.  Mr. Padilla has also studied with Robert Marcellus, David Atkins, Thomas Hill, James Kanter and Virginia Wright. He holds professional memberships in Phi Mu Alpha Sinfonia, Pi Kappa Lambda, and an honorary membership to Mu Phi Epsilon.
Professor Padilla previously served on the faculty at California State University, Fullerton and held public school teaching positions in the Long Beach and Los Alamitos Unified School Districts.