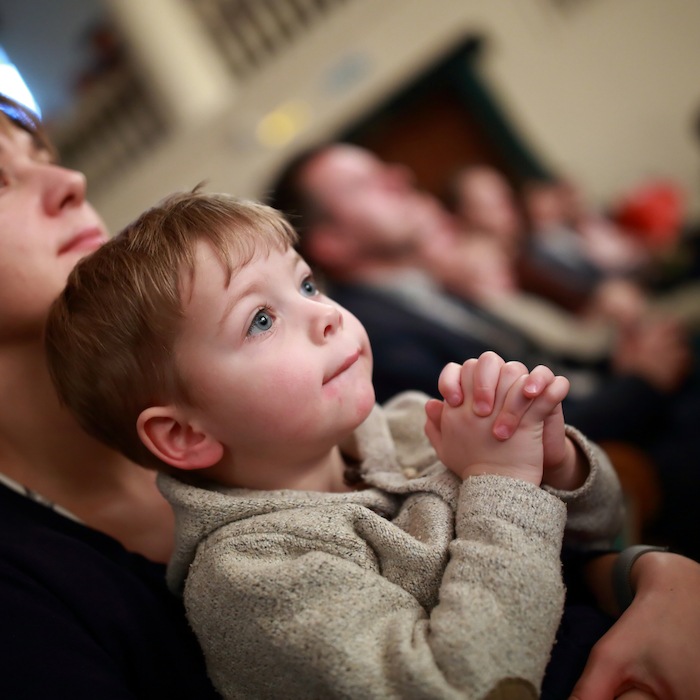 American Folk Tales
The Des Moines Symphony & Academy is excited to welcome audiences to its third sensory-friendly concert, American Folk Tales.
This sensory-friendly concert will tell classic American folk tales alongside music by American composers with the help of a narrator and a string quartet made up of Des Moines Symphony musicians.
Sensory-friendly concerts are designed for audiences of all ages and abilities, including individuals on the autism spectrum and those with sensory sensitivities.  These concerts take place in a relaxed concert atmosphere where audience members are welcome to be who they are and enjoy music together with family and friends.
Tickets: General Admission tickets are $10 and may be purchased online or at the door.
The duration of this concert is approximately 45 minutes.
Our Social Story for this concert and a pictorial schedule will be available for download below as we get closer to the concert date. These materials will help you to understand what you can expect at this concert.
Before the Concert: Join us at 2:00 in the Recital Hall for an open house featuring Des Moines-area organizations who offer sensory-friendly opportunities.
Volunteer: Please visit our SignUp page to volunteer at this concert on our accessibility team as a "Concert Buddy." Previous training and/or experience with Autism Spectrum Disorder is preferred, but not required.
Frequently Asked Questions:
Can my child bring a comfort item such as a blanket, stuffed animal, toy or fidget to the concert?
Absolutely! We want every participant to feel comfortable and safe in this new environment.
Do I need to get the concert early?
The concert starts at 3:00pm. You may access the concert on the 4th floor either by stairs or elevator.  The elevator is fairly slow and can accommodate four people comfortably, so there may be a line to use the elevator.  To help alleviate the wait time, there will be an Open House prior to the beginning of the concert featuring community partners who also provide sensory-friendly activities. We suggest that you plan to be seated in the Grand Hall 5-10 minutes before the concert starts.
Where do I park?
There are many parking options around The Temple for Performing Arts. The easiest and closest option is street parking on either 10th or Locust, which is free on Sundays.  Lot parking is also available between Starbucks and the Downtown School playground.
Can I bring snacks or drinks for my child?
Will noise-cancelling headphones be provided?
The Des Moines Symphony will not be providing noise-cancelling headphones for this concert, but we welcome you to bring yours if needed.
Are there hand dryers in the bathroom that could startle my child?
If my child is being vocal, do I need to leave the concert?
Not at all. We want your child to be able to experience the music and express themselves in their own way.
If my child needs to have some quiet time, is there a place we can go, and may we return to the concert?
Yes, we will have a designated Quiet Zone with bean bag chairs, fidgets, coloring pages and blankets where guests can take a break. Please feel welcome to enjoy any of these items.  You are welcome to return to the concert at any point.
Are there assigned seats with my ticket purchase?
Tickets for this concert are general admission. We will have chairs, bean bags, and carpet squares available. Your family may sit wherever you feel most comfortable!
If I buy my ticket ahead of time and I'm unable to attend, can I get a refund?
Unfortunately, we are unable to offer refunds for this concert. If you prefer, you may buy your ticket at the door the day of the concert.
Who can I contact if I have more questions regarding this event?
You may contact Amanda Drish, Manager of Community Connections at amanda@dmsymphony.org or 515-280-4000 ex 4005.