Join us for the Des Moines Symphony's 28th annual Yankee Doodle Pops!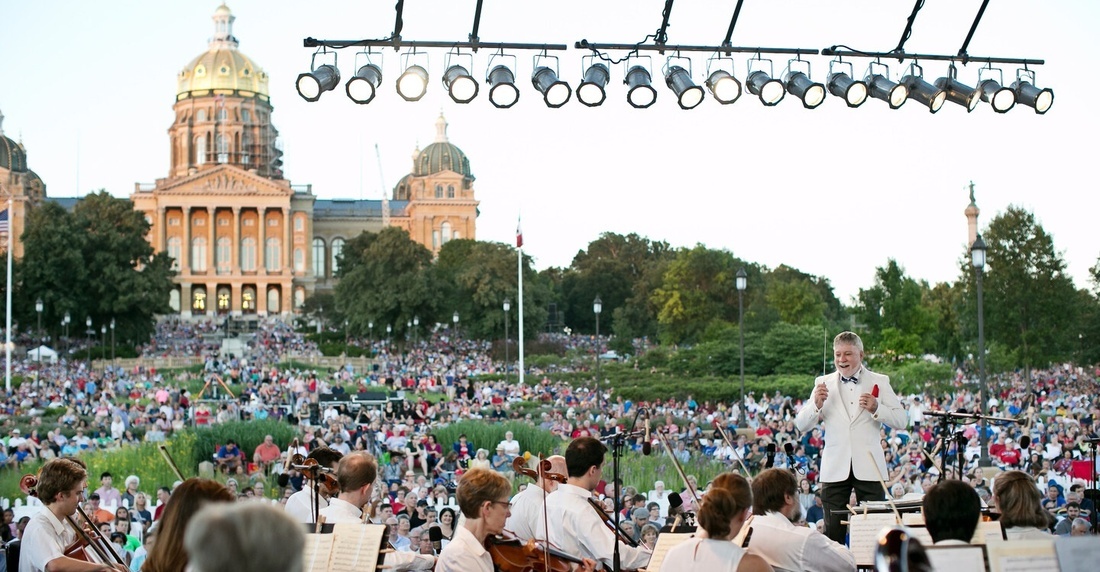 Join us for the Des Moines Symphony's 28th annual Yankee Doodle Pops, Iowa's largest single-day concert event! This family-friendly, patriotic concert concludes with the area's premier fireworks display over the downtown Des Moines skyline, and best of all, it's free. Bring your picnic baskets, blankets and lawn chairs, or purchase food from an array of vendors at the concert.
The music begins at 6:30 pm with a concert prelude featuring the Turner Center Jazz Orchestra and the Des Moines Symphony Academy Youth Jazz Orchestra. At 8:30 pm, the winner of the Des Moines Symphony's annual "Oh Say, Can You Sing?" competition, Courtney Kayser, will open Yankee Doodle Pops with The Star-Spangled Banner. Actor and singer Matthew Johnson will join the Symphony to sing America the Beautiful plus music by Stevie Wonder, James Brown, and more, while Des Moines hip-hop artist Billy Weathers will perform an original spoken word piece with the Orchestra. As always, the Des Moines Symphony will perform time-honored patriotic classics, including the 1812 Overture and Stars & Stripes Forever.  
This year, the Des Moines Symphony is pleased to bring Yankee Doodle Pops back to the steps of the Iowa State Capitol and to its largest-ever audience through a statewide, live broadcast in partnership with Iowa PBS.
How to Get There
Free Shuttle
Park and ride to Yankee Doodle Pops! DART will detour its FREE D-Line shuttle and extend its hours to 11PM on July 1 to accommodate Des Moines Symphony's Yankee Doodle Pops attendees. Just park anywhere along the D-Line route and catch the bus to the Capitol.
Bike Parking
FREE bicycle parking will be available starting at 3pm on the Capitol grounds for Yankee Doodle Pops. Please provide your own lock. Bicycle parking will be located on Penn / E. 7th St. between Locust and Grand. 
Parking/Street Closures
Due to street closures and limited parking around the Capitol, we recommend using the FREE D-Line Shuttle or Bike Parking services.
Limited parking is available in designated downtown lots around the Capitol. The public is welcome to park in all lots with the exception of 13 and 21 – click here to see map
The following roads will be closed during the following times:

Penn/East 7thStreet – Locust Street to Grand Avenue (8:30AM Thu Jun 30 –  3:00AM Sat Jul 2)
Grand Avenue Bridge – Robert Ray Drive to 2nd Avenue (12:00PM Fri Jul 1 – 12:00AM Sat Jul 2)
ADA accessibility
Capitol lots 9 & 10 (near the intersection of Grand and Finkbine) will be available for handicapped parking. Only those with ADA (Americans with Disabilities Act) parking tags or plates will be allowed in these lots. Click here to see map
A drop off for those with physical disabilities is located at the corner of Grand Avenue and East 9th (Finkbine) Street.
Additional handicapped parking spots may be available in Capitol lots 1, 2, 8, 11, 15, 19, 24, PS1.
Plan your evening
Food vendors (on Finkbine)
Big Red Food Truck: Famous fried taco, jumbo walking taco boat, beef and lamb gyro, fish taco and mozzarella sticks
Over the Top Ice Cream: Ice cream cones and cups, bottled water
Roadside Tacos: Tacos, walking tacos, nachos, burritos, rice bowls
Hotsy Totsy: Cheesy bacon tots, BBQ pork tots, buffalo chicken tots, loaded tots, parmesan truffle tots, chicken nuggets, double chocolate brownie
Mactopia: Mac and cheese with various toppings, water, tea, lemonade, rice krispie treats, brownies
Fruits n' Such: Smoothies, fruit cups, Philly cheesesteak and chicken Philly sandwiches
Kona Ice: Tropical shaved Ice
Bearded Jackal Street Food: Rice Bowls, tacos, burritos - global fusion including Peruvian chicken, Korean bulgogi, Thai tofu
Street Sweets: Ice cream, cheesecakes, cookies, brownies, crème brulee, pie, soda and water
Hy-Vee: Apple crisp, banger and cheese, hot dogs, burgers, flying Hawaiian pork sandwich
Medical
For on-site medical needs, please visit the medical unit on Finkbine or a uniformed on-site police officer.
Volunteer
Interested in volunteering at Yankee Doodle Pops? Contact our stage manager, Kyle Bochart, to learn about available opportunities. You'll get great parking and reserved seating close to the stage!
Safety
For safety and security needs or concerns, please visit the Iowa State Patrol Command Center on Finkbine or notify a uniformed on-site police officer.
Members of the Iowa National Guard will set off four howitzer cannons, as designated in the musical score, during Tchaikovsky's 1812 Overture. The cannons will be located in the west corner of the triangle bounded by the Public Safety Parking lot, Walnut Street and Finkbine.
Broadcast Details
Yankee Doodle Pops will be broadcast live on Iowa PBS at 8:30PM on Friday, July 1. To learn more about streaming and online viewing options, visit iowapbs.org/watch/stream. The concert will be rebroadcast on Sunday, July 3 at 1:00PM.