Join us for a new family concert in partnership with the Des Moines Art Center! 
On Sunday, November 29 at 4PM, join us to hear performances from Symphony musicians Lucy Duke and Robert Espe, learn about collage from the Art Center's education staff, and create your own artwork in a guided "free paint" activity with artist Jamila Johnson. The concert will be hosted by Amanda Drish, Manager of Beginning Strings & Community Connections. Suitable for all ages!
RSVP on Facebook to watch the concert live! You can also tune in on YouTube, or watch right on this page by using the "play" link above.
Create your own artwork along with Art Center faculty and artists during the concert! You'll need to gather the following supplies:
Free Paint Activity: Paint, Paper/Canvas, Paint Brush, Water, Paper Towels
Collage Activity: Large piece of paper, magazines to cut from, scissors, glue or gluestick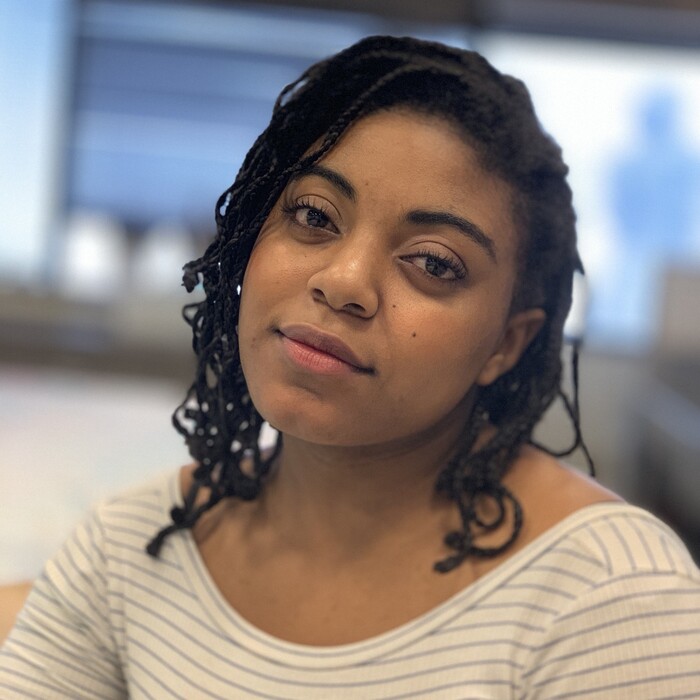 Jamila Johnson is an educator and artist from eastern Iowa and now works for the Unitarian Universalist Fellowship of Ames as their Religious  Educator. She graduated from Iowa State University with a Bachelor's in Fine Arts with a specialization in Integrated Studio Arts. Her work presents the everyday lives of Black Americans, particularly children, but with a dose of magic. She works primarily with watercolor and pen illustration and relief printmaking. By juxtaposing sublime landscapes and mystical elements with the mundane reality of everyday life, Jamila's art takes on a sense of familiarity among the surreal. Her work evokes longing for an imaginary place and farsickness for the chimerical.
Jamila will lead a "free paint" activity during Sunday's concert. Free painting is the act of painting or creating art while being inspired by what you hear or see.  It is not thought out ahead of time.  There are no mistakes.  The goal is to be inspired.  Inspiration can take so many forms; we want children and families to use this opportunity for self expression through art while listening to beautiful live music.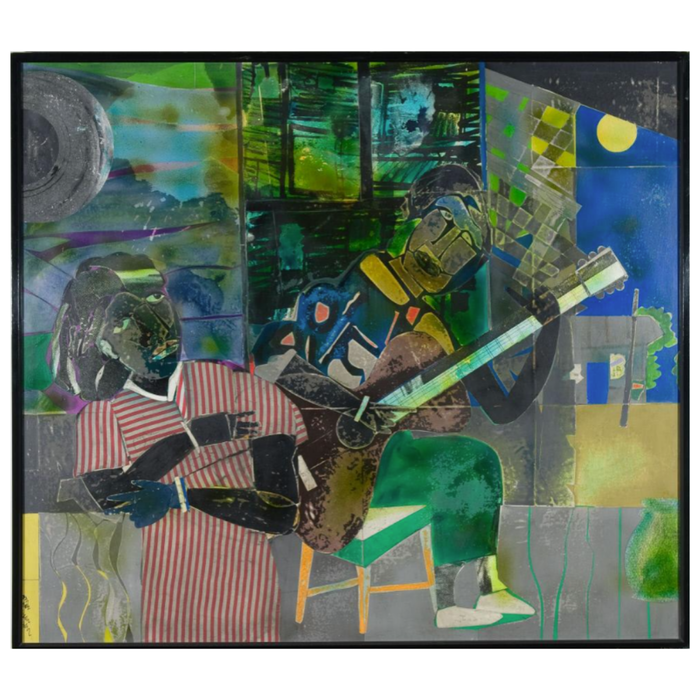 During the concert, DMSO musician Robert Espe will improvise a new melody on saxophone inspired by the painting "Blues from the Old Country" by Romare Howard Bearden.
Although he did not receive widespread public notice until the 1970s, Bearden's unique artistic vision had begun to take shape nearly forty years earlier. Influenced by his contemporary Stuart Davis, Bearden created a visual analog to the fragmented, dense language of jazz. In the 1960s he began creating collages like this one, combining flat, vivid color with imagery appropriated from African-American culture. These works present his perception of everyday life in Harlem and rural North Carolina, as well as explore various aspects of 20th-century Modernism, particularly Cubism. The subject of Blues from the Old Country is music, a critical theme in Bearden's art. The creative process of making collages is one of construction and deconstruction, much like jazz. Bearden would tear away sections of a work, then recover the surface with new images. Of this technique, Bearden has said "Well, it's like jazz: you do this and then you improvise."
#DMSOatHome is a new series of videos and streaming content aimed at connecting with our community online. Join us each Sunday evening on our social media channels for a series of live-streamed recitals from our Des Moines Symphony Musicians.
Like what you see? Help support our mission and future programming so we can make music together for years to come.