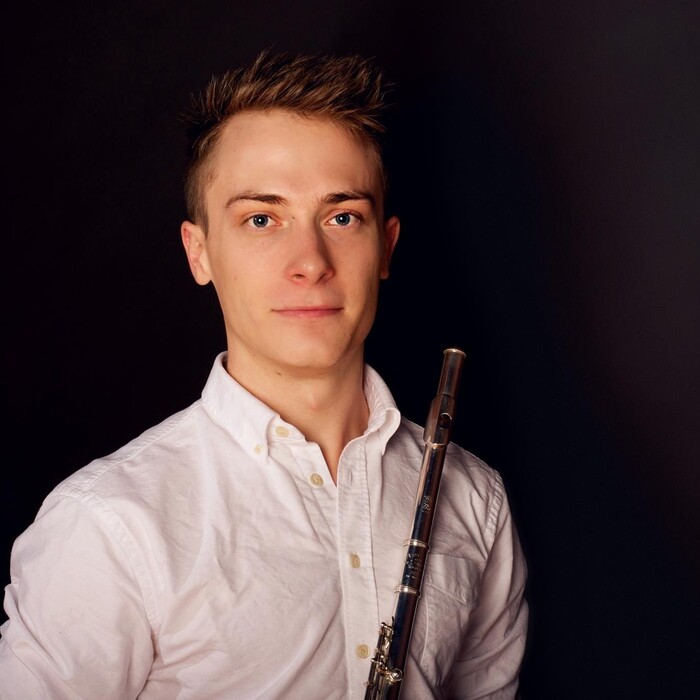 As early as seventh grade, James Blanchard knew he wanted to play in an orchestra. Using Interlochen Arts Camp in Michigan for two summers as a stepping-stone, he attended the Interlochen Arts Academy for his senior year of high school; Rice University in Houston, Texas, for his undergraduate degree; and The Juilliard School for his Master's degree, where he had the opportunity to work with fantastic conductors and other young musicians from around the world. Of this experience, James says, "being surrounded by so much talent and musical conviction elevated the standards I set for myself and developed my musical and expressive sensibilities."
As a musician, James loves losing himself in someone else's emotion and inner world. Being a musician means providing an audience with some measure of wonder, amazement, and break from reality, another one of James' favorite things. "And," he says, "the chance to travel the world to do all of this isn't so bad either."
James was one of the first Des Moines Symphony Musicians to participate in the DMSO at Home project. James hosted his first livestream in April, where he performed works by Faure, Rhene-Baton, and Poulenc. The ability to present musical projects to an audience connected by thousands of miles and a computer screen has been an enjoyable and gratifying experience, especially since audiences are almost as starved for live performance as the musicians themselves. James also participated in a woodwind-themed Family Concert in July, where he demonstrated the flute and played the excerpt that made him decide to play the flute, Tchaikovsky's Peter and the Wolf. Most recently, he streamed a recital in November featuring soprano Maya Kherani and accompanied by Christopher James Ray in which he selected five pieces that track music's evolution as an expressive art. He feels lucky that the Symphony has been able to "sur-thrive (survive and thrive)," and is excited to continue this dedication to the audience throughout the rest of the season.
When James is not playing the flute, he has an abundance of hobbies and interests to keep him occupied. Some of his favorite pastimes include reading, cooking, baking, and playing video games. At the moment, James is re-reading Jane Eyre, which he intersperses with playing Super Smash Bros, Zelda, and Rocket League. Like many others over the past year, James has been keeping busy in the kitchen. Some of his most recent cooking and baking adventures include gazpacho, tonkatsu (a Japanese dish consisting of breaded tempura cutlets), tortellini, and fired-roasted jalapeno salsa. His cooking endeavors do not stop there, as he has plans to make hand-filled pasta, tonkotsu ramen, focaccia, Bolognese (using Marcella Hazan's recipe), doughnuts, and much more in the future.
James believes a good coffee shop is invaluable to almost every artist. His favorite spot in Des Moines is Horizon Line, which he cannot recommend strongly enough. You can spot James there when the Symphony has morning rehearsals enjoying a cup of cold brew and one of their delicious pastries.
The ability to share music with people is important to James. To introduce newcomers to classical music, he recommends Prokofiev's Symphony No. 1. Prokofiev called this symphony the "Classical Symphony" and composed it as if Haydn were alive and composing during the 20th century. This Symphony embodies everything Haydn and Mozart held dear: form, good structure and proportion, and irreverent charm. After listening to more of his work, listeners can detect Prokofiev's own humor and virtuosic invention. A very digestible and "crazily fun" piece to listen to, this symphony is under 20 minutes long.