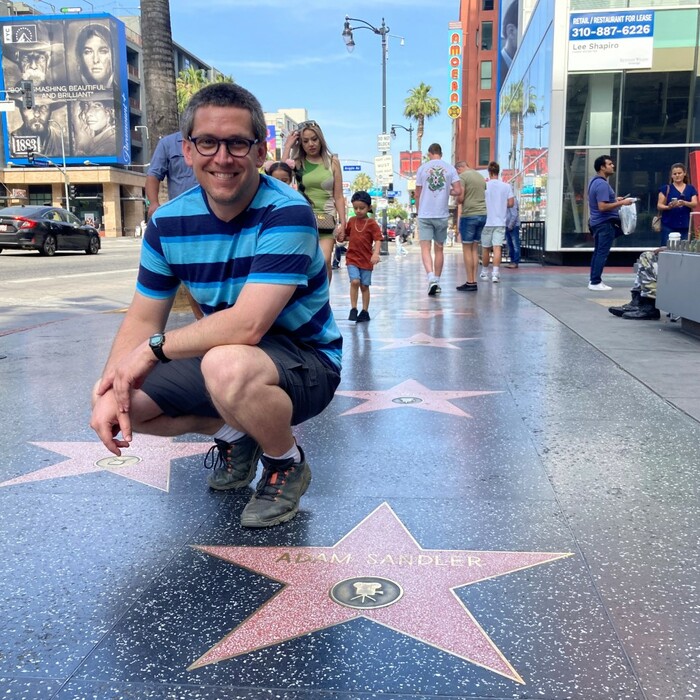 I'm Aaron Williams, the Des Moines Symphony's Director of Operations and Principal Percussionist. In preperation for our upcoming Music of Queen concert, I'm using my Music Monday playlist to share some of the best examples of combining classical and rock music.

I chose to curate this particular playlist for the DMSO Listening Room because it brings together three of my favorite genres of music (those being classical, jazz/fusion, and classic rock/pop) and presents the classical music component in an unconventional, yet very enjoyable and entertaining, way.
The tracks on this playlist feature music by rock, pop, and jazz artists that borrows melodies and rhythms from well-known composers that you'll certainly be familiar with. These tracks range from a subtle snippet (listen closely or you'll miss it), to over-the-top frivolity (but not without musical merit), to notable and effective interpretation. Who knows, you might just find that you like one of these tracks just as much as the classical piece it's based on.

I selected 11 of my favorite instrumental covers/interpretations, and 11 classic rock and pop songs for you to enjoy. For those of you who are curious about which classical composition is referenced in each of the 22 tracks, then I have listed each reference below along with some additional notes from me. Thank you for supporting the DMSO and for checking out my playlist.
1. Fanfare for the Common Man by Emerson Lake & Palmer
Refrencing: Fanfare for the Common Man by Aaron Copland
In true, classical style, I had to start things off with a fanfare.
2. This Night by Billy Joel
Refrencing: Movement 2 from Piano Sonata No. 8, 'Pathetique' by Ludwig van Beethoven
Billy Joel is one of my favorite artists. This song is an homage to Little Anthony and the Imperials, but the chorus is all Beethoven.
3. Horizons by Genesis (Steve Hackett, guitar)
Refrencing: Prelude from Cello Suite No. 1 by Johann Sebastian Bach
This is one of those subtle references.
4. Joybringer by Manfred Mann's Earth Band
Refrencing: Jupiter from The Planets by Gustav Holst
Jupiter is the bringer of jollity, so it all makes perfect sense. This song goes one step further in that its lyrics, in addition to its melody, reference Jupiter.
5. Cans and Brahms by Yes (Rick Wakeman, keyboards)
Refrencing: Movement 3 from Symphony No. 4 by Johannes Brahms
Yes is one of my favorite bands. This is a filler track from the Fragile album, but, being a percussionist, I've always appreciated this track because it's the only movement in all of Brahms' symphonies that has percussion. One player. One triangle. And it's actually quite challenging to play!
6. Annie's Song by John Denver
Refrencing: Movement 2 from Symphony No. 5 by Piotr Ilyich Tchaikovsky
The melody to this song is just about note-for-note the French horn solo. It's no secret that Tchaikovsky writes the best melodies.
7. Nut Rocker by B. Bumble & The Stingers
Refrencing: March from The Nutcracker by Tchaikovsky
One more from Tchaikovsky. This interpretation is both zany and downright fun. It'll put a smile on your face.
8. I Believe in Father Christmas by Greg Lake
Refrencing: Troika from Lieutenant Kije by Serge Prokofiev
I like this song so much I listen to it all year round. And the Troika is one of my favorite pieces to perform with the orchestra in December.
9. Bouree by Jethro Tull
Refrencing: Bouree from Lute Suite in E Minor by J.S. Bach
Does this count as jazz flute? "Hey Aqualung!" (BTW, this bouree also inspired The Beatles' Blackbird)
10. Every Little Kiss by Bruce Hornsby and The Range
Refrencing: Movement 3, 'The Alcotts' from Piano Sonata No. 2, 'Concord' by Charles Ives
Ives? Really? Yes! It works perfectly as the solo piano intro to the song.
11. Improvisation on Bolero by Larry Coryell
Refrencing: Bolero by Maurice Ravel
This is one that I enjoy more than the original orchestral version. Wonderfully played by Larry Coryell and Brian Keane on acoustic guitars. I can listen to it over and over again. No snare drum required!
12. Prelude: Happiness / I'm So Glad by Deep Purple
Refrencing: Movement 1, 'The Sea and Sinbad's Ship' from Scheherazade by Nikolai Rimsky-Korsakov
Not the deepest lyrics you'll ever hear, but at least they're glad to be playing some Rimsky-Korsakov. I feel the same way when I get to do that.
13. Night on Bald Mountain by Bob James
Refrencing: Night on Bald Mountain by Modest Mussorgsky
This track is on fire! You have Thad Jones and Jon Faddis screaming on trumpets and Steve Gadd (he's a G.O.A.T.) is playing tasty drum grooves throughout. I never get tired of this one.
14. Leningrad by Billy Joel
Refrencing: Waldesnacht (Forest Night) from Seven Songs by Brahms
Another entry from Billy Joel (did I mention he was a favorite of mine?) and from Brahms. This is a melancholy banger from my favorite "80s Joel" album, Storm Front.
15. Evil Midnight by Apollo 100
Refrencing: Danse Macabre by Camille Saint-Saens
I choose this one over Apollo 100's more famous 'Joy' for one reason: DRUM SOLO!
16. A Whiter Shade of Pale by Procol Harum
Refrencing: Air on the G String and/or Sleepers Awake and/or Ich steh mit einem Fuss im Grabe by J.S. Bach
You can decide which Bach reference you hear most clearly.
17. Hoedown by Bela Fleck and the Flecktones
Refrencing: Hoe-Down from Rodeo: Four Dance Episodes by Aaron Copland
This track is a party on stage with steel pans, electric banjo, processed bassoon, tabla, penny whistle, a synthaxe, the kitchen sink, and so much more.
18. Clair de Lune / Ballerina by Styx
Refrencing: Movement 3, 'Clair de lune' from Suite bergamasque by Claude Debussy
Styx is another favorite band of mine and this is one of my favorite Styx B-side deep cuts. It's the last track on their Crystal Ball album.
19. Difficult to Cure by Rainbow
Refrencing: Movement 4 from Symphony No. 9, 'Choral Symphony' by Beethoven
Rainbow turns 'Ode to Joy' into a fiery rock shuffle that certainly brings me joy. Roll over Beethoven!
20. Russians by Sting
Refrencing: Romance from Lieutenant Kije by Prokofiev
Another melancholy song about Russia and another great movement from 'Lieutenant Kije'.
21. Romeo and Juliet by Emerson Lake & Palmer
Refrencing: The Montagues and the Capulets from Romeo and Juliet: Suite No. 2 by Prokofiev
ELP has recorded so much classical music that I couldn't pick just one. So my second pick had to be this heavy, Herculean face melter.
22. A Groovy Kind of Love by Phil Collins
Refrencing: Movement 3 from Piano Sonatina Op. 36 No. 5 by Muzio Clementi
This song is pretty true to the original, albeit much, much, much slower.