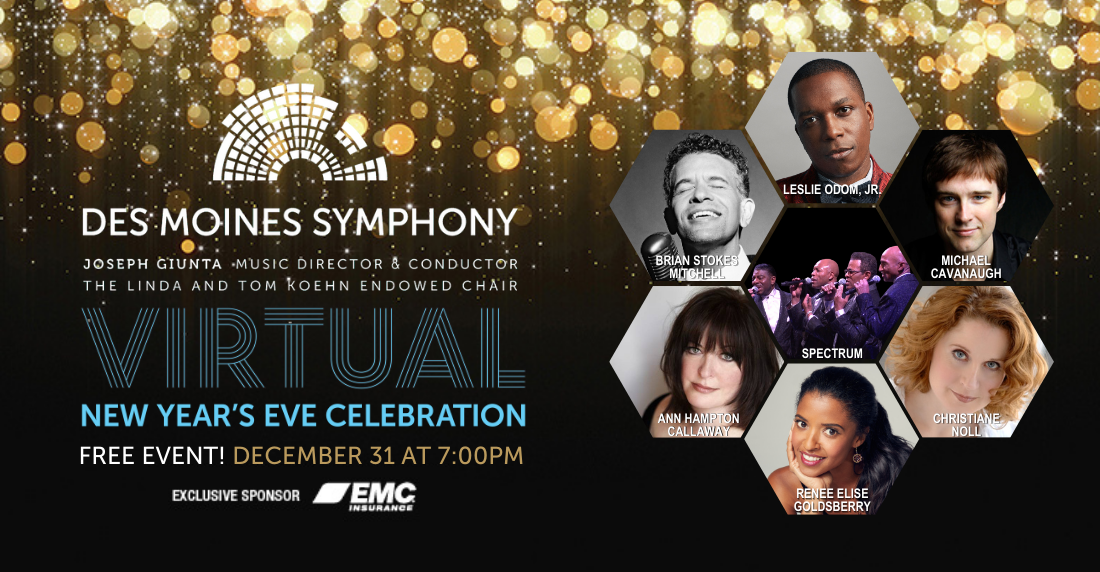 Each and every year, the Symphony's New Year's Eve Pops is the hottest ticket in town. This year, we're going online with a star-studded fundraiser you can enjoy from the comfort of your own home – or anywhere in the world! Raise a virtual toast with hosts Kevin and Mollie Cooney and ring in 2021 with an evening of incredible performances and New Year's Eve memories from guest artists across the world, including Leslie Odom Jr, Renée Elise Goldsberry, Brian Stokes Mitchell, Michael Cavanaugh, Christiane Noll, Steve Lippia, Spectrum, and more – along with our own Des Moines Symphony musicians.
While this event is free to enjoy, we ask that you consider a contribution to the Des Moines Symphony.
Your contributions to the Des Moines Symphony & Academy will help support our mission and future programming so we can keep making music together for years to come! Help support the Des Moines Symphony by clicking the Make a Gift button below.
Schedule
6:00 PM              Virtual Des Moines Symphony Musician Meet & Greet (exclusively for Event Supporters)
6:45 PM              Pre-broadcast Countdown
7:00 PM              A Virtual New Year's Eve Celebration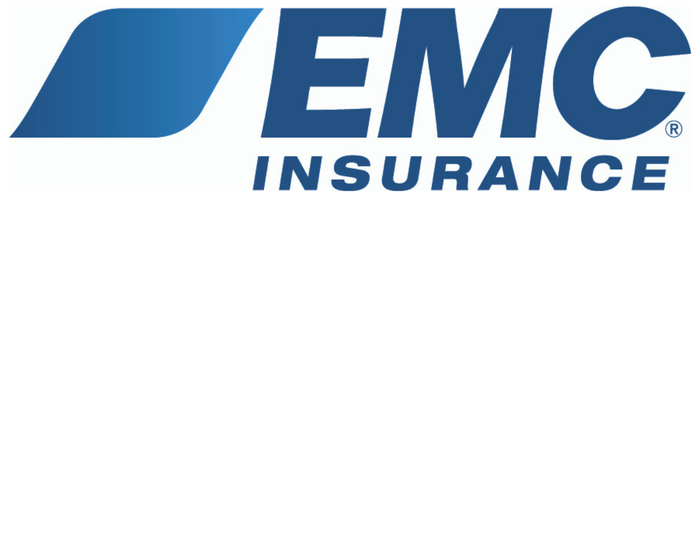 Exclusive Sponsor
EMC Insurance Companies
Patron Level Event Supporters
Amy Beattie 
Barbara Beatty
BP Real Estate Group, LC
Richard & Christine Clogg
Stanton & Deborah Danielson
Douglas B. Dorner & Carole Villeneuve
Sheila & Tim Drevyanko
Deirdre & Tom Farr
Jeff Freude & Laurie Wolf
Cheryl & Michael Giudicessi
Dave & Linda Grieve
Bishop Laurie & Rev. Gary Haller
Eric & Connie Hockett
Karl & Jan Knock
Russ & Mary Marshall
Randy E. McMullin
Jim & Barbara Miles
Chuck & Kathy Safris
Dr. Dana & Joan Shaffer
Yogesh & Deval Shah
Drs. Robert & Rebecca Shaw
Stephen Smith
Stephen & Martha Stephenson
John & Peggy Wild
Guest Level Event Supporters
Laura Beckwith & Bruce Orman
Ed Bittle & Barb Madden-Bittle
Franklin & Tracy Codel
Lizzy & Rob Dixon
Jon Duvick & Carol Hendrick
Susan & David Grant
Tina & Jon Hade
Dr. Robert & Marilyn Kollmorgen
Robert & Elisabeth Reynoldson
Angie & Brian Sanders
Carl & Ashlee Vieregger 
Mel & Kathy Weatherwax
Kevin & Joy Wilhelm
Rebecca Young