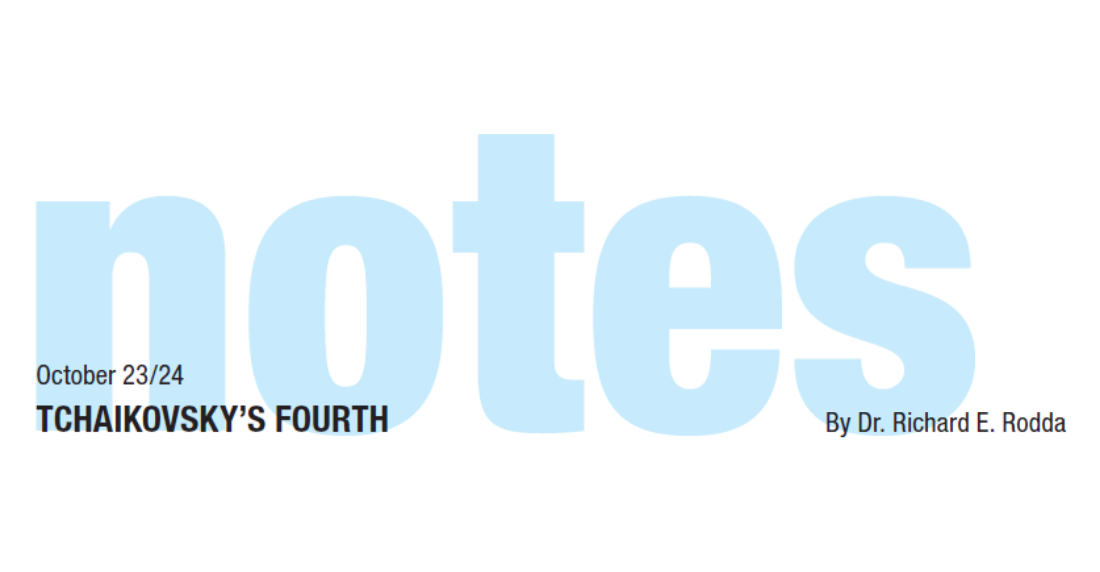 This Des Moines Symphony concert begins with music by GEORGE WALKER, who was born in Washington, D.C. in 1922 into the family of a Black immigrant father and overcame almost endless obstacles and prejudices to become an internationally acclaimed composer, pianist and educator. His Lyric for Strings, dedicated to the memory of his grandmother, is his best-known work and one of the most frequently performed by any 20th-century American composer. The most distinguished of the piano pupils of LUDWIG VAN BEETHOVEN was Rudolph, Archduke of Austria and titled scion of the Hapsburg line. The Archduke became a life-long patron of the composer, and it was for him that Beethoven wrote the "Triple Concerto," with a piano part specially tailored to Rudolph's technical abilities. "We cannot escape our Fate," wrote PETER ILYICH TCHAIKOVSKY about his life as reflected in the Symphony No. 4. It is one of his most powerful and personal creations.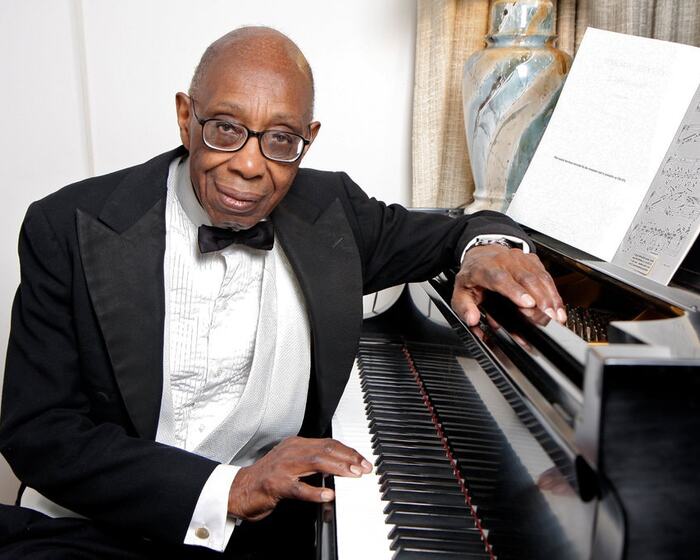 GEORGE WALKER
Born June 27, 1922 in Washington, D.C.;
died August 23, 2018 in Montclair, New Jersey.
LYRIC FOR STRINGS
• First performed on March 24, 1947 in Washington, D.C., conducted by Richard Bales
• First and only previous performance by the Des Moines Symphony occurred on November 12, 2020 with Joseph Giunta conducting.
(Duration: ca. 7 minutes)
George Walker, born in 1922 in Washington, D.C., was the son of a Jamaican immigrant father, who worked his way through Temple University Medical School in Philadelphia to become a physician, and a musical mother who introduced her son to the piano at age five. George started formal piano lessons soon thereafter and gave his first public recital at Howard University when he was fourteen. As precocious in academics as he was in music, he graduated from the competitive Paul Dunbar High School that same year and then attended Oberlin College in Ohio on a full scholarship; he graduated at age eighteen with highest honors in his class. Advanced study of piano (with Rudolf Serkin), orchestrations (Gian Carlo Menotti), chamber music (William Primrose and Gregor Piatigorsky) and composition (Rosario Scalero) at the renowned Curtis Institute of Music in Philadelphia followed; in 1945, he became the school's first Black graduate to receive Artist Diplomas in both piano and composition. Later that year, Walker made his New York Town Hall debut and appeared as soloist in Rachmaninoff's Third Piano Concerto with Eugene Ormandy and the Philadelphia Orchestra (his prize for winning the Philadelphia Youth Auditions), both again firsts for a Black American instrumentalist. Further piano study in France in 1947 helped prepare him for several years as a touring virtuoso in Europe and America.
Walker taught at Dillard University in New Orleans in 1954 and 1955 before completing his doctoral degree after just one year at the Eastman School in Rochester; the Piano Sonata No. 2 of 1956 was his thesis. Following his graduation, Walker returned to France for two years on a Fulbright Fellowship and a John Hay Whitney Fellowship to study composition with Nadia Boulanger. After again concertizing successfully in Europe, he returned to America and thereafter taught at the Dalcroze School of Music and New School for Social Research in New York City (1960-1961), Smith College (1961-1968, where he became the first Black tenured faculty member), University of Colorado (1968-1969), Rutgers University (1969-1992, where he chaired the Music Department), Peabody Institute of Johns Hopkins University (1975-1978) and University of Delaware (1975-1976, where he was the recipient of the first Minority Chair established by the University).
Among Walker's many honors were the 1996 Pulitzer Prize in Music (for his Lilacs for Voice and Orchestra), induction into the American Classical Music Hall of Fame, honorary doctorates from Lafayette College, Oberlin College, Montclair State University, Bloomfield College, Curtis Institute of Music, Spelman College and Eastman School, grants and fellowships from the Guggenheim, Rockefeller, Koussevitzky, Fromm and MacDowell foundations, membership in the American Academy and Institute of Arts and Letters, and commissions from the National Endowment for the Arts, Library of Congress, Cleveland Orchestra, New York Philharmonic, Boston Symphony, Kennedy Center and other leading ensembles and institutions. George Walker's compositions, which have been performed by every major orchestra in the United States and by many in Europe, South America and Canada as well (his Lyric for Strings is among the most often-heard works by an American composer), include: four symphonies; concerted works for piano, trombone and cello; several independent orchestral scores; five sonatas for solo piano and one for two pianos; two string quartets; two violin sonatas; a Mass for soloists, chorus and orchestra; several songs and numerous other smaller works. George Walker died in Montclair, New Jersey on August 23, 2018.
The Lyric for Strings, written originally in 1946 as the second movement of Walker's String Quartet No. 1, was dedicated to the memory of the composer's grandmother, Malvina King. The piece was first played (under the title Lament) early the following year on a radio broadcast of the orchestra of the Curtis Institute conducted by Seymour Lipkin, and received its public premiere on March 24, 1947 at a festival of American music at the National Gallery of Art in Washington, D.C. under the direction of Richard Bales. The composer wrote of his Lyric for Strings, "After a brief introduction, the principal theme that permeates the entire work is introduced by the first violins. A static interlude is followed by successive imitations of the theme that lead to an intense climax. The final section presents a somewhat more animated statement of the same thematic material. The coda recalls the quiet interlude that appeared earlier."
The score calls for the usual strings consisting of first violins, second violins, violas, violoncellos and double basses.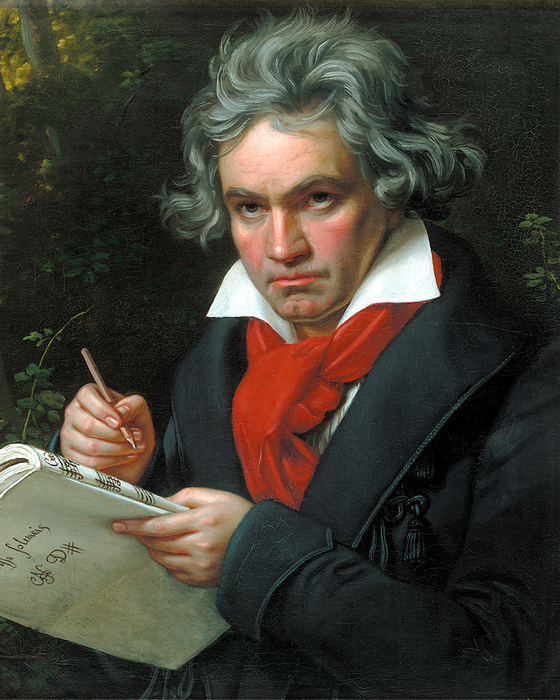 LUDWIG VAN BEETHOVEN
Born December 16, 1770 in Bonn;
died March 26, 1827 in Vienna.
CONCERTO FOR VIOLIN, CELLO, PIANO & ORCHESTRA IN C MAJOR, OP. 56, "TRIPLE CONCERTO"
• First performed in 1805 or 1806 in Vienna, with violinist Carl August Seidler, cellist Anton Kraft and pianist the Archduke Rudolph as soloists.
• First performed by the Des Moines Symphony on February 7 & 8, 1976 with Yuri Krasnapolsky conducting and violinist Wilfred Biel, cellist John Ehrlich and pianist Yuri Krasnapolsky as soloists. Subsequently performed twice, most recently on April 4 & 5, 1998 with Joseph Giunta conducting and violinist Jaime Laredo, cellist Sharon Robinson and pianist Joseph Kalichstein as soloists.
(Duration: ca. 36 minutes)
"Everyone likes flattery; and when you come to Royalty, you should lay it on with a trowel," counseled the 19th-century British statesman Benjamin Disraeli. He would have gotten no argument from Beethoven on that point. When Rudolph, Archduke of Austria and titled scion of the Habsburg line, turned up among Beethoven's Viennese pupils, the young composer realized that he had tapped the highest echelon of European society. Beethoven gave instruction in both piano performance and composition to Rudolph, who had a genuine if limited talent for music. Questioned once whether Rudolph played really well, the diplomatic teacher answered with a hoarse chuckle, "When he is feeling just right." Concerning flattery, the most important manner in which 19th-century composers could praise royalty was by dedicating one of their compositions to a noble personage. Rudolph, who eventually became Archbishop Cardinal of Austria and remained a life-long friend and patron of Beethoven, received the dedication of such important works as the Fourth and Fifth Piano Concertos, "Lebewohl" and "Hammerklavier" Sonatas, Op. 96 Violin Sonata, "Archduke" Trio, Missa Solemnis and Grosse Fuge. While Rudolph was still a boy of sixteen, however, his teacher wrote for him his very own composition, a piece that made a grand noise and showed off his piano skills in a most sympathetic setting.
Beethoven's choice of piano, violin and cello for Rudolph's concerto appears to be unprecedented in the literature — "really something new," he wrote to his publisher. There was a popular genre in the Classical era known as the sinfonia concertante for two or more soloists with orchestral accompaniment, a revamped model of the Baroque concerto grosso. Mozart and Haydn left lovely examples. The sinfonia concertante was especially favored in France, where the combination of violin and either viola or cello was most common. Beethoven, powerfully under the influence of French music at the time (the "Eroica" Symphony, originally dedicated to Napoleon, and Fidelio, based on a French source, also date from 1803-1804), took over the form for two solo strings and added to it a piano part and — behold! the adolescent Archduke had become a virtuoso. Beethoven liked his student, who seems to have been quite a nice young man. The composer tailored the piano part to Rudolph's skills so that it did not present extremely difficult technical demands but still showed off his abilities to good advantage. The string parts, on the other hand, he filled with florid lines woven around the keyboard writing so that the soloists as a group come off as a dazzling band ofvirtuosos. To assure a good first performance, Beethoven called in two of the best players of the day to share the stage with Rudolph — violinist Carl August Seidler and cellist Anton Kraft. If the demands of the cello part on the range and technique of the soloist are any indication, Kraft, especially, seems to have warranted his reputation as a master performer.
The "Triple" Concerto's first movement is a modified sonata design with a lengthy exposition and recapitulation necessitated by the many thematic repetitions. After a hushed and halting opening in the strings, the full orchestra takes up the main thematic material of the movement. The soloists enter, led, as usual throughout this Concerto, by the cello with the main theme. The second theme begins, again in the cello, with a snappy triad. Much of the remainder of the movement is given over to repetitions and figuration rather than to true motivic development. A sudden quickening of the tempo charges the concluding measures of the movement with flashing energy. The second movement is a peaceful song for the solo strings with elaborate embroidery for the piano. The movement is not long, and soon leads into the finale without a break. The closing movement is a strutting Rondo alla Polacca in the style of the Polish polonaise.
The score calls for one flute, oboes, clarinets, bassoons, horns and trumpets in pairs, timpani and the usual strings.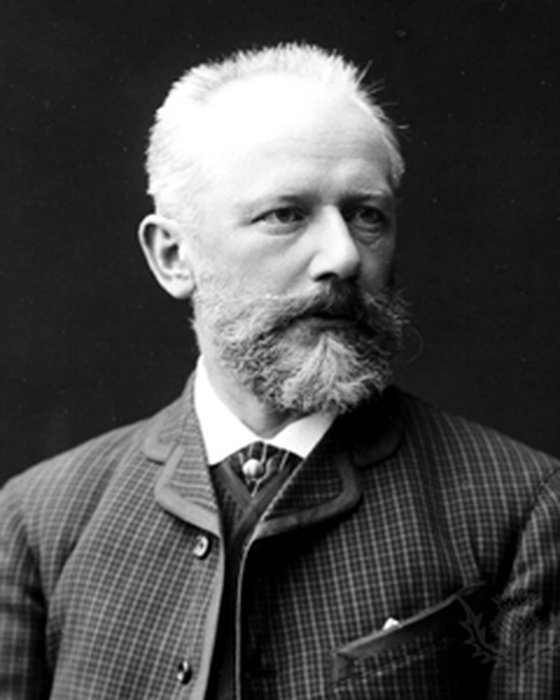 PETER ILYICH TCHAIKOVSKY
Born May 7, 1840 in Votkinsk;
died November 6, 1893 in St. Petersburg.
SYMPHONY NO. 4 IN F MINOR, OP. 36
• First performed on February 22, 1878 in Moscow with Nikolai Rubinstein conducting.
• First performed by the Des Moines Symphony on April 12, 1970 with Willis Page conducting. Subsequently performed four times, most recently on March 16 & 17, 2013 with Joseph Giunta conducting.
(Duration: ca. 44 minutes)
The Fourth Symphony was a product of the most crucial and turbulent time of Tchaikovsky's life — 1877, when he met two women who forced him into a period of intense introspection. The first was the sensitive, music-loving widow of a wealthy Russian railroad baron, Nadezhda von Meck, who became not only the financial backer who allowed him to quit his irksome teaching job at the Moscow Conservatory to devote himself entirely to composition, but also the sympathetic sounding-board for reports on the whole range of his activities — emotional, musical, personal. Though they never met, her place in Tchaikovsky's life was enormous and beneficial.
The second woman to enter Tchaikovsky's life in 1877 was Antonina Miliukov, an unnoticed student in one of his large lecture classes at the Conservatory who had worked herself into a passion over her professor. Tchaikovsky paid her no special attention, and had quite forgotten her when he received an ardent love letter professing her flaming and unquenchable desire to meet him. Tchaikovsky (age 37), who should have burned the thing, answered the letter of the 28-year-old Antonina in a polite, cool fashion, but did not include an outright rejection of her advances. He had been considering marriage for almost a year in the hope that it would give him both the stable home life that he had not enjoyed in the twenty years since his mother died, as well as to help dispel the all-too-true rumors of his homosexuality. He believed he might achieve both those goals with Antonina. He could not see the situation clearly enough to realize that what he hoped for was impossible — a pure, platonic marriage without its physical and emotional realities. Further letters from Antonina implored Tchaikovsky to meet her, and threatened suicide out of desperation if he refused. What a welter of emotions must have gripped his heart when, just a few weeks later, he proposed marriage to her! Inevitably, the marriage crumbled within days of the wedding amid Tchaikovsky's searing self-deprecation.
It was during May and June that Tchaikovsky sketched the Fourth Symphony, finishing the first three movements before Antonina began her siege. The finale was completed by the time he proposed. Because of this chronology, the program of the Symphony was not a direct result of his marital disaster. All that — the July wedding, the mere eighteen days of bitter conjugal farce, the two separations — postdated the actual composition of the Symphony by a few months. What Tchaikovsky found in his relationship with Antonina Miliukov (who by 1877 already showed signs of approaching the door of the mental ward in which, still legally married to him, she died in 1917) was a confirmation of his belief in the inexorable workings of Fate in human destiny. "We cannot escape our Fate," he wrote to Mme. von Meck, "and there was something fatalistic about my meeting with this girl."
After the premiere, Tchaikovsky explained to Mme. von Meck the emotional content of the Fourth Symphony: "The introduction [blaring brasses heard immediately in a motto theme that recurs throughout the Symphony] is the kernel of the whole Symphony. This is Fate, which hinders one in the pursuit of happiness. There is nothing to do but to submit and vainly complain [the melancholy, syncopated shadow-waltz of the main theme, heard in the strings]. Would it not be better to turn away from reality and lull one's self in dreams? [The second theme is begun by the clarinet.] But no — these are but dreams: roughly we are awakened by Fate. [The blaring brass fanfare over a wave of timpani begins the development section.] Thus, we see that life is only an everlasting alternation of somber reality and fugitive dreams of happiness. The second movement shows another phase of sadness. How sad it is that so much has already been and gone! And yet it is a pleasure to think of the early years. It is sad, yet sweet, to lose one's self in the past. In the third movement are capricious arabesques, vague figures which slip into the imagination when one has taken wine and is slightly intoxicated. Military music is heard in the distance. As to the finale, if you find no pleasure in yourself, go to the people. The picture of a folk holiday. [The finale employs the folk song A Birch Stood in the Meadow.] Hardly have we had time to forget ourselves in the happiness of others when indefatigable Fate reminds us once more of its presence. Yet there still is happiness, simple, naive happiness. Rejoice in the happiness of others — and you can still live."
The score calls for piccolo, flutes, oboes, clarinets and bassoons in pairs, four horns, two trumpets, three trombones, tuba, timpani, bass drum, crash cymbals, triangle and the usual strings.