Guest Post by Amanda Drish, Manager of Community Connections and Director of Project Encore
Music is for everyone. Or is it?  
Music was and is created for broad audiences. It bridges diversity, breaks down walls and creates common ground for our humanity as citizens of this world to thrive. 
Music is a lifeline — a heartbeat of a community — and it can change the world. Through our concerts and programs, the Des Moines Symphony and Academy is invested in providing inclusive environments and access to music and music education for children throughout Greater Des Moines.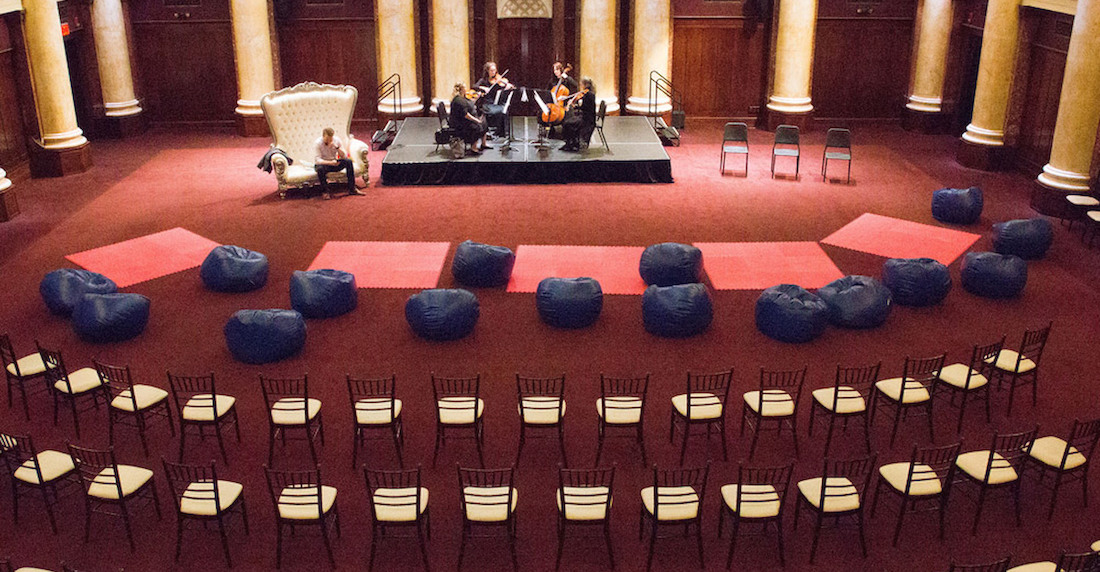 The Grand Hall set up for a Sensory Friendly Concert
Creating a Music Community of Inclusivity 
How do you experience a concert? Do you tap your toes and sit quietly to absorb the gentle nuances of a symphony orchestra? Do you know when to clap if there are multiple movements of piece? Do you love the ambiance of a crowd buzzing with excitement before a performance?  Many of you probably answered 'yes' to these questions. However, there are people in our community who answered 'no' to many, if not all, of them. It may be for personal reasons or because they have a child who processes these experiences in their own unique way. Some individuals cannot process the environment of the concert hall due to sensory sensitivities. For this reason, the Des Moines Symphony & Academy have created Sensory Friendly Concerts.  Because we believe that music is for everyone.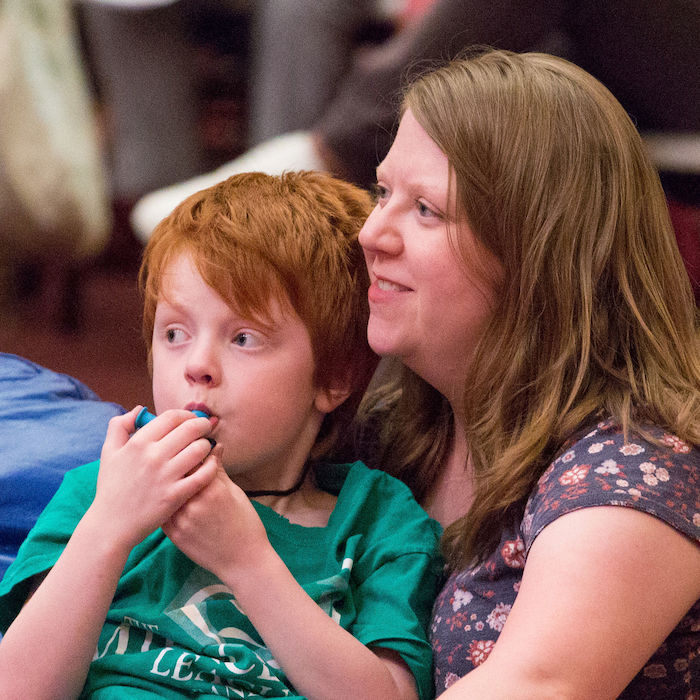 Sensory Friendly Concerts 
Sensory Friendly Concerts are specifically designed and adapted for audience members who may have sensory processing sensitivities such as Autism Spectrum Disorder. Modifications such as flexible seating, social stories, pre-concert program guides and more have been made available online.
Our goal is that each attendee feels welcome to be who they are in a judgement-free environment while enjoying a live performance with a few of the wonderful Des Moines Symphony musicians. Because of these concerts, families who have never attended a live music performance now have the opportunity to do so!  A parent attendee said, "It's a beautiful thing you are doing for kids on the Autism Spectrum. Autism is a non-visual disability and most folks don't understand. Thank you for your kindness and compassion." 
But we know the performance environment isn't the only factor that can exclude people from fully experiencing the power of live music. Are you a parent or guardian who can afford to pay for music lessons or other activities for your child? Do you have a vehicle to transport your family to activities? Does your schedule allow you the free time for a variety of family activities?  For many families and young people in our community, these factors limit their options for learning to play an instrument.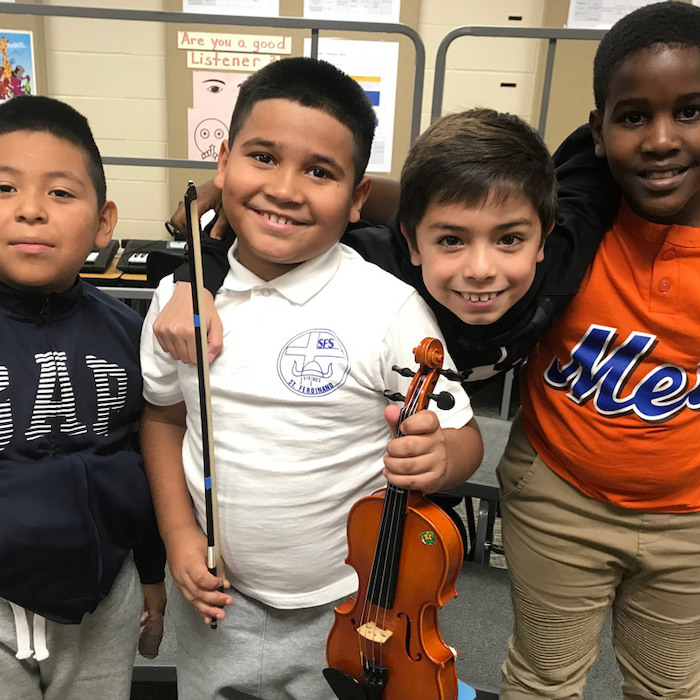 Project Encore 
Through Project Encore, the Des Moines Symphony Academy, in partnership with the Boys and Girls Clubs of Central Iowa, provides violin lessons to over 45 students weekly throughout the school year. We believe music is for everyone and want to ensure access to a one-of-a-kind music education is available to those who want it. Project Encore practices four days a week with children grades K-4. Children in Project Encore learn vital life skills through music lessons.
Collaboration, peer communication, respect and responsibility are all skills that are focused on throughout each lesson. Families in Project Encore understand the benefit that music education can bring to their student, and because of that understanding some families commit to lessons for multiple children. The beauty of working with siblings and relatives is the opportunity to engage the entire family in the process of music education. 
This partnership has been made possible by the generous donations of Pamela Bass-Bookey & Harry Bookey and Suzie Glazer Burt. Because of their generosity, we have been able to work with more than 145 DSM student musicians over the past four years!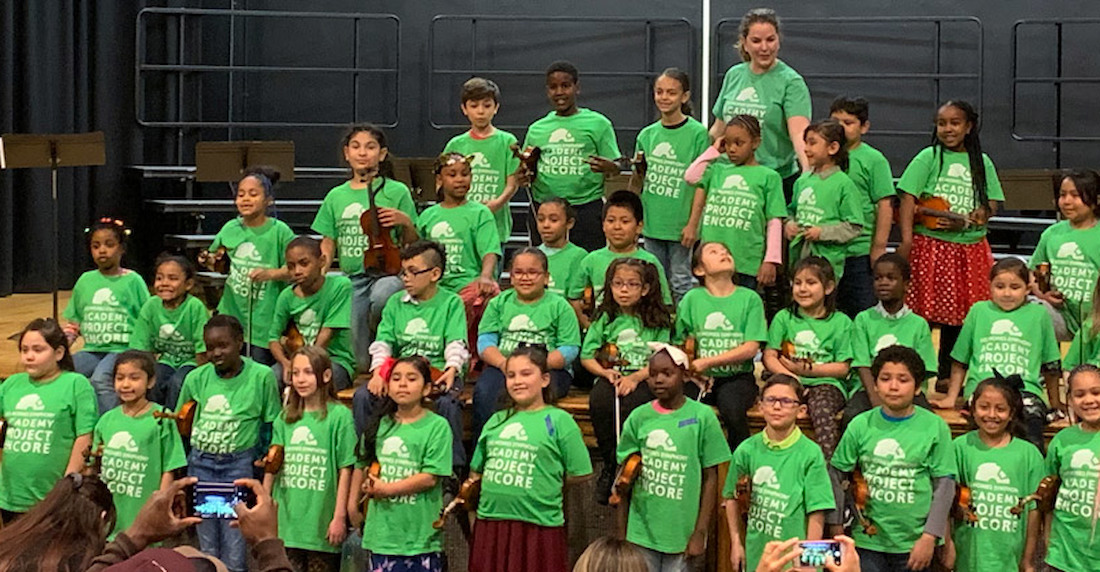 Project Encore students at their annual recital
These opportunities, such as the Sensory Friendly Concerts, Project Encore and need-based scholarships available for all our programs are not possible without the support of our community. These programs have the potential to change lives forever. When looking at the world around us it can seem daunting to try to 'fix' it or make it better. It can seem impossible to change the world. However, these programs can change the entire world for one child, and we are committed to doing our part to help change children's lives in DSM through the inclusive and accessible programs that share the power of music.  
This blog also appears on the Greater Des Moines Partnership's website. Originally published Dec 26, 2019.