Celebrate the holidays with the Des Moines Symphony! Purchase a $20 streaming pass and enjoy our holiday-themed concert, Winter Fantasia, on demand anytime in December.
Celebrate the holiday season with the Des Moines Symphony! From Bach to Boyce, this festive evening of music will inspire warmth, joy and peace.
Boyce's charming Symphony No. 5 was dedicated to St. Cecilia, patron saint of music whose feast day, November 22, begins the holiday season in countries around the world – and so begins our seasonally inspired evening of music. Torelli's calm, peaceful "Holy Nativity" Concerto recalls the shepherds of Bethlehem watching flocks by night, while Michael Torke's December, originally commissioned by the Des Moines Symphony in 1995, conjures childhood memories of the first snowfall. Elgar composed the beguiling Love's Greeting for his future wife Caroline Alice Roberts, and played it for her every Christmas morning until his death. The concert concludes with Bach's endearing Jesu, Joy of Man's Desiring and Vaughan Williams's peaceful and serene Fantasia on "Greensleeves."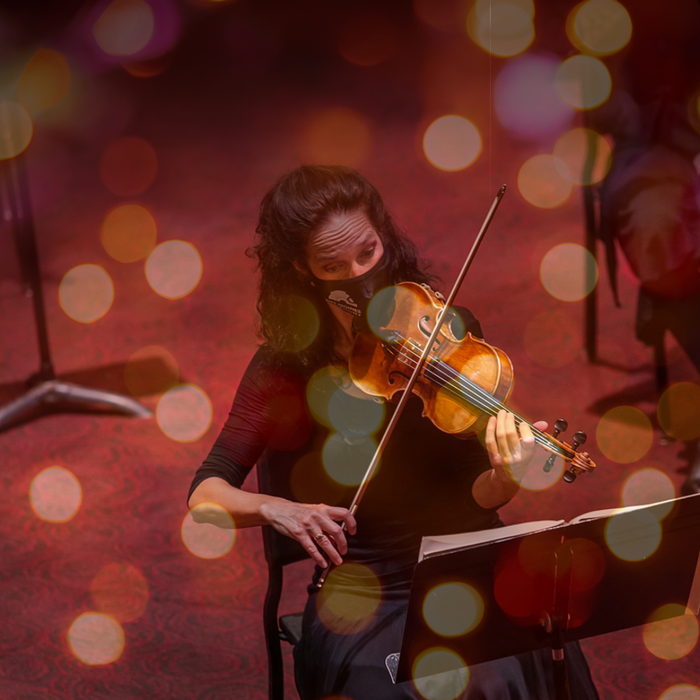 Filmed at the Temple for Performing Arts and broadcast on December 17, our Live from the Temple concerts feature a reduced-size orchestra spaced appropriately to ensure musician safety. Each broadcast features special interviews and behind-the-scenes footage, along with a post-concert Q&A session with Maestro Joseph Giunta. Click here for detailed instructions for accessing our concert broadcasts on your TV, a laptop, or even on your phone.
Click here to learn more about the program and performers, or visit the links below. 
Tickets & Access
Streaming passes are $20. Each ticket is valid for one device. Subscribers who have opted in to our streaming concerts will receive automatic access and do not need to purchase passes. 
These livestreamed concerts can be enjoyed in the comfort of your own home – and replayed at your convenience. Click here to read detailed instructions for accessing these concert broadcasts, making it easy to enjoy them on a Smart TV, a laptop, or even on your phone.
Access instructions for the on-demand concert will be sent to your email address as a purchase confirmation email from info@dmsymphony.org.