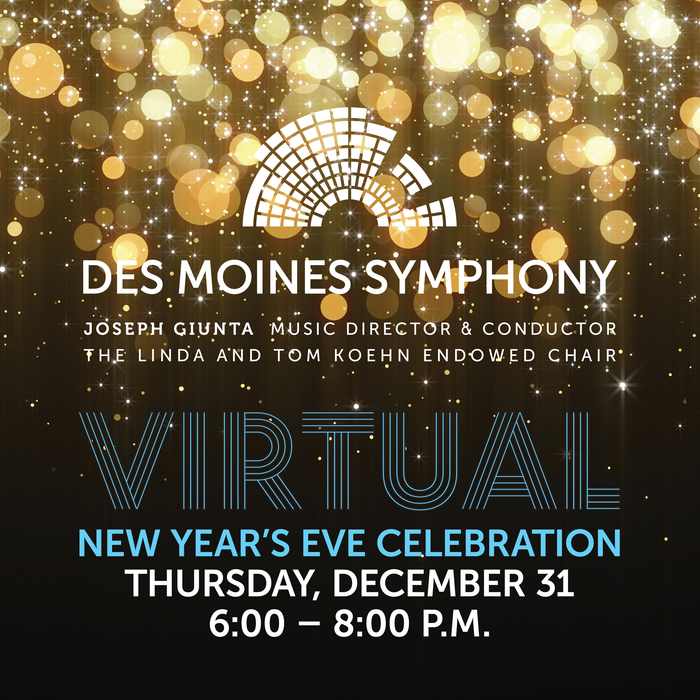 A Virtual New Year's Eve Celebration
Each and every year, the Symphony's New Year's Eve Pops is the hottest ticket in town. This year, we're going online with a star-studded fundraiser you can enjoy from the comfort of your own home – or anywhere in the world! Raise a virtual toast with hosts Kevin and Mollie Cooney and ring in 2021 with an evening of incredible performances and New Year's Eve memories from guest artists across the world, including Leslie Odom Jr, Renee Elise Goldsberry, Brian Stokes Mitchell, Michael Cavanaugh, Christiane Noll, Steve Lippia, Spectrum, and more – along with our own Des Moines Symphony musicians.  This special event will be presented on dmsymphony.org and our YouTube channel.
While this event is free to enjoy, we ask that you consider a contribution to the Des Moines Symphony. To enhance your experience, become an Event Supporter and join us before the main broadcast at a virtual Musician Meet & Greet. There are three levels of participation and corresponding benefits. Your contributions to the Des Moines Symphony & Academy will help support our mission and future programming so we can keep making music together for years to come!
Event Supporter Benefits
As an event supporter, you will receive access to a virtual Musician Meet & Greet before the main broadcast. These exclusive experiences will be limited in size, ensuring a personalized experience for each attendee. Other benefits include a special gift, dinner and wine packages, wine and cheese pairings, and name recognition. To participate, please make your reservation below. Reservations must be received by December 22nd in order to receive either the special gift, dinner or wine and cheese package. Food and beverage is to be picked up and is only available for local guests.
We look forward to ringing in the New Year with you! As an event supporter of our first-ever virtual fundraiser, you are directly supporting our musicians as well as our artistic and education programs. Together, we can keep the music playing!
Patron - $500
Access to virtual Musician Meet & Greet
Dinner and Wine from Tangerine for two
Special Gift
Name recognition during the main broadcast and on event webpage
Guest - $250
Access to virtual Musician Meet & Greet
Wine and cheese package from Tangerine for two
Name recognition on event webpage
Member - $120
Access to virtual Musician Meet & Greet
Schedule
6:00 PM              Pre-broadcast virtual Musician Meet & Greet
Event Supporters are invited to an intimate gathering on Zoom where they will have the opportunity to chat with Des Moines Symphony musicians.
6:45 PM              Pre-broadcast countdown
7:00 PM              Main Broadcast
The program can be viewed on dmsymphony.org and YouTube.
Patron Dinner Package
First: Cheese Display with Charcuterie - Assorted cheeses, sliced meats, nuts, olives, fruit, crackers
Second: Mediterranean Chicken – Half chicken with artichoke, preserved lemon and olives. Served with roasted garlic mashed potatoes, blistered green beans with garlic miso and caponata / ALT: Vegan white bean gratin with rosemary, garlic and olive oil.
Third: Pear Almond Galette
Wine: Sparkling White Wine
Guest Wine and Cheese Package
Sharp cheddar | Brie | Aged gouda
Salami | Coppa
Housemade garlic herb cheese spread
Olives and Cornichons
Dried fruit and Nuts
Crackers (gluten free available on request)
Bottle of sparkling wine