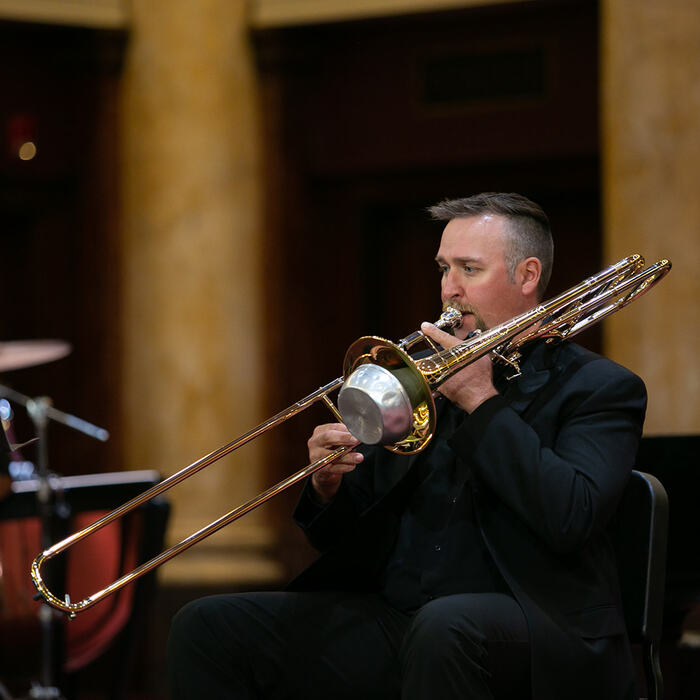 Fireworks & Fanfare
All brass! Handel and Piazzolla begin and end an evening of exhilarating brass and percussion music bursting with modern fanfares and solemn, stirring chorales
From Australian composer Katy Abbott's rich and rhythmic Punch to new works from American composers John Cheetham, Anthony DiLorenzo, and Kevin Puts, this concert bursts with modern brass fanfares and stirring, solemn chorales. "The Rejoicing" from Handel's Royal Fireworks serves as a fitting opener to this evening of exhilarating brass and percussion music, while Piazzolla's lively Tango Suite draws the concert to a rhythmic and electrifying close.
Downloadable Program for Home Printing
Watch Video
Program
Performers
Joseph Giunta Conductor Bio
Tickets & Access
Streaming passes are $20. Each ticket is valid for one device. Subscribers who have opted in to our streaming concerts will receive automatic access and do not need to purchase passes. 
These livestreamed concerts can be enjoyed in the comfort of your own home – and replayed at your convenience. Click here to read detailed instructions for accessing these concert broadcasts, making it easy to enjoy them on a Smart TV, a laptop, or even on your phone.
Access instructions for the stream will be sent to your email address on the day of the concert. After purchasing, please add info@dmsymphony.org to your safe senders list so your confirmation doesn't get lost in your junk/spam folder.
Join us throughout the week leading up to the concert for prelude talks, virtual cocktail parties, Classical Conversations, and more! Just click "Tickets" at the top of this page to create your own custom concert week schedule.