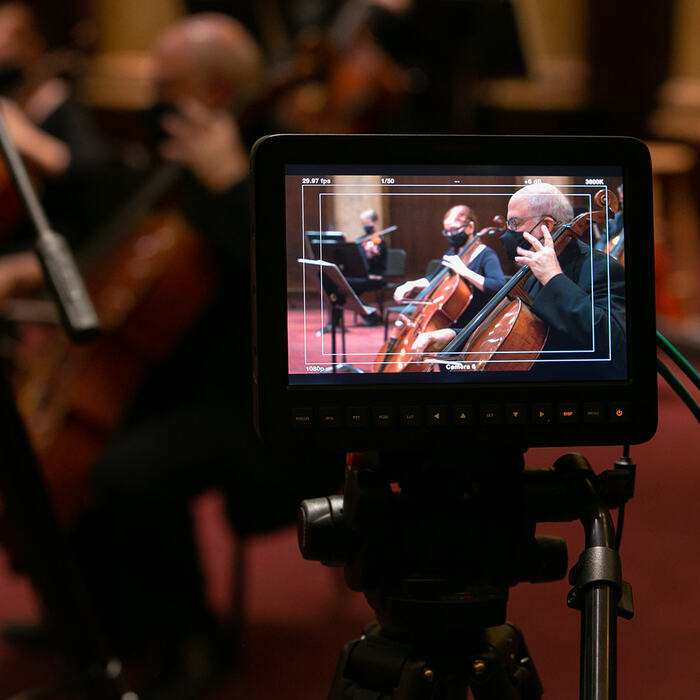 Past and Present
A study in past and present, from Haydn and Saint-Georges to Jessie Montgomery's modern, multicultural tribute to "The Star-Spangled Banner"
Our February concert evokes both humor and history, contrasting old and new. Haydn's merry "La Poule (the Hen)" takes its nickname from a clucking motif in the first movement, while Pulitzer Prize-Winning American composer William Bolcom's Commedia for an (Almost) 18th Century Orchestra is a witty commentary on the orchestral traditions of Haydn's time. The elegant Sinfonia No. 2 was written in 1775 by the first known classical composer of African ancestry, Saint-Georges; Black American composer Jessie Montgomery's 2014 piece Banner is a modern, multicultural tribute to "The Star-Spangled Banner," weaving together that theme with the commonly named Black National Anthem, "Lift Every Voice and Sing." The concert concludes with 19th Century American composer Edward MacDowell's tender, serene To a Wild Rose.
Downloadable Program from Home Printing
Watch Video
Program
Performers
Joseph Giunta Conductor Bio
Tickets & Access
Streaming passes are $20. Each ticket is valid for one device. Subscribers who have opted in to our streaming concerts will receive automatic access and do not need to purchase passes. 
These livestreamed concerts can be enjoyed in the comfort of your own home – and replayed at your convenience. Click here to read detailed instructions for accessing these concert broadcasts, making it easy to enjoy them on a Smart TV, a laptop, or even on your phone.
Access instructions for the stream will be sent to your email address on the day of the concert. After purchasing, please add info@dmsymphony.org to your safe senders list so your confirmation doesn't get lost in your junk/spam folder.
Join us throughout the week leading up to the concert for prelude talks, virtual cocktail parties, Classical Conversations, and more! Just click "Tickets" at the top of this page to create your own custom concert week schedule.
Dinner and a Show
Want to enhance your experience? Join us for dinner and a show! We've partnered with a variety of local restaurants and caterers to pair custom multi-course dinner boxes with each concert. Click the "tickets" link above to add on the following options from Cyd's Catering: 
Cyd's Seven-Course Take & Bake Dinner Box: $35 per person
Cheese and Charcuterie Box with Assorted Crackers 
Gouda Puffs
Salad including Romaine, Cucumbers, Peppers, Carrots, a Cherry Tomato with Champagne Vinaigrette Dressing
Fresh In-Season Fruit Kabobs
Artichoke Dip - Pita Chips
Pesto Parmesan Marinara Stuffed Chicken Breast with Penne Pasta and Crispy Parmesan Topping
Dessert - Petit Four Delights and Mini Cheesecakes
Wine Pairings: $20 per bottle
Decoy Sonoma County Red Wine
Decoy Sonoma County Chardonnay
Orders must be placed by Monday, Feb 8 at 5:00PM. Dinner boxes can be picked up at the Temple for Performing Arts (1011 Locust St., Des Moines) between 4:30pm and 5:30pm on Thursday, Feb 11. Take and bake instructions will be provided. Please contact Amanda Drish with any dietary restrictions or to request a vegetarian meal.