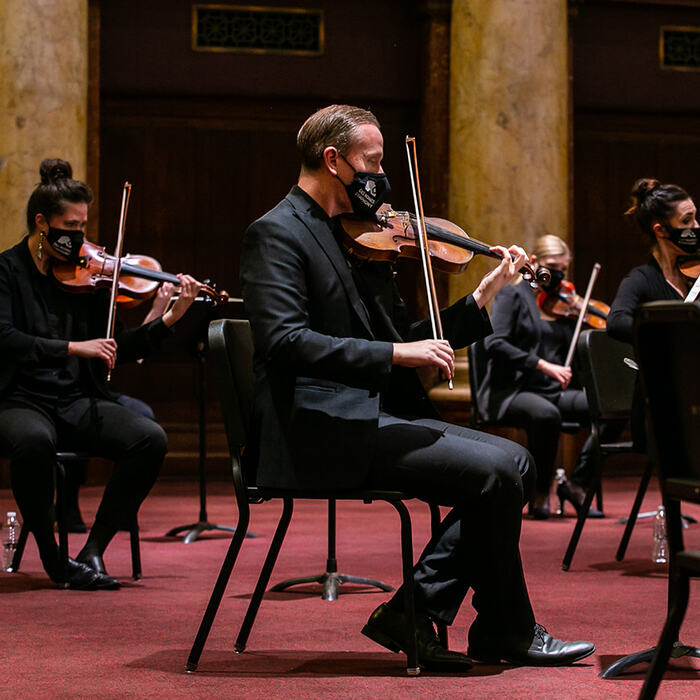 Spring Serenade
From the lyrical woodwind and horn melodies of Richard Strauss's Serenade in E-flat Major to Gounod, Delius and Mozart, our March concert heralds the arrival of spring
Richard Strauss's Serenade in E-flat Major, composed when he was just seventeen years old, opens our March concert with lyrical woodwind and French horn melodies. Gounod's sparkling, elegant Petite Symphonie was modeled after Mozart's wind serenades; here, it precedes the dramatic first movement of Mozart's "little" G Minor Symphony, used to great effect in the movie "Amadeus." Finally, Delius's On Hearing the First Cuckoo in Spring evokes the composer's impressions of the Norwegian countryside by using the oboe, strings and clarinet to imitate the cuckoo heralding spring.
Downloadable Program for Home Printing
Watch Video
Tickets & Access
Streaming passes are $20. Each ticket is valid for one device. Subscribers who have opted in to our streaming concerts will receive automatic access and do not need to purchase passes. 
These livestreamed concerts can be enjoyed in the comfort of your own home – and replayed at your convenience. Click here to read detailed instructions for accessing these concert broadcasts, making it easy to enjoy them on a Smart TV, a laptop, or even on your phone.
Access instructions for the stream will be sent to your email address on the day of the concert. After purchasing, please add info@dmsymphony.org to your safe senders list so your confirmation doesn't get lost in your junk/spam folder.
Join us throughout the week leading up to the concert for prelude talks, virtual cocktail parties, Classical Conversations, and more! Just click "Tickets" at the top of this page to create your own custom concert week schedule.
Dinner and a Show
Want to enhance your experience? Join us for dinner and a show! We're partnering with local restaurants throughout the Symphony season to pair a custom multi-course dinner box with each concert. At our March concert, Table 128 in West Des Moines will be creating a custom food + wine pairing. Sales for food and wine will end on Tuesday, March 16 at 12:00 PM.
First: Spinach salad - baby spinach, red onion, apple, cranberries, walnuts, poppyseed vinaigrette
Main: Duck confit - confit of duck leg, bean cassoulet, bacon, onion, garlic, charred broccolini
Dessert: Profiteroles (2) - vanilla pastry cream, cream puff, chocolate glaze
Red Wine: Merlot - Heron, Mendocino, California, 2017
White Wine: Reisling - St. Urbans-Hof, Mosel, Germany, 2016