Join us online December 13-17 for a full week of livestreamed programming in our Live from the Temple series! These livestreamed concerts and events can be enjoyed in the comfort of your own home, or from anywhere in the world – and replayed at your convenience. 
Filmed at the Temple for Performing Arts and broadcast live online, our Live from the Temple concerts feature a reduced-size orchestra spaced appropriately to ensure musician safety. Each broadcast features special interviews and behind-the-scenes footage, along with a post-concert Q&A session with Maestro Joseph Giunta. Click here for detailed instructions for accessing our concert broadcasts on your TV, a laptop, or even on your phone.
Join us throughout the week leading up to the concert for prelude talks, virtual cocktail parties, Classical Conversations, and more! Read on to view our full list of activities and create your own concert week schedule. 
Live from the Temple: Winter Fantasia
Celebrate the holidays with a concert featuring the sounds of the season! From Bach's endearing Jesu, Joy of Man's Desiring to Vaughan Williams's Fantasia on "Greensleeves," this festive evening of music will inspire warmth, joy and peace.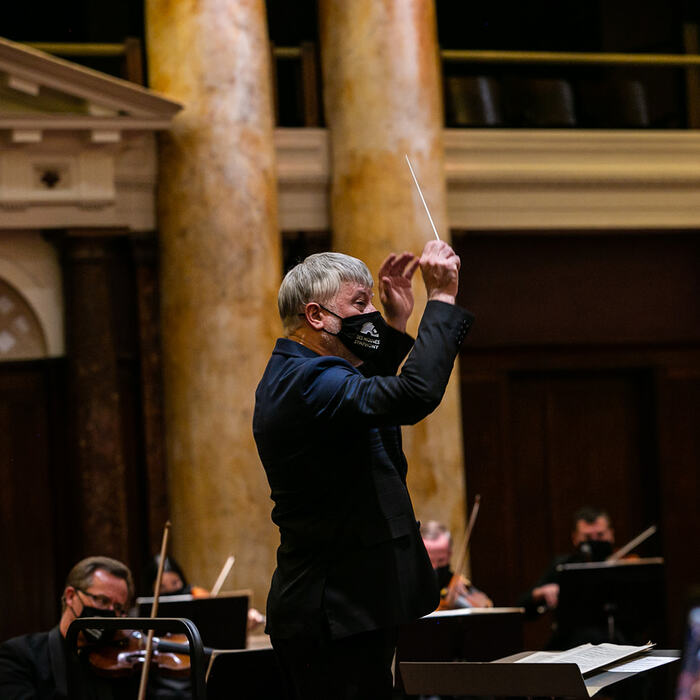 Sun, Dec 13 at 7:00PM: Symphony with a Twist (Maestro's Circle Exclusive)
Members of the Maestro's Circle are invited to join us for our virtual donor lounge – Symphony with a Twist! 
Tue, Dec 15 at 7:00PM: ReMix (Free)
This fun and free event combines a live mixology class with music-themed team trivia. 
Wed, Dec 16 at 6:30PM: Classical Conversations ($15)
Go inside the music in this informative and entertaining online class. Add on optional wine + cheese pairings from The Cheese Shop.
Thu, Dec 17 at 7:00PM: Winter Fantasia ($20)
Celebrate the holiday season with the Des Moines Symphony! From Bach to Boyce, this festive evening of music will inspire warmth, joy and peace. Tune in at 6:30PM for our Concert Prelude Talk, or add on a dinner box or wine pairings from Django to join us for dinner and a show.