Enjoy the Des Moines Symphony your way! Purchase a $20 streaming pass and enjoy our February concert, Past and Present, on demand anytime through March 12.
A study in past and present, from Haydn and Saint-Georges to Jessie Montgomery's modern, multicultural tribute to "The Star-Spangled Banner"
Our February concert evokes both humor and history, contrasting old and new. Haydn's merry "La Poule (the Hen)" takes its nickname from a clucking motif in the first movement, while Pulitzer Prize-Winning American composer William Bolcom's Commedia for an (Almost) 18th Century Orchestra is a witty commentary on the orchestral traditions of Haydn's time. The elegant Sinfonia No. 2 was written in 1775 by the first known classical composer of African ancestry, Saint-Georges; Black American composer Jessie Montgomery's 2014 piece Banner is a modern, multicultural tribute to "The Star-Spangled Banner," weaving together that theme with the commonly named Black National Anthem, "Lift Every Voice and Sing." The concert concludes with 19th Century American composer Edward MacDowell's tender, serene To a Wild Rose.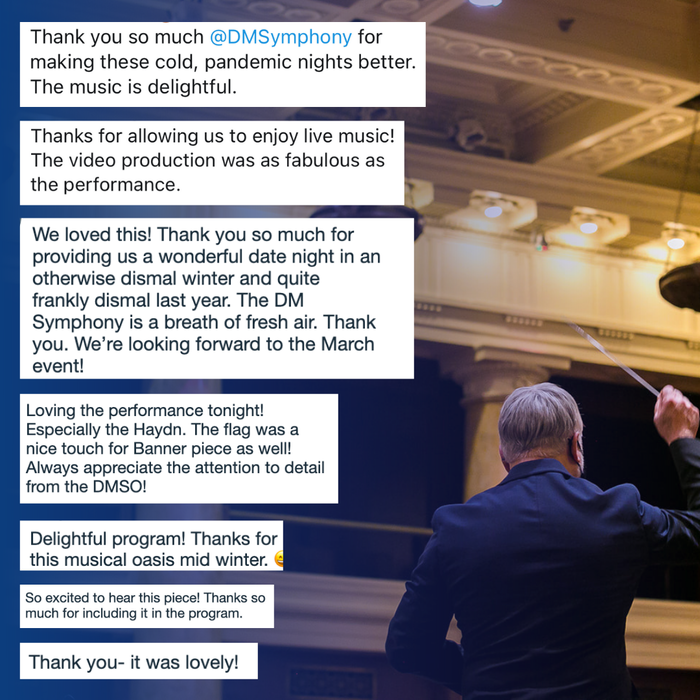 Filmed at the Temple for Performing Arts and broadcast on February 11, our Live from the Temple concerts feature a reduced-size orchestra spaced appropriately to ensure musician safety. Each broadcast features special interviews and behind-the-scenes footage, along with a post-concert Q&A session with Maestro Joseph Giunta. Click here for detailed instructions for accessing our concert broadcasts on your TV, a laptop, or even on your phone.
Click here to learn more about the program and performers, or visit the links below. 
Tickets & Access
Streaming passes are $20. Each ticket is valid for one device. Subscribers who have opted in to our streaming concerts will receive automatic access and do not need to purchase passes. 
These livestreamed concerts can be enjoyed in the comfort of your own home – and replayed at your convenience. Click here to read detailed instructions for accessing these concert broadcasts, making it easy to enjoy them on a Smart TV, a laptop, or even on your phone.
Access instructions for the on-demand concert will be sent to your email address as a purchase confirmation email from info@dmsymphony.org.