Enjoy the Des Moines Symphony your way! Purchase a $20 streaming pass and enjoy our May 13 Season Finale, Fantaisie en Français, on demand anytime through June 12.
Season finale! Principal Flutist James Blanchard plays Faure's expressive, virtuosic Fantaisie – plus, the Allegro from Mozart's brilliant "Paris Symphony"
Marianna Martines wrote over 200 works and performed with Mozart; her Sinfonia in C Major opens our season finale with rhythmic vitality and flowing melodies. Written more than a century later, Grieg's Baroque-inspired Holberg Suite echoes the sparkling, delightful music of an earlier time. Principal Flutist James Blanchard is featured as soloist in Gluck's Dance of the Blessed Spirits and Faure's expressive, virtuosic Fantaisie. The "Dean of African-American Composers," William Grant Still's Tamborito and Cumbia y Congo from his Danzas de Panama were inspired by the vibrant, percussive musical influences of African slaves in Panama. The concert concludes with the Allegro from Mozart's brilliant, thrilling "Paris Symphony."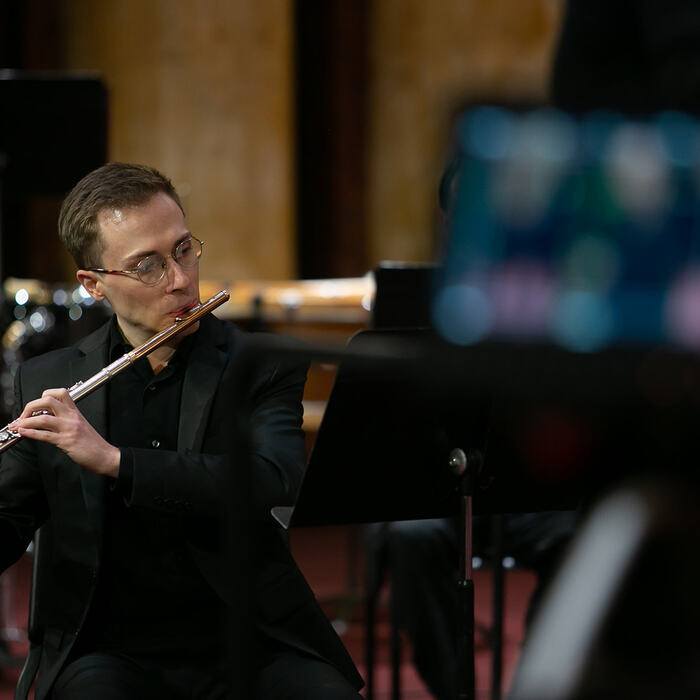 Filmed at the Temple for Performing Arts and broadcast on May 13, our Live from the Temple concerts feature a reduced-size orchestra spaced appropriately to ensure musician safety. Each broadcast features special interviews and behind-the-scenes footage, along with a post-concert Q&A session with Maestro Joseph Giunta. Click here for detailed instructions for accessing our concert broadcasts on your TV, a laptop, or even on your phone.
Click here to learn more about the program and performers, or visit the links below. 
Tickets & Access
Streaming passes are $20. Each ticket is valid for one device. Subscribers who have opted in to our streaming concerts will receive automatic access and do not need to purchase passes. 
These livestreamed concerts can be enjoyed in the comfort of your own home – and replayed at your convenience. Click here to read detailed instructions for accessing these concert broadcasts, making it easy to enjoy them on a Smart TV, a laptop, or even on your phone.
Access instructions for the on-demand concert will be sent to your email address as a purchase confirmation email from info@dmsymphony.org.